In her gorgeous new book Home Story: The German Approach to Interior Design, journalist Tina Schneider-Rading spotlights German designers who are masters at synthesizing modern with vintage; their looks feel both familiar and new. She interviews leading designers at the fore of Schöner Wohnen's juried residential design competition, and pulls in her own observations on these beautiful, effortless spaces.
We chatted with her about the book this week.
SDTC: When did you first get interested in interior design?
TSR: Very early. I grew up in the area south of Munich, with its grand museums and castles and radiant past (both architectural and cultural) on the one hand, and the rather severe, traditional craftsmanship of the Alpine people on the other. It is quite natural to get interested in design when you dip into so many very different ways of living. Besides, I have always loved listening to people, I am interested in their motives and very curious about how they live. That is, in brief, why I became a journalist.
Are there any rooms in particular that you remember from your own childhood?
My father had a study under the roof of our townhouse, where I remember him sitting quietly and concentrated at a Gründerzeit-desk. I was a kindergarten child, and I loved watching him reading and writing there in the evening. This table virtually accompanied my whole life: Initially, as a desk during my studies; then, it served as a kitchen table in my first Munich flat, and now it stands in the room our 10-year-old daughter. She does her homework there. I really do believe it has good, strong vibes.
Why do you think German designers have such a knack for combining modern and vintage so effortlessly?
I think that is part of our centuries-old design history. German interior designers are quite conscious about their past. They worship, for example, Biedermeier or Bauhaus, but also keep up with the latest trends. And, as any good consultant, they understand that their clients love to cherish their very own memories embodied in accessories and furniture, and, of course, in heirlooms.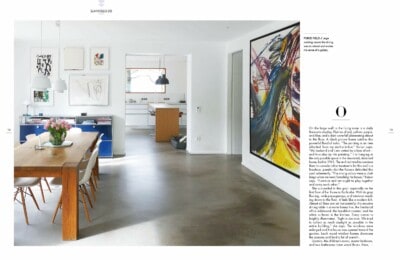 What did you uncover in your interviews with designers that really stood out to you, or surprised you?
I was again and again surprised about the immense knowledge interior architects bring in into the discussion and planning process. They do not only have a profound overview of the newest manufacturers of textiles, paint, furniture, and lighting. Of course, they are browsing through all the fairs in Milan, Paris, London, and Cologne. But they also are professionals in arts, in literature, in history. And often they are quite good psychologists: they simply listen. Eventually, they help their clients develop their very unique way of living.
Did you notice any particular methodology that German designers employ in their designs?
I think it's all about balance – between heavy and light elements, between dark and bright colors, between hard and soft, old and new. That is maybe not typically German; all the more, the projects presented in the book illustrate an extensive range of stunning designs built upon that balance.
Which was the most interesting space you documented in your book?
The winners, Stephan Interiors, made use of curved forms and soft velvets, and set them against rather masculine materials like brass. In that Munich luxury apartment, they combined sensuality with functionality in a very sophisticated, mature way. An extremely touching mixture!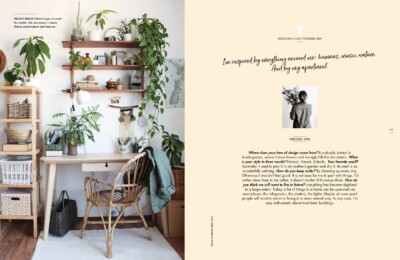 Which was the most inviting space?
It is impossible for me to decide whether I would prefer taking an espresso on the deep green sofa of "Myk Berlin", strolling through Mark Pohl's "Design Apartments Weimar" or rather be part of the family life in Lilli Grewe's industrial loft in Bielefeld. In each of the 21 spaces presented, you will immediately feel at home.
What do you find most interesting about the German approach to interior design?
I truly admire the way German interior designers unite high quality and functional design with the beauty of natural materials and simple, everyday objects. Design is not a question of money, it can also be affordable. Good design is an attitude.
What can readers expect to find in your book?
Loads of insights into interesting lives, loads of inspiration to draw from. Professionally furnished and lovingly styled apartments. Plenty of recommendations from the best German interior designers on how to live in a modern, comfortable, and very personal way. As you have probably noticed, I am still fond of all the protagonists and their works. The German title of the book is "Best of interior" – and it simply is.