Brooke Mullins' father, Malcom Madsen, disappeared in the early hours of October 28th, 2018 in Puerto Vallarta, Mexico. She's been looking for him ever since. In Robert Osborne's chilling new documentary, Malcom is Missing, the Port Hope resident shares her harrowing story and sheds light on a widespread epidemic in Mexico, where approximately 100,000 individuals are still missing, the vast majority being Mexican, with very few cases ever solved.
The statistics are grim, but what is also shocking is the lack of support Brooke has received from the Canadian government. The Canadian embassy in Mexico proved useless, and Brooke's efforts to engage Canadian politicians have also fallen flat. "People need to know that if you go missing, your loved ones are on their own. Nobody's going to help them."
Determined to find her father, Brooke boarded a plane one week after she lost contact in 2018. Having spent significant time in Puerto Vallarta, she felt confident that she could tap into her network and track down his whereabouts. "I thought I was going to find my dad and rescue him. It took me a while to realize that I wasn't going to be bringing him back alive."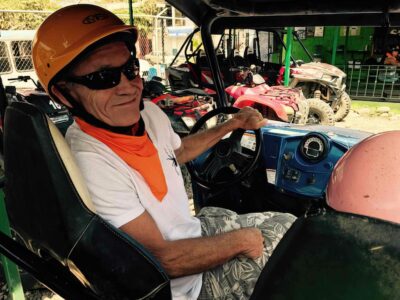 For the months that followed, Brooke would make several trips back down, as new leads emerged and informants came forward. In November 2019, Canadian media finally picked up the story, when Investigative Reporter Kenyon Wallace published a piece about the prime suspect, Marcela Acosta Romas, Malcom's long-term life partner, in the Toronto Star.
Brooke was relieved when the story emerged, but was still unable to get the Canadian government to care, despite her best efforts. "I have done everything to get in the government's face, I paid to go see Caroline Mulroney at a dinner and I had a chance to talk to her but nothing came of it. I managed to bulldoze my way into a Trudeau event and shook his hand, and tried to talk to him and he just pulled his hand away and walked away from me," she tells me, with desperation in her voice. "I have been incredibly disappointed."
At the time of our call, Brooke was in the middle of sending emails to dozens of contacts she's tracked down in Canadian global affairs, inviting them to attend the screening at Hot Docs cinema this Sunday. "I would like someone to show up and see what it's like for the victim's family. I think they have forgotten that we are people…they just look at us like we're a case number."
Since she first began investigating her father's disappearance, Brooke has connected with families all across Canada and the United States who have similarly lost loved ones in Mexico, be it people who are still missing, or murdered.
It has now been over four years since Brooke began her search. Her father's alleged killers are still awaiting trial. She's depleted, frustrated, and heartbroken. But this tragedy has also given her hope. "For all the evil and bad things that people are capable of, I've seen way more kindness and good during this… In Canada and Mexico and all over the world."
Brooke continues to look for her father, remaining in contact with the Mexican authorities and regularly updating her Justice for Malcom Facebook page, but she knows that it's unlikely she'll ever know more than she does right now. "It's so hard to have closure. I have to go back to my own life and take care of my children and try to heal."
Malcom is Missing is screening Sunday, January 29 at Hot Docs Ted Rogers Cinema, at 7PM. Audiences are invited to stay for a special post-screening Q&A with Brooke Mullins, Toronto Star Crime Reporter Kenyon Wallace, Film Director Robert Osborne, and Producer Jari Osborne.