Rejoice: Luminato is upon us! Toronto's most impressive multi-disciplinary arts festival kicks off this week. From June 14 to June 25, Luminato will fill our city with powerful music, art, theatre, dance, and imaginative play of all kinds, with programming suitable for even the youngest culture vultures!
To celebrate ('cuz we're mega big fans), we're gifting 2 passes to the Luminato Spiegeltent! Plunked in the middle of David Pecault Square, this 1920s travelling pavilion is not only home to SIXTEEEN different performances during Luminato, but is also a stunning work of art and an unforgettable experience.
Browse the programming to see the breadth of rich offerings that hail from near and afar! Here are a few that we're definitely hitting:
Pss Pss (June 17 & 18)
Inspired by Chaplin, Keaton, and the stars of silent films, Compagnia Baccalà's timeless performance of enthralling physicality and exquisite expression has been delighting audiences around the world since 2010.
Notes of a Native Song (June 15 – 18)
Inspired by the art of American writer and activist James Baldwin, Stew and The Negro Problem explore Baldwin's trailblazing legacy through songs co-written by longtime collaborator Heidi Rodewald, co-creator, along with Stew, of the Tony Award-winning musical Passing Strange. An irreverent and spirited rock and roll song-cycle, Notes of a Native Song is a high-energy blast of music, video, and spoken word that captures the essence of the man who spoke uncomfortable truths about gender, race, and class division.
Rusangano Family (June 23 – 24)
Rusangano Family is made up of God Knows, MuRli and mynameisjOhn — two MCs and one DJ. Based in the west of Ireland, the trio has been steadily building their own brand of dynamic bass-led music that doesn't conform to genre clichés or style restrictions.
Exploring issues like identity and belonging, Rusangano Family delivers a hefty dose of honest double-edged lyricism over skewed soul samples, 808 beats and sliced-up breaks. They lit up the stage at SXSW in 2016 and were awarded the Choice Music Prize for 2016 Irish Album of the Year.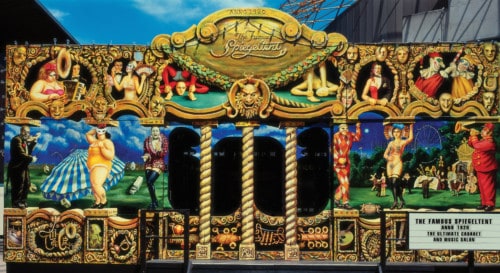 When you're not taking in a mind-blowing show, sit back for a drink or nibble because this year, The Drake will be fuelling The Famous Spiegeltent bar and outdoor patio. Drake Catering and the brand new Drake Commissary – The Drake's creative culinary hub in the Junction Triangle – will serve up expertly crafted cocktails and snacks all week!
CONTEST
This is a fast and furious contest, with a winner being selected this Thursday in time for opening night, so ENTER NOW!
There are three ways to enter:
Twitter:
Tweet: "CULTURE LOVER RIGHT HERE! @Shedoesthecity, hook me up with Spiegeltent passes for #Luminato! I want to experience all of it!"
IG:
Like our #Luminato #Spiegeltent posts AND tag your plus one!
Facebook:
LIKE and COMMENT on THIS post on our FB page.
See, do, and explore as much as you can during Luminato, and in twelve days, you'll be that much wiser.