Like slowing down at a car wreck, you won't be able to peel your eyes from the creepy, hilarious, soon-to-be cult classic Greener Grass!
Jocelyn DeBoer and Dawn Luebbe's deliciously twisted comedy is set in a demented, timeless suburbia where every adult wears braces on their straight teeth, children turn into golden retrievers, couples coordinate meticulously pressed outfits, and coveted family members are swapped in a relentless competition for acceptance. It skewers the trappings of late-stage capitalism and the shameless navel-gazing and self-obsession that permeates modern life. Fun!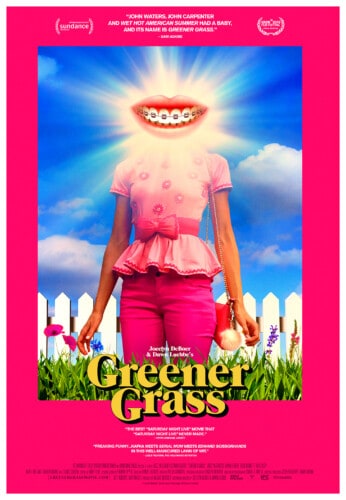 There are echoes of David Lynch and John Waters in the film Rotten Tomatoes describes as "Stepford Wives-on-acid satire." We know you wanna see it, so we're giving away a pair of tix to the film, opening October 18 at TIFF Bell Lightbox (350 King St W).
To enter:
TWITTER: Tweet "#GreenerGrass looks right up my alley — send me to the dark comedy hit of the year! @shedoesthecity @TIFF_NET"
INSTAGRAM + FACEBOOK: LIKE + COMMENT on our #GreenerGrass posts.