Cheers! We're so ready to kiss 2016 goodbye and ring in 2017 with the spirited revelry it deserves.
This NYE, we've got four priorities: PARTY, DANCE, SMOOCH & GET HOME SAFE. While a New Year's kiss may not be a guarantee, a free safe ride absolutely is.
For the fourth annual #CorbySafeRides initiative, Corby Spirit and Wine is sponsoring the transit fare for everyone travelling via TTC on New Year's Eve in an effort to raise awareness about drinking and driving. From 7 pm December 31, 2016 to 7 am January 1, 2017, TTC service will be FREE.
Because Corby is committed to helping end impaired driving – not just over the holiday, but year-round – they are also offering Torontonians the chance to win free TTC transport for all of 2017!
ENTER TO WIN FREE TTC TRANSPORT FOR A YEAR! 
Enter on Twitter by following @CorbySW and retweeting the pledge to ride safe. (See pic below.)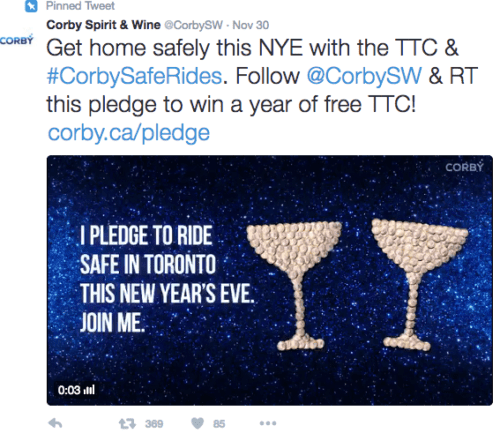 How radically would free TTC change your monthly budget? It's pretty amazing!
We wish you all a memorable New Year's Eve and a beautiful and safe 2017!
xo Shedoesthecity + Corby Wine & Spirits