Night Raiders premiered at the Venice Film Festival to great acclaim, igniting worldwide conversations about colonialism, genocide, and the resilience of Indigenous peoples. At TIFF, Danis Goulet's film arrived at a moment of national reckoning, as more and more unmarked graves of Indigenous children were being unearthed throughout Canada. Night Raiders is set in 2042, but it couldn't be more urgent and timely. Or as Goulet says, "There is nothing that is imaginary. Everything in the film is based on things that have happened."
Executive produced by Taika Waititi, the budget for Night Raiders was the largest production budget for an Indigenous film in Canada ever, and the first ever New Zealand and Canadian Indigenous co-production. The film also ushers in an exciting new chapter of Indigenous sci-fi storytelling, and the powerful possibilities that it brings.
For Danis, using dystopian sci-fi to tell the very real story of Canada's horrific residential schools gave the Cree/Métis writer/director a sense of freedom that a film set in the past or present couldn't. "There is something really powerful about setting something in the future. It stands as a declaration that we've always been here, we are still here, and we will always be here," she says, adding that the genre also demonstrates the timelessness of Indigenous stories.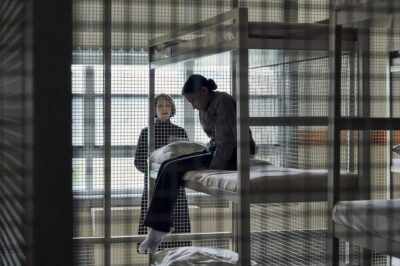 In Night Raiders, children are property of the State, just as Indigenous children were considered the property of Canada between the 1870s and the 1990s, forcibly removed from their families, stripped of their birth names, and assigned numbers.
Like the Canadian residential school system, the children in Night Raiders are indoctrinated to believe that their families are inferior, that they are unwanted and that their parents are incapable of loving and caring for them. The children in Night Raiders are cut off from their culture, just as Indigenous children in Canada were—for over six generations. Niska, brilliantly performed by Elle-Máijá Tailfeathers (The Body Remembers When the World Broke Open, Blood Quantum), is a desperate Cree woman who joins an underground band of vigilantes to infiltrate a State children's academy and get her daughter back.
Elle-Máijá was elated to work with Danis; the award-winning filmmaker and actor admits that she has never felt as connected to a character as she has with Niska. "Doing her story justice was this huge undertaking and this massive responsibility that I was so honoured to carry because I see her reflected in so many women I know within our communities, especially single mothers."
For Elle-Máijá, Niska is also a character who exemplifies hope. "I love where her journey takes us. It takes us to this beautiful place of strength and hope and love. She finds her way back to the land, she finds her way back to the community. That is a journey that many of our communities as a whole are taking on… this resurgence of connecting to the land, connecting to culture, the language and ceremony and all of those things. There's so much strength and beauty in who we are as Indigenous peoples."
Much of the strength that is found in the characters in Night Raiders was inspired by the Idle No More movement and the protests at Standing Rock. "I was glued to the live feeds of Idle No More. I'm originally from Saskatchewan and I remember especially watching the feed of a round dance at the Cornwall Centre in Regina, which is the mall that I hung out at as a teenager. To see that space being reclaimed in such a strong and powerful and beautiful way was hugely inspirational," says Danis.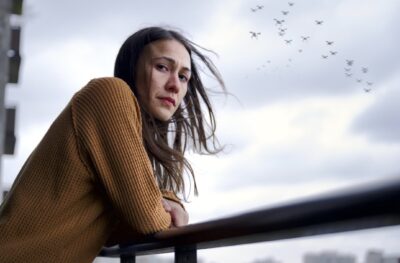 Night Raiders opens in theatres this Friday. The body count of Indigenous children that have been found since May is well over 5000, and less than 15% of the residential school sites have been searched. Creating this film and seeing it released into the world doesn't change this horrific reality, or as Danis explains, the weight of it all is still felt within her mind and body. "I still feel very much in a place of trying to embrace how profound the impact is. It continues to be something so difficult to hold." But she hopes that the conversations that the film inspires contribute to the ongoing healing process.