Everyone's fave erotic arts and crafts fair is happening Saturday, February 10th at the Gladstone Hotel! Hosted by Come As You Are, The Erotic Arts & Crafts Fair is the perfect place to indulge your curiosity and maybe pick up some extra special erotic gifts for your Valentine. (Need more convincing? Here are six reasons you should go.)
Leading up to this one-of-a-kind show, we're profiling three participating vendors to learn more about their crafty companies. For this installment, we spoke to Jalisa L. M. founder of Toni Marlow, a lifestyle brand that creates undergarments for those who defy gender norms, primarily women and trans men.
Tell us your birth story. How and why did you start your company?
JLM: I was frustrated with the lack of comfortable options for people like myself (masculine women), hated that I had to wear feminine-cut panties during my period and wanted a boxer brief that would let me use pads.
While developing this, I thought trans men might benefit too and asked a friend. He spoke passionately for an hour about how hard it is for him to find functional, comfortable, affordable underwear.
Overall, I wanted to help increase the visibility, diversity and inclusion of people who are not typically seen in fashion. With that, I decided to start researching and developing solutions.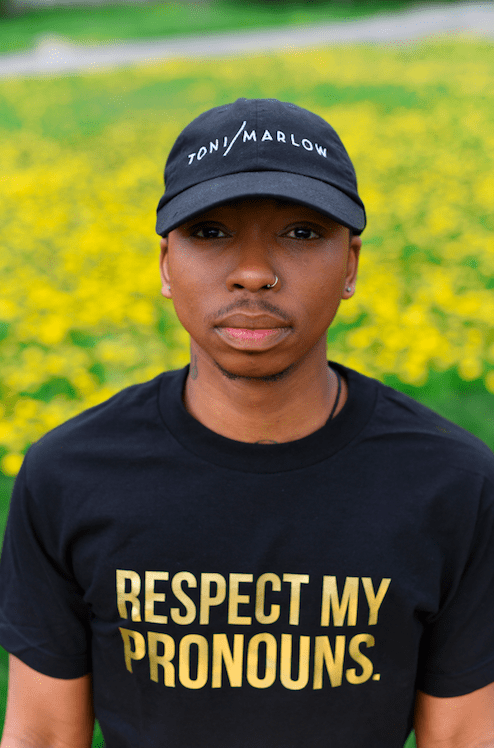 What do you enjoy most about what you do?
The joy and appreciation on our customers' faces when they see themselves in our marketing or products and when they love our products.
What is your hottest seller, and why do you think people love it?
Our functional underwear (Time Of Month Period Boxers and Packer Boxers) because they are highly needed and useful. Also, our Respect My Pronouns shirt, because it makes a clear, bold statement on behalf of a large portion of our market and looks dope.
What's your pitch for getting people out to Erotic Arts and Crafts Fair?
Is one really needed? The title says it all! Erotic. Arts. Crafts. Fair. We need events and spaces like this and there are so many fun and quality products to pick up! Come check out all the vendors and have a good time.
Click here to find out more about The Erotic Arts & Crafts Fair, going down February 10th at 1214 Queen St. W from 10 a.m. to 4 p.m.