With the pandemic forcing so many restaurant closures in recent years, it's encouraging to see that Toronto-based Nadège is expanding. The French patisserie now has five bustling locations, with their Bloor-Annex shop (494 Bloor St W) being the most recent addition, having opened its doors this past May.
It was in 2009, in the wake of the stock market crash, when Owner and Chef Nadège Nourian opened her first location. People were skeptical that a new patisserie could withstand the economic downturn, but Nadège on Queen West, which sits across the street from the south-east corner of Trinity-Bellwoods, has remained a hot spot since day one.
The design of the space—with sun streaming through the windows, bright white decor, a view into the busy kitchen, and patio facing the park—has always been inviting, but it's the artistry of the treats that keep people coming back. Nadège gave Toronto something it didn't have: an authentic French patisserie.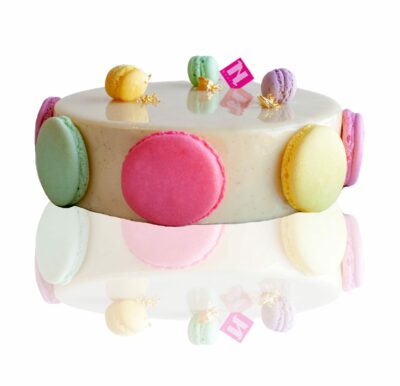 Born and raised in Lyon, France, Nadège is proud of where she comes from. "It's the gastronomy capital of the world!" she tells me, while painting a picture of a childhood surrounded by beautiful food. "My parents ran a restaurant business, and my grandparents and great grandparents were pastry chefs. They had a pastry shop back in Lyon, and it was passed on from generation to generation."
Her grandmother taught her everything she knew about pastry, and Nadège later perfected what she learned at a Michelin-starred restaurant in London. She was the first from her family to leave France, and when Nadège arrived in Toronto, she quickly noticed a gap in the market.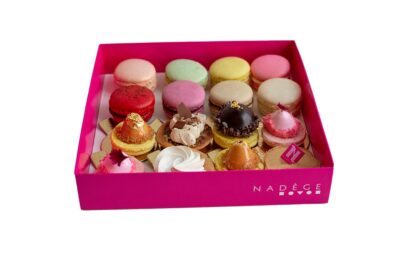 We've always had plenty of bakeries, and beloved French restaurants, but no one was creating gorgeous pastries that are as pleasing to look at as they are to devour. "We were the first luxury pastry crafted like that," she says, explaining that it was the bite-size macarons that captured the media's attention and helped the business take off. People were awed by the bright colours, and how exquisite the circular treats looked when stacked high, or artfully arranged in a pink box. And this was years before Instagram took off.
"When you're the first one it's a massive risk, you either become really big or you fail really fast." Nadège took off. "Canadians travel a lot. They go to Paris… I think there was a certain craving for that." Nadège brought something pretty and fancy to Toronto, and an in-store visit does feel like a mini trip to France.
Chef skills aside, Nadège is a businesswoman, and knows that in the restaurant industry, more locations is how you increase the profit margin. Over the years, Nadège has moved into different neighbourhoods, and Bloor Street is her latest conquest. "It reminds me of Queen Street—a lot of mixed cultures and a lot of students. It's also more of a tourist area, being close to the ROM and things like that. And Bloor is a busy street! We need traffic in our business, because it's small spending. We always need volume."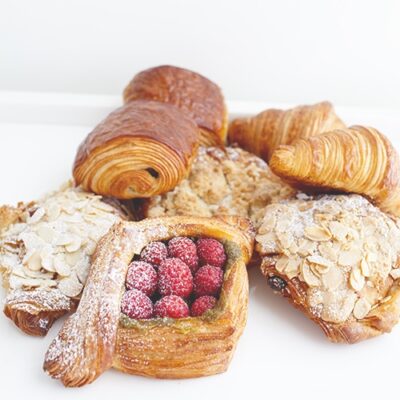 Like most small businesses in Toronto, especially in hospitality, Nadège describes that first year of the pandemic as "horrendous". She quickly moved sales online and Nadège began to offer delivery. Posting photos of their delectable goodies, like the striking Marie Antoinette cake or Lemon Meringue Tarte, created a frenzy of activity. Customers began ordering more than they normally would in store, going for six croissants instead of one. "The average spending was way high. Like triple." And people really went for the desserts in a way they hadn't in pre-pandemic times.
It's been 13 years since the first Nadège opened, and the macarons remain a hot seller, but cakes, chocolates, and croissants are also favourites. Nadège also reminds me that they make a killer americano, "We have really really high quality coffees." (I've had many, and can assure you that the coffee is incredible).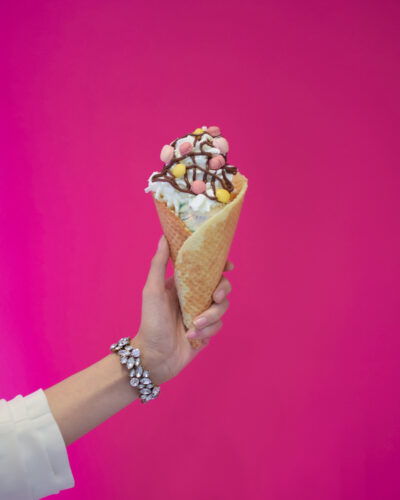 With summer in full swing, the Ice Cream Shop, at the back of the Queen Street location, is a popular destination, offering delicious flavours—both dairy and sorbet—created by Nadège chefs. Of course, the tiny macaron toppings are a huge hit, and what distinguishes the dessert as art, and something only Nadège can do.