Canadian company DivaCup has been fighting to end period stigma and combat period poverty ever since they launched their menstruation cup in 2003. To reach a broader audience, they partnered with award-winning filmmaker Rebecca Snow to make a documentary. Pandora's Box: Lifting the Lid on Menstruation weaves together menstrual equity stories from around the world to normalize something that affects 50% of the world's population, and help end period shame.
"In Canada alone, one in four women struggle to afford menstrual products," says Carinne Chambers-Saini, Executive Producer of Pandora's Box and CEO of Diva International. "The power of this film is revealing the layers of stigma surrounding periods, unveiling a Pandora's Box of discrimination, misinformation, and pain. These impactful stories need to be told. Diva is honoured to have produced this monumental piece."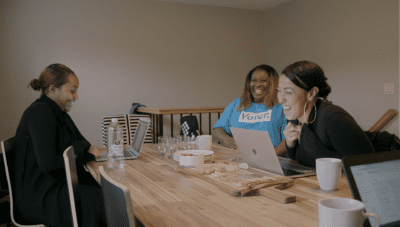 From educating young children in Mumbai about their period, to a red box project in London where teenagers can easily access menstruation products, the film introduces us to dedicated teams everywhere that are committed to change.
"Viewers will be shocked, infuriated and inspired by what they see in this film," says Rebecca. "The girls around the world who can't go to school because they have no way to manage their period, the inequity of menstrual supplies unfairly being taxed while many items such as Viagra and candy are exempt, the women in prison who are denied access to what they need in order to menstruate with dignity, and the damage that the taboos and stigmas around menstruation cause in all societies. The COVID-19 pandemic has drastically exacerbated global menstrual inequity, and now, more than ever we need to spread awareness about these issues and highlight the solutions."
To see the movements in action all over, servicing different populations, is empowering to watch. When I ask Carinne when she believes this mobilization of menstruation advocacy and period equity took off, she doesn't shy away from directing it back to the beginning of the DivaCup. "Before the DivaCup, there weren't as many conversations about periods. The DivaCup has sparked so many conversations."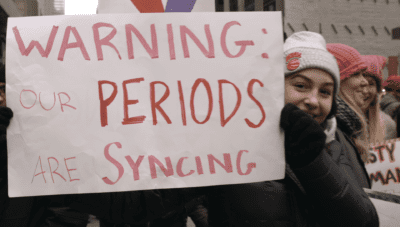 As a user, this makes sense to me. The DivaCup, or any menstruation cup, forces you to interact with your body in a more intimate way than tampons or pads; you have to actually look at your blood. In doing so, you begin to understand your menstrual cycle better, which is healthy, because, as this film reminds us, one's period is an important indicator of health.
Pandora's Box is a fascinating documentary that shows the enormity and complexity of the issues surrounding menstruation. It's also a celebration of a vital life force that for far too long has been a source of shame.
Pandora's Box: Lifting the Lid on Menstruation is now available to watch on Google Play, iTunes, Telus Canada's Optic TV and other streaming services.