TW: Rape
When Amy Finkelstein was travelling overseas, she was raped–twice. After returning home to Canada, she found it incredibly difficult to move forward. To compound the issue, she felt isolated and lost. "There is nothing worse than wanting to seek help," she says, "and being put on a long waitlist."
The lack of resources prompted her to start her own community that links survivors of sexual assault–Soldiers of Creation. "This is a space for healing," she explains. "It's a place to open dialogue within our community, as well as raise funds for the organizations I found during my journey to healing."
We asked her about her initiative this week.
SDTC: What was it like to come back home after being sexually assaulted?
AF: Coming home was very difficult. There were a lot of different emotions and it took me a really long time to process and make sense of everything. This was my third time being sexually assaulted and I would argue the hardest aftermath. I felt like I knew myself so well before. It felt like the person I was, was destroyed. I constantly questioned my self-worth, my interests, my relationship with myself, my hobbies–even my relationship with my loved ones.
Before I left, I had a really wonderful experience with the counsellors and hotlines in Australia. They made me feel safe and protected without making me feel like a victim. I personally did not experience waitlist issues when I got back, but I had a really bad experiences with the way the hotlines are set up here. They were not helpful and put a huge pause on my healing process.
In Australia, the first time you call, you tell your story and they record it. This is so that every time you call after they take a moment to listen to your own experience so that you aren't having to repeat yourself each time and revisit the pain. In Canada, the system was too painful for me to even utilize, so I was alone.
What do you want people to know about what it is like to be a survivor of sexual assault?
There is no timeline to heal. Everyone digests at their own pace. It's a terrible feeling to have your self-worth stripped by another person.
During my healing journey, a lot of people would say, "Well, it's done now so get over it." The rape itself is horrible of course, but the aftermath is trauma that will stay with you forever. I don't think a lot of people can understand this, and that is a problem. Those hurtful, careless comments add to hurting and stunt the healing.
I sometimes try to explain it like getting a needle. Obviously the prick itself isn't fun but then you might be left with a bruise, and that bruise might take a while to heal. Every survivor is different. We aren't always in pain; sometimes we'll be fine for months and then one day a trigger will happen and all those feelings come rushing back.
You mention that connecting with other survivors has been extremely helpful in your healing journey. Why do you think that is?
I think when people go through something traumatic, whatever that trauma is, a natural response is trying to find someone who can fully understand. You can try to tell your loved ones but no matter how much they love you, they can never fully understand the pain you carry. They can't walk in your shoes. Also it isn't always visible and sometimes people can't see how it's eating at you.
There are a few really special memories I have of shared dialogue between other survivors I've met. There is something strangely comforting in meeting someone who can really get it. There's a quote another survivor shared with me from a book she was reading that really sums up this question:
"Being a survivor is being part of a club that nobody wants to join. But once you're in it, you're in it for life and it's the strongest group of people you could ever imagine."
Meeting other survivors gives me strength and lets me know that none of us are alone.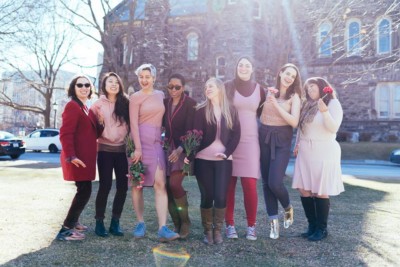 How have other survivors responded to your initiative with Soldiers of Creation?
Empowered. A lot of us are tired of people diminishing what has happened to us, of not taking the trauma or triggers we face seriously. So they are excited that something like this is being created just for us, and a lot of them have inquired about how they can be involved.
What can we expect from your launch event? What else does SOC have planned in the coming year?
This first event is meant to be a prelude of what is to come. It's a fun fundraiser for the Women's College Hospital Sexual Assault and Domestic Violence Care Centre. We hope other survivors will be able to have a chance to connect with each other, as well as with our allies. We want to open up the floor to positive dialogue within this community of love.
Although we are women running this platform, any gender can be a victim of assault or an ally. We want to be a space for all survivors and allies to connect and heal, while helping other organizations with funding so that more survivors are getting the support and treatment they need, without the wait lines.
We are excited to see how this first event goes. Ideally, we would love to connect with school campuses for future events and other organizations that could benefit from funding. We would focus these campus events on how important consent is and what it means.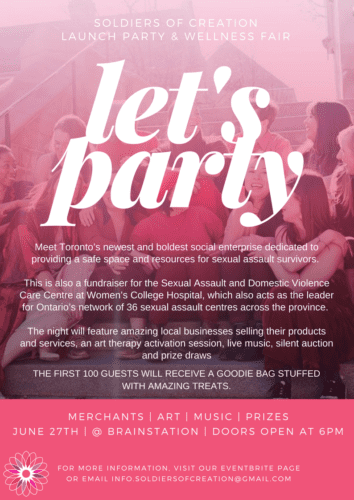 On June 27, the Soldiers of Creation Launch Party and Wellness Fair will raise funds for the Women's College Hospital Sexual Assault and Domestic Care Violence Centre. The event will feature an art market with DIY art stations, a silent auction, goodie bags, an art therapy activation session and a live performance by Common Deer. Grab your ticket here.