When Rock-It Promotions invited me to attend the World Wildlife Fund-Canada inaugural Pandamonium fundraiser on June 23, I jumped at the chance. The purpose of the event is to promote the protection of wildlife and their habitat, and as an animal rights activist and vegan, it's a cause I avidly support. Plus, I figured it'd be a blast to attend.
Here's the backstory: The WWF (no, not the wrestling federation) is the world's leading organization for wildlife and endangered species conservation. Their mission is to stop the degradation of the planet's natural environment and to conserve the world's biological diversity. All funds raised through Pandamonium would help WWF-Canada continue to deliver its conservation goals, and who wouldn't want to support that? We're doing it for the pandas, y'all.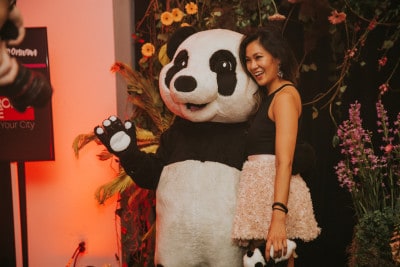 But when I saw the list of notable guests I'd be alongside at the VIP cocktail reception (supermodel Yasmin Warsame, actor Dan Levy, Dragons' Den's Michele Romanow, the list goes on), I panicked. To put things into context, I'm the type of person who hasn't had a professional manicure since my high school prom because I'm too thrifty and opt for $6 drugstore polish instead. I came to the conclusion that I needed to glam up a bit to fit in, so I bought a new dress and dug out a pair of badass four-inch heels from the back of my closet. Mission accomplished.
The event was hosted by WWF-Canada president and CEO David Miller, alongside Pandamonium co-chair Ziya Tong from Discovery's Daily Planet, and Sasha Jacob. Miller greeted each VIP guest individually as we walked down the blue carpet. I told him I liked his panda tie, which he appreciated. (I silently kicked myself for not wearing the panda earrings I have buried in a box somewhere.)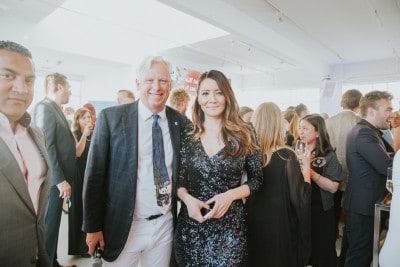 The VIP reception was overwhelming, in the best sense of the word. The top floor of Andrew Richard Designs is spacious and open concept, but that night it was packed tightly with beautiful women in doom and bloom-inspired gowns and handsome men in colourful suits. Waiters circulated with trays of jellyfish salad and crab cakes cooked up by MasterChef Canada's Claudio Aprile, along with other traditional meat alternatives to promote sustainability. The decor was on theme (and on point, I might add), featuring a hanging wall of spinning "jellyfish" made from recycled plastic blue bottles.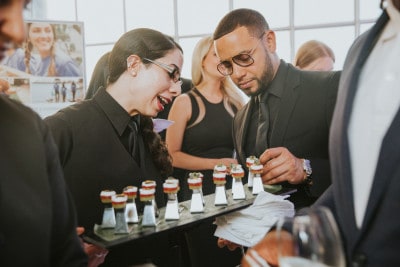 After the VIP reception, I headed down to the main floor and the main event, where I ran into my fellow food blogger/longtime friend Ama Scriver. We stuck around to admire the botanical installations created by florist Jordana Masi and a killer performance by Juno Award-winning band The Strumbellas.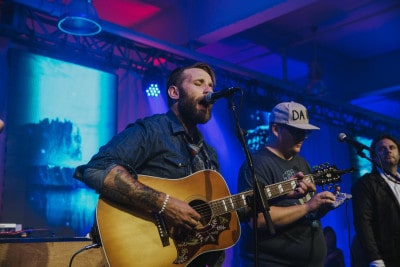 All in all, it was an incredible night, and I'm so happy I had the opportunity to attend. The only thing missing was a real panda, but taking a selfie with a stranger wearing a panda costume was the next best thing.
To peek at more photos from the event, search the hashtag #Pandamonium.