Elle Cuisine is a group of artisans and business powerhouses that have come together to create a company for one-of-a-kind events. From parties to weddings to interactive cooking classes, the list of possibilities and ideas that they explore continues. One fine evening last week, we got a preview of the kind of dinner event that the Elle Cuisine team pulls off on the regular.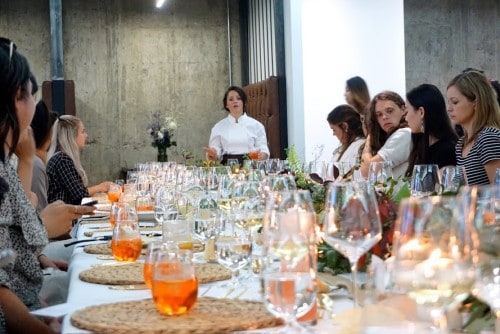 Down in The Vault of 250 University, Elle Cuisine transformed the space into an opulent fine dining establishment, complete with gold cutlery fit for a queen. Part of the fun of this dinner was the thought that went into every piece of the puzzle: each place setting was personalized and every dish came out with owner and executive chef Lauren Mozer, who explained the summer memory and inspiration behind it. My personal favourite was the reminiscing behind the Aperol Spritz cocktail, stolen straight from the playbook of the head chef's visit in Italy.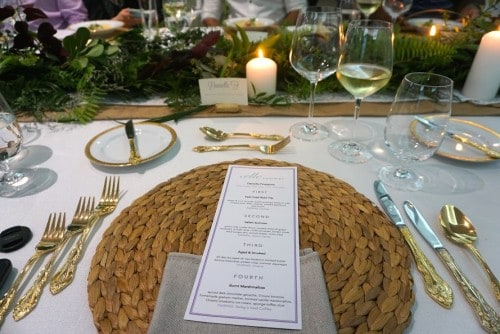 First up was the "East Coast Road Trip" lobster and corn chowder with crab, Ontario peas, leeks, shallots, smoked paprika oil and pea shoots. The lobster was so tender and delicious against the freshness of the peas and the hint of spice running through the soup. I don't know what kind of road trips these people are going on, but I'm into it.
We also tried the "Italian Summer" goat cheese ricotta ravioli with roasted tomatoes, tomato dust, Sicilian olives, tomato skin and micro basil. This dissection of tomatoes was a great peek into the capabilities of the staff, and also an eye-opener to the possibilities that every future ingredient holds.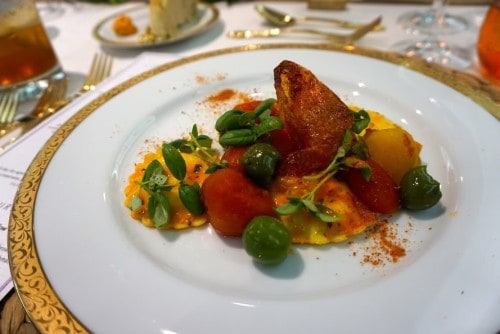 Following that was the 65-day aged rib eye with smoked butter lemon béarnaise, blue potato crisp and summer asparagus. This is just one of those straight-up crowd-pleasing dishes. The elevated meat-veg-potato dish was sliced up and plated so artfully, and the meat cut like butter.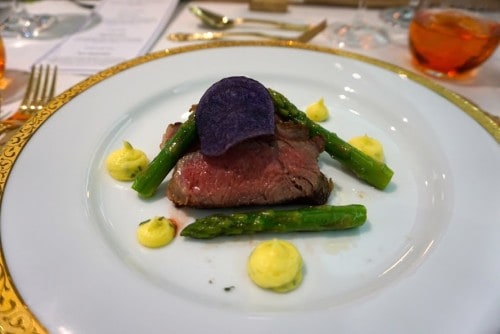 Finally, we enjoyed the s'more-memory-inducing burnt marshmallow dessert. The cap off to the meal had a spiced chocolate ganache with a brownie, house-made graham cracker, torched vanilla marshmallow, Ontario blueberry ice cream and sponge toffee dust. And! A Bailey's iced coffee on the side. We left feeling comfortably full, and as though we just got away with something sinful.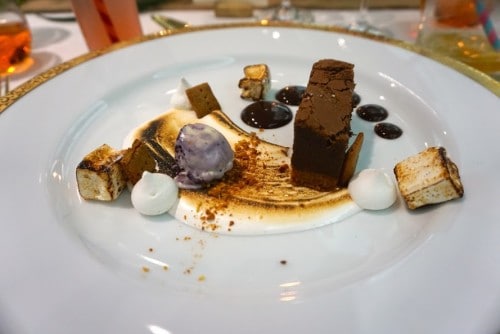 This was a very happy table. Thank you for the good, good eating! Goodbye, summer.