The seventh and final season of Workin' Moms premieres January 3rd. Fans aren't ready to say goodbye to the groundbreaking show that dared to depict all the messy and complicated facets of motherhood. From interrupted careers to strained marriages, postpartum anxiety to fractured identities, the sharply-written comedy series tackled many firsts for TV, allowing motherhood—in all its puke and piss-soaked glory—to be seen.
Vancouverite Enuka Okuma first joined Workin' Moms as a writer before stepping into the role of publishing powerhouse Sloane Mitchell. Audiences quickly warmed to the straight-shootin' Sloane, and in Season 7 we're happy to report you'll get even more of her. In the first episode, tension quickly mounts as Sloane juggles team meetings with her newborn breastfeeding baby.
We connected with Okuma to find out how Workin' Moms has impacted her life, and how she thinks the beloved series, and its over-the-top characters, will be remembered years from now.
Workin' Moms has sparked a lot of conversations. What do you consider to be the most important conversation(s) inspired by this show?
I think it's difficult to narrow down the most important conversation Workin' Moms has inspired because I truly feel there have been so many and they're all important. Whether we were talking about abortion or female anger or divorce or postpartum depression, there weren't a lot of shows specifically speaking to a woman's experience when Workin' Moms began. Now, the entertainment landscape has certainly changed since the show's debut seven years ago, but a show that is directed at women yet is relatable and accessible to a very wide audience is still a rare and special thing. Perhaps the most important conversation should be about why we're still surprised by shows that speak to women and their experiences and why we still consider that something 'different.'
Sloane Mitchell is a force. What do you enjoy most about your character?
I love Sloane so much and playing a confident, powerful woman who speaks her mind and takes no prisoners is liberating and fun. I think my favourite thing about her is that there is so much vulnerability lurking beneath her tough exterior. There's a reason she's the way she is and it was really exciting to dig even deeper in our final season and un-earth the 'why' of Sloane Mitchell.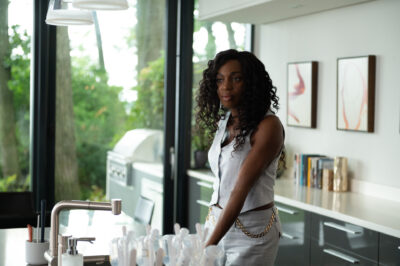 When you look back on Workin' Moms years from now, what do you think will remember the most? What will you miss the most?
I will remember the amazing feeling of liftoff that I felt, after working as a writer on the show and then playing the character once we started shooting. Integrating all that we had mined and all the challenges we created in that writer's room and then diving into that world as an actor, has truly become an addictive feeling for me. I love acting and I love writing, but being able to marry those two creative pursuits at such a high level because of the quality of the show and the brilliant group of writers I worked with, was sublime. I will definitely miss that feeling and I think I'll be chasing it until it happens again!
What is the greatest lesson Workin Moms has taught you?
There's an episode in Season 1, when Kate is sharing a problem with her father. He tells her, "no one is coming." To me, that succinctly summed up 'adulting' in such a simple and elegant way. We all just need to 'figure it out' because no one is coming to do it for you! Bloody brilliant.
The second part of this answer is a personal one. Writing on this show has expanded my skill and creativity, which has truly given me wings, so I think the greatest lesson this show has personally given me, is to have the courage to explore all aspects of my artistry. The show gave me a safe space to try and because of that, I'm excited to build on what I've learned, to continue to grow and to keep challenging myself as an artist.
What can viewers expect in this last season?
The final season of Workin' Moms is certainly another guaranteed wild ride that the show is known for! As in previous seasons, every character is working through a personal challenge, but I feel like each woman in Season 7 faces herself, sees herself, in a way she never has before. We leave the show feeling like each one of them has changed in such a way, that we'll be satisfied with where they've arrived. Unfortunately though, we'll probably be yearning for another chapter to see what comes next for them all!
The final season of Workin' Moms will make its world premiere in Canada on Tuesday, January 3 at 9pm (9:30 NT) on CBC TV, and will stream on the free CBC Gem streaming service. New episodes will air in Canada every Tuesdays at 9pm (9:30 NT) on CBC TV and available to stream free on CBC Gem.