Tanya Tagaq and Chelsea McMullan's Ever Deadly is an intimate and ethereal portrait of Tagaq — her artistry, her family, her history and her home. The documentary intersperses intimate concert footage of Tagaq with stunning shots captured in Nunavut, exploring her relationship to the land, her culture and family history, and colonialism.
"This process has been exhilarating and interesting. Bringing the crew up to Nunavut was the highlight for me. Watching the crew learn how to drive an ATV on the tundra and take in the majesty of the land gave me a sense of peace," says Tagaq.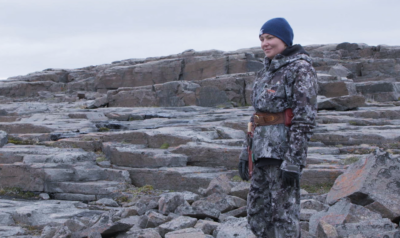 Tagaq is an award-winning Inuk artist beloved for her innovative, contemporary style of throat singing, which is traditionally done as a friendly competitive duet between two women. She blends and melds this with a range of electronic, classical, punk and rock music— and the result is visceral, uninhibited vocals and commanding performances. As she explains at the beginning of Ever Deadly, it is all improvised, creating a unique experience that can't be replicated again.
"Having the opportunity to participate in channeling Tanya's art, voice and life into film has been the greatest creative endeavour of my life," says McMullan. "In the process we touch on many parts of who Tanya is—the unparalleled musical talent, the bold voice speaking truth to power, the poet and philosopher reaching deep into herself, how fiercely she loves her family and how relentlessly she fights."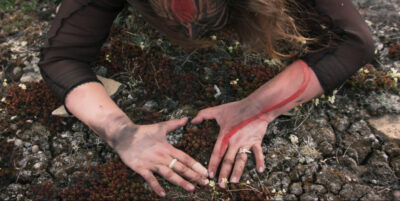 The doc is truly a multi-media experience, combining new and old footage, spoken word segments, photographs, and animated drawings, all alongside Tagaq's raw and powerful vocals.
McMullan was mind blown when she first saw Tagaq perform. "When she walks out onto the stage, she gives you an experience. She fuses with her band to build this electric, seismic, psychedelic improvised trip that blasts through the walls of the auditorium, tearing time and space apart before pulling you deep down into the pit of your soul. I felt awestruck by the power of her art."
They immediately saw the cinematic potential, and approached Tagaq about making a documentary. Tagaq had seen McMullan's My Prarie Home, featuring her friend and indie singer Rae Spoon, and similarly weaving performance footage with expansive footage of the Canadian Prairies.
Tagaq's vision for Ever Deadly was clear from the start—down to visual details like towering ice flows and exploding muskox. But it was a nearly 5-year collaborative process for everything to come together, a process that McMullan says was guided by the same improvisation Tagaq employs in her performances.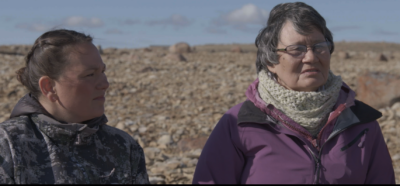 One compelling segment features Tagaq's mother opening up about how her family was relocated by the Canadian government to Resolute Bay. The government promised them abundant resources upon their arrival, but what followed was a harsh winter spent in a tiny tent, and her family almost starving to death. "One of the very first things she told me was that we had to interview her Mom about the government relocation and it had to be in her language. Non-negotiable," says McMullan.
Ever Deadly is a richly layered film, pulling you into Tagaq's world with her expressive, avant-garde performance and sweeping northern landscapes, grounded by tender moments of family bonding and her genuine connection to nature.
"Ever Deadly is meant to be an experience, to flood over you and take you on a journey guided by a live performance for the ages," says McMullan. "Immerse yourself, let it carry you away, but don't for a second think the cinematic frame could ever hope to contain Tanya Tagaq. Not a chance."
Ever Deadly premieres online on NFB.ca on June 16, and is available to watch for free.