Canada's inimitable Katie Boland is the writer, director and star of festival hit We're All In This Together. Based on Amy Jones' bestselling book of the same name, the film tells the story of a dysfunctional family forced to spend time together after their mother hurls herself over a waterfall in a barrel.
The film explores themes of intergenerational trauma and addiction with compassion and verve, using dark humour as a tool to broach and examine sensitive topics. The project is Boland's most ambitious to date, and also a very personal one.
"I am two years sober. My protagonist Finn also struggles with alcoholism. Though this isn't a biopic, there is a lot of mental illness in my family," says Boland, admitting that making the film has been a huge step for her own recovery. "After deciding I was going to write and direct We're All In This Together, there was sort of an explosion in me. I wanted to create something that helped me understand myself, my family, and why I was so willing to hide in the past. I believe We're All in this Together can be a mirror that might help you understand those things too."
The film is coming off an extensive festival run, scooping up over 40 awards along the way, including being named Best Feature Debut by the Female Eye Film Festival, Best Picture & Best First Time Feature by the LA Film Awards, and Best Feature from the New York Independent Cinema Awards. Critics and audiences alike have been praising the film for both its heart and bite. "Boland is extraordinary, stretching her acting prowess to master two roles in this film," writes Hollywood North Mag.
Having spent years as a child actor, Boland grew up in the industry, and has over 108 credits to her name (a mix of writing, acting, directing and producing). But nothing has hit her as hard as this film. "I had been looking for a novel to adapt, star in and direct that spoke to me personally, I had no idea a novel could be this personal. It was important for me to tell a story with humour and poignancy about trauma, mental illness, and alcoholism, which looked different than what I'd seen in films before."
Many years ago, when Shedoesthecity was in its infancy, we were lucky to have Boland as a contributor. Her writing has always been fiercely vulnerable and poetic. Watching how far her career has come since that time, well over a decade ago, has been totally inspiring. We're thrilled to be the first to share the finished trailer for We're All In This Together, and are so proud to celebrate Boland's daring film and her 2+ years of sobriety. Both are major accomplishments that require serious discipline and fortitude.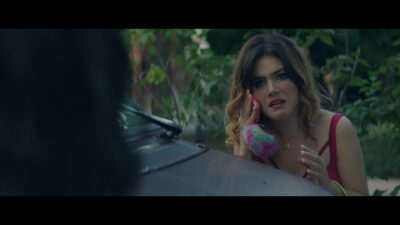 We're All In This Together will host event screenings with Landmark Cinemas on October 12, Q&A screenings on October 13 with Cineplex in Toronto & Vancouver, and will open theatrically October 14.