OCAD's annual GradEx show is now running, and includes work by over 500 emerging artists. This year, more than others, we've noticed that there is a huge collection of art that sparks ideas and conversation about heritage, be it artists exploring and expressing their identity and sense of self through their art and/or using it to draw attention to racism and cultural stereotypes.
As it is Asian Heritage Month, we wanted to publish a series that spotlights daring artists who are exploring their Asian culture through their art.
Claire Heidinger is a Chinese-Canadian Toronto-based visual artist who specializes in drawing and painting. Her work focuses on ideas of Asian heritage, and Asian female sexuality. She investigates fetishism and experiments with food products as canvases and storytellers.
Claire is also the co-founder of Common Collective, an art collection that recognizes the lack of diversity in the visual arts and works to create a necessary IBPOC perspective in public and cultural art institutions. After reading about her process, you'll definitely want to check out her work on her online shop that's full of prints, stickers and original art pieces.
Claire creates beautiful, striking, and introspective work that fights for social change, and her pieces are unlike anything we've seen. We reached out to Claire to get her perspective on art, OCAD and Asian heritage.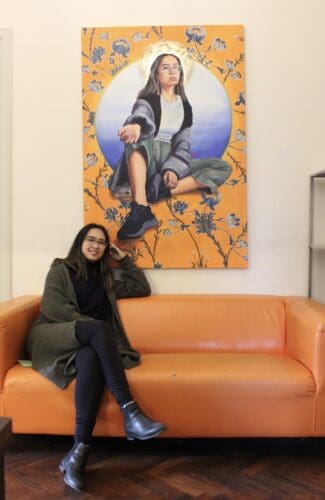 What inspired you to create this piece?
Due to the nature of the pandemic, with schools and studios closed for student access, I was forced to rethink my artistic approach and the ways in which art is viewed and consumed. I wanted to create work that subverts the western canon of art making and painting, which is why I turned to food. Not only is it such a big part of my culture, but using food in a way where time plays a part in the artistic process as they rot and decay. As stand-ins for bodies, I wanted to emphasize a cycle of decomposition that represents imprints of distorted diasporas. Shamelessly excreting an intimate, vulnerable, and grotesque depiction of loss through sexuality and beauty, alongside the porcelain organic produce.
Have you been thinking about your heritage differently this year than in the past? If so, how?
My thoughts on my heritage have evolved since I was a child and first learned about differences. But that doesn't change that I live this reality day to day, so this month and any other month of the year, I reflect on my generation and those that came before us; the histories that are told and are lost, and how to retell these histories in 2021.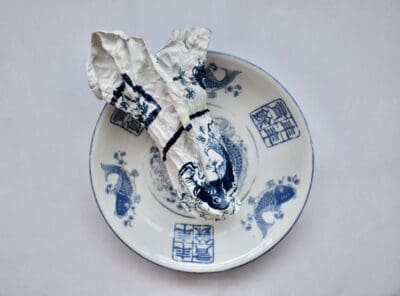 What part of your heritage are you most proud of/enjoy celebrating?
Community is such an important part of identity and heritage that I continue to celebrate. I am so privileged and grateful to have such wonderful people in my life that share experiences, joys, and struggles in life. We are powerful together, stronger together, and happier together. The familial love in community is worth celebrating.
What part of your heritage do you think is misunderstood? Or do you wish people knew more about?
We are not silent, and we should not be silent. In communities like Chinatowns, we take care of each other and rely on one another. This is an integral part of the compassion that I see. That is why I think it is so important to speak up to support one another, and support other marginalized communities. Our silence makes us complicit, and we should be heard. These voices will fuel dialogue and knowledge about other's experiences and social histories.
What is the greatest lesson you've learned at OCAD?
OCAD has provided me with a toolbox of knowledge that I can use in the "real world". However what I value most, as cheesy as it sounds, are the friendships and connections I've made with profs and peers. These are relationships that I hope to continue for many years, for the rest of my life.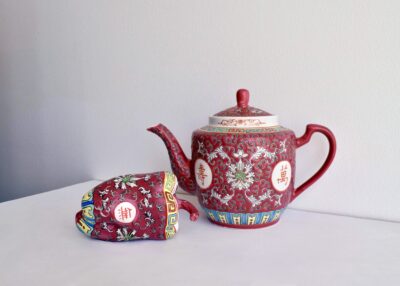 What conversations or ideas do you hope this work inspires?
I hope that my work is a valuable addition to an ever growing questioning of what constitutes art and whether archival qualities are really necessary. It is more important to me that this work exceeds the limitations of the curriculum taught in art school(s), and that creativity knows no material bounds and should not be confined to what institutions define as good art. We've been stuck in "tradition" for a long time, it's past its expiration date.
What do you love most about the Grad-Ex show?
We've all had to adapt and I'm sure many other students are bummed that we aren't able to have an in-person GradEx and see all our work collectively together. But we've worked so hard this past year and all deserve to enjoy the brilliant minds and creatives together on this online platform. I applaud everyone's strength and will to pull this together during a difficult time.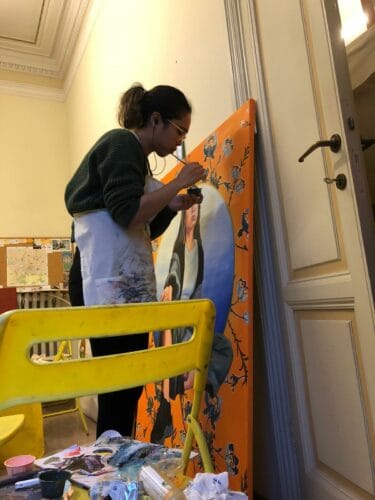 This is the second post in a series that will share how artists in OCAD's GradEx show are exploring Asian heritage through art. If you haven't already checked out the show, you really ought to check it out.