Fan Expo Canada was one of the many beloved events to get knocked out by Covid last year, and is one of the first to return~in real life~in a major way. With the announcement came feelings of excitement that we are turning yet another corner… or a long-awaited return to fun.
While the event is smaller in scale, or what organizers have called "Fan Expo: LIMITED EDITION™", all the elements that make Fan Expo soar remain the same, including a stellar lineup of celebrities, cosplay for all, and palpable fan enthusiasm.
"We are overjoyed to be able to safely welcome fans back to the show floor after a difficult hiatus due to COVID-19," said Andrew Moyes, Vice President, FAN EXPO HQ. "At its core, the show is a community; a place for belonging, and a pop culture haven to escape to. Fan Expo fans are like none other and we have missed the energy and passion they bring every year. We couldn't be more delighted to welcome people back to the Metro Toronto Convention Centre."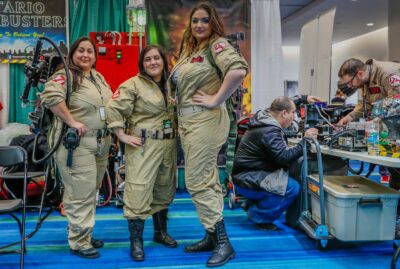 Geek out, because here are some of the big names touching down: Star Trek alums George Takei and William Shatner; Schitt's Creek's resident heartthrob, Tim Rozon; Wynnona Earp star Melanie Scrofano; the Ninth Doctor himself, Christopher Eccleston; Pokémon voice actress Veronica Taylor; 'MythBuster' extraordinaire Adam Savage; Buffy the Vampire Slayer's 'Spike', James Marsters; and more!
Comic buffs will also have a chance meet the legendary artists and creators behind beloved comics and animated works including DC's Chief Creative Office Jim Lee; the Canadian writer behind Marvel Action: Captain Marvel, Sam Maggs; Archie Comics artist Dan Parent; The Addams Family character artist Francine Delgado; prolific cartoonist and editor known for his work in the DC and Marvel universes, Ken Lashley; Canadian Emmanuelle Chateauneuf, known for her Toronto-set graphic novel series Queen Street; among others. Cool.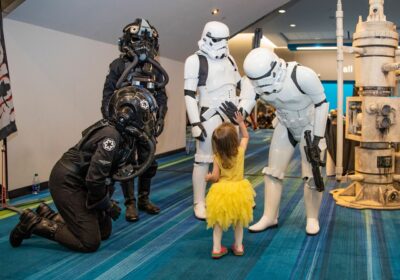 The annual comics, sci-fi, horror, anime and gaming convention is open to fans of all ages, and as always, costumes are highly encouraged. Pushed from its usual slot of late August, Fan Expo Canada's new 2021 timing aligns perfectly with the Halloween season.
Get your tickets now. Proof of vaccination is required, and masks are mandatory. Photos above are from Fan Expo Canada, 2019.