One listen of Fefe Dobson's charged new single "Hungover" and we were instantly hooked.
Returning to her pop-punk roots, "Hungover" contains a grittier feel than Fefe's earlier hits, giving off an energy reminiscent of 90s feminist anthems like Bikini Kill's "Rebel Girl" and Le Tigre's "Deceptacon", and also had us thinking about the early work of rock-punk pioneer Poly Styrene.
The multi-platinum artist, who's written songs for Miley Cyrus, Selena Gomez, and Jordan Sparks, describes "Hungover" as a song that pokes fun at the aftermath that follows an uninhibited wild night. "I think we've all had a night like that where we try to remember or try to forget," shared Fefe. For those in recovery, "Hungover" will serve as a powerful "remember when".
While lyrics like "I'm too hungover to talk, I'm too hungover to fuck" and "if I'm alive or I'm dead, it makes no difference, I'll do this shit all over again" allude to a bigger problem with alcohol (we couldn't help but think of Amy Winehouse's "Rehab"), the catchy song provides the kind of instant release that life in 2023 calls for, immediately diffusing pent-up feelings of frustration, resentment or rage.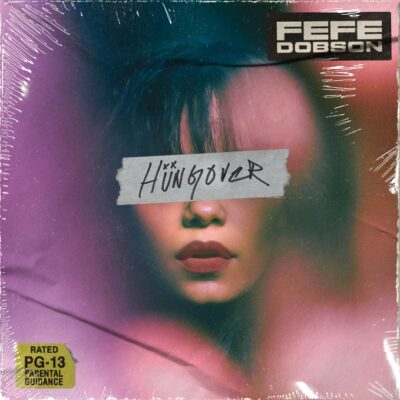 The multi-platinum recording artist's single releases during Black Music Month, which is significant, considering how influential Fefe has been for so many artists, especially alternative Black female artists. "Dobson inspired Black alternative kids who saw themselves in her," writes Nylon Magazine. It's the kind of praise that's easy to find with a quick search of her name.
On the YouTube page for Fefe's 2003 hit, "Take Me Away", fans share numerous heartfelt messages about Fefe's immeasurable impact. "The first Black girl who looked similar to me who did pop/punk music that I saw as a kid in the early 2000s. An inspiration, an icon," writes one commenter. Another shares her first impressions of Fefe in a vivid anecdote: "I remember I was 11 and the moment I first saw this video and discovered Fefe… a Black chick like me singing rock music and how amazing and unreal it felt to see her! I will forever love Fefe for breaking down racial barriers in music."
"Hungover" is a delicious tease for the full-length album releasing later this year, which also marks the 20th anniversary of Fefe's self-titled debut album. The strong single promises a big next chapter for the Toronto artist, and we're excited to witness it.
Fefe Dobson's "Hungover" is now streaming on all platforms.