Debuting at the Gladstone Hotel's annual Come Up To My Room exhibition, Sarah Keenlyside's recreation of Ferris's bedroom from the cult classic Ferris Bueller's Day Off was one of the most buzzed-about art events of 2016. Keenlyside and her collaborator, Joseph Clement, perfectly replicated the iconic teen bedroom–right down to the E-MU II Emulator, 1980s music posters, and the mannequin under the covers.
In the brand-new documentary Ferris's Room, viewers follow Keenlyside as she travels to Chicago to display her installation at Ferris Fest in celebration of the 30th anniversary of the film's release. Watch as she works around the clock to ensure Ferris's bedroom is ready in time, facing unexpected challenges and meeting Ferris Bueller superfans along the way.
We caught up with Keenlyside this week.
SDTC: Do you remember the first time you watched Ferris Bueller's Day Off? Why do you think it made such a big impact?
SK: Everyone has a little Ferris inside of them: the id. It's the part of us that wants to break all the rules and just have fun. I think on some level everyone can relate to his character, even if it's not who they are. Haven't we all wanted to play hooky, jump on a parade float and sing "Danke Schoen?" Or is that just me?
It also represents the freewheeling positivity of the 1980s, the last truly optimistic decade we've seen–in my opinion, at least.
When you set out to recreate his room, how did you start?
I did the first room with the help of my friend Joe Clement, and the first thing we did was figure out the dimensions of the room. We looked at the standard features of the room and extrapolated the measurements. The doorframe and larger posters are what gave us our baseline measurements and we went from there. Joe drew them up as design drawings and we hired someone to build the room inside of the room we were given. The same plans were used for the third and fourth times we staged the room.
In terms of finding the stuff, I started by taking a lot of screen grabs of the film to analyze what was in the room and then naively going to thrift stores thinking I could find any of that stuff. I think the only thing I found was the TV, and it was only a similar one–a SONY TV that was the same size and made in the same year as the one he had. Other than that, I had to search a lot deeper. Thank goodness for eBay or the project wouldn't have been even remotely possible.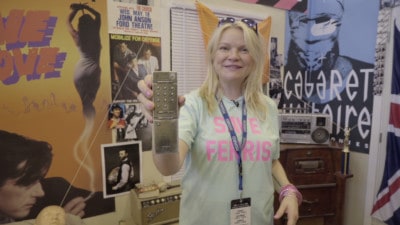 What were the weirdest things you had to track down?
One thing was a poster that I could only barely make out from the screen grabs–the area on the wall was never totally in focus and dark in all the shots. It was clearly of an old portrait painting–someone regal–but we couldn't make out exactly what it was. Then one day, Joe was at his mom's office (she works at an interior design firm) and he called me excitedly saying he thought he'd found the answer. He texted me a replica of a hanging portrait in his mom's office. It turns out it was a portrait of French King Francis I! That was a huge moment of excitement for us both.
Do you miss the 1980s? Do you think life was better then?
Yes and no. The 1980s were optimistic for sure, but I think naively so. Look at the progress we're making today with social equality and the environment. It's a tough time now and progress is very slow–maybe too slow to save us–but I think more people today are aware and fighting harder for important things and it's the best chance we've got.
What has this project, in its entirety, made you think about the most? What are the discussions that keep coming up?
The power of nostalgia, of course. It's a funny kind of happiness it produces. It's tinged with a palpable sense of loss. But for me, recreating Ferris's room was a challenge I posed to myself. I wondered if I had the stamina to realize the project. It turns out I did, and it was a life-changing realization to find out that I could do it.
What's the most memorable thing someone has told you after experiencing Ferris's Room?
What I found interesting is that different people had different favourite moments in the room. Some people just wanted to re-enact the clarinet moment. Others wanted to do the keyboard with the coughs. Others wanted to get into the bed with the mannequin. One guy in Chicago just sat in the horse chair for, like, an hour and kept nodding and smiling. I let people do what they wanted in there and I didn't rush them, so it was fun to see how each person chose to interact with the room.
What do you love most about the doc that chronicles your work?
The film really captured my philosophy as a creative person. I set out to do the project to make people happy, and the film confirms that I did exactly that. What a good feeling it is to make so many people smile.
Ferris's Room screens Saturday, June 2, at 8 p.m. at Hot Docs Ted Rogers Cinema (506 Bloor St. W.) and will be followed by a 360° virtual reality tour of Ferris's bedroom! Toss around his baseball, try out his synthesizer, and listen as Keenlyside shares details about how she tracked down Ferris's prized possessions.
Tickets are $11.50 or $16.81 with a beer and medium popcorn. Grab yours here.