Fire of Love is a love story like no other, because the world has never had a story similar to Katia and Maurice Krafft, the French couple who devoted their lives to studying volcanoes. Their shared passion eventually led them to their untimely death in 1991, which is where Sara Dosa's brilliant documentary begins, narrated by Miranda July.
Growing up in post-war France, in Alsace, the Kraffts were rebels, risk-takers, activists, scientists and artists. They met in 1966, married in 1970, and spent their life walking through red rivers of 1200 degree bubbling lava in order to document the power, and the beauty, of active volcanoes—from Iceland to Indonesia. Their path was singularly defined by volcanic activity.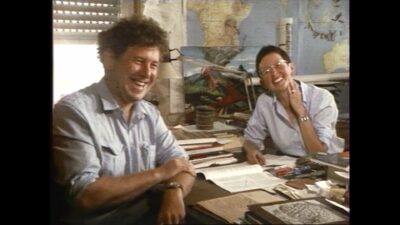 Audiences will walk away with gained knowledge about tectonic plates, the various types of volcanoes, and how deadly (or not) they are, but this is far from your average National Geographic documentary (although the network was quick to pick up Fire of Love after it premiered at Sundance Film Festival). "We didn't want to make a disaster flick about the death and destruction of volcanoes," says Canadian Producer Ina Fichman. "We felt that a love story between this incredible couple and their love of the earth was what would draw the audience, and also what drew us to their story."
But before they could do anything, the Fire of Love team needed to find the Kraffts' archival material that was rumoured to be somewhere. After an extensive search, they found a treasure trove of material in a small archival house in south-west France—it blew their minds.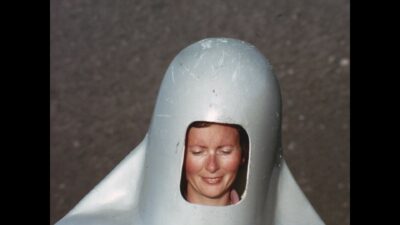 "There were a good 200 hours of archives…only 20 hours had been digitized," and it was from here that they began to piece together their lives. "When you are making an archive film, the challenge of course, is for the creators to connect with the subjects. Most documentarians, when you make a film, you interview the subjects, and if they are no longer alive, you interview people who knew them. The question that Sara asked was: how do we get close to them?"
Stitching together animation, old photos, and interviews, Dosa gives context to their lives, showing who they were as individuals, the climate they grew up in, and what drove them to live such a bizarre life. We see the Kraffts attend a protest in the street, we learn how they made a firm decision to not have children. They grew up under the creative influence of French New Wave, and Dosa helps audiences understand how that influenced their filmmaking style, without ever saying it. "She got into the hearts and minds of the Krafts, which is why the film is so authentic and so emotional."
The decision to have Miranda July narrate the story brings a poetic quality to the film—she takes the story deeper, filling in pieces of the story that isn't covered in the archival footage, and asking philosophical questions. "Her voice, her approach, and her sensibility really fits this. The irony, the humour at times, the sincerity—but not taking yourself too seriously," says Fichman. The decision to enlist July is smart, effective, and one of the many reasons this documentary stands out. But it's the wild images of the Kraffts in their metallic suits, with lava shooting forty feet up in the high behind them that brings the wow factor to this film.
"The footage they shot is extraordinary. They were great filmmakers. It's unusual to come across what is essentially a personal archive that the shooting is so magnificent. I've produced films for nearly thirty years and for me this is a cinema film that you should see in a theatre."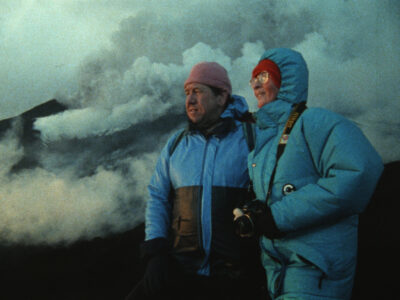 Watching with my partner, both our mouths were agape. This is a story that is so outrageous that it's almost unbelievable. The footage is spectacular, but it's Katia and Maurice's curiosity, determination and fearlessness that truly shocks. "They lived their lives with passion and love. Love for the earth and love for each other. Maurice, I think, always knew that they would potentially die in a volcano, but their obsession and passion allowed them to live a meaningful life, and I think we all want to live a meaningful life. Sometimes that involves taking risks."
FIRE OF LOVE opens July 22 in Toronto (Bell Lightbox),Vancouver (International Village), and Montreal.