When a small plane crashes in the middle of the Canadian wilderness, a lone woman (Melissa Barrera) must battle the elements — and her personal demons— for her survival.
Keep Breathing sounds absolutely terrifying—or exactly the kind of nail-biting series we'd love to get lost in, especially as it's set in the foreboding forests right here at home.
We devoured Yellowjackets, and have an affinity for Les Stroud (the survival expert who thrills us with his grub-eating and bear-watching in the long-running docuseries Survivorman), so we're confident that we're going to lap up Keep Breathing.
Melissa Barrera nailed her performance in last summer's blockbuster musical In The Heights, and we can't wait to see her take on a grittier role in this survival series.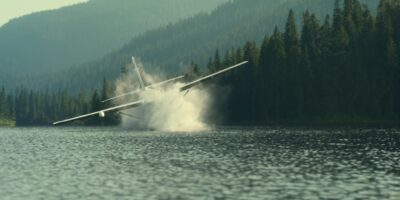 Keep Breathing is executive produced by co-showrunners and writers Brendan Gall and Martin Gerro (Blindspot, The Lovebirds) and Maggie Kiley (Dr. Death, Dirty John).
Keep Breathing arrives to Netflix on July 28. See what other shows and movies are coming this summer!