Wednesday Addams is back— and if you thought she couldn't get any moodier, she's a teenager now.
In our first glimpse at the new series Wednesday, coming to Netflix this fall, the Addams family's only daughter is starting at an eerie new school called Nevermore Academy, and she's still as gloomy as ever.
"Little did I know that I'd be stepping into a nightmare, full of mystery, mayhem and murder. I think I'm going to love it here," she says in the teaser trailer.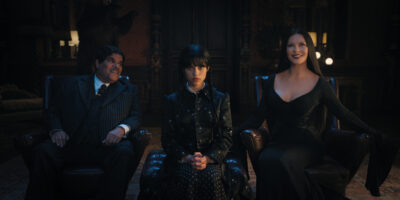 Directed by Tim Burton, the series is described as a "sleuthing, supernaturally infused mystery," and will follow Wednesday at her new school as she "attempts to master her emerging psychic ability, thwart a monstrous killing spree that has terrorized the local town, and solve the murder mystery that embroiled her parents 25 years ago."
Tim Burton passed on directing the 1991 movie version of the Addams Family, but was interested in the mysteries showrunners Alfred Gough and Miles Millar brought forth with the concept for Wednesday. "The ambition of the show was to make it an eight-hour Tim Burton movie," Millar told Vanity Fair.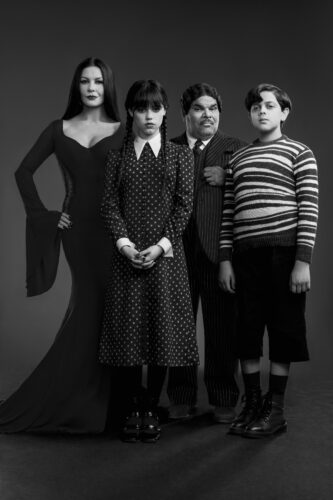 Jenna Ortega (who you may have seen in the creepy Netflix thriller You) stars as Wednesday, and is already nailing her character's piercing stare in this teaser.
We also get to see new versions of the rest of the iconic Addams family. Catherine Zeta-Jones and Luis Guzmán make a striking odd couple as Wednesday's parents, Morticia and Gomez Addams, and Isaac Ordonez plays Wednesday's brother Pugsley (who no one but her is allowed to torture). And for fans of previous iterations of the Addams Family, Christina Ricci, who played 90s-era Wednesday, will also make an appearance in the show!
This teaser is giving us Harry Potter meets The Queen's Gambit meets Heathers, but with a darker twist. We can't wait to see the twisted adventures and dark mysteries Wednesday is sure to get involved in.
Wednesday is coming to Netflix in Fall 2022. Watch the teaser trailer below.