Fresh cut flowers are my idea of the ultimate luxury. They are the only thing that can capture the exotic beauty of faraway places or the familiar colours of your own backyard and bring them indoors, if only for a few fleeting days.
This past weekend awakened the first signs of spring in the city as my neighbourhood flooded with joggers, hop-scotchers, and car washers. A walk to the flower market was a must. I scooped up two of my favourite blooms, tulips (a classic symbol of spring) and pom pom mums (a cheery and resilient sidekick). Feeling rather ho-hum about displaying them together in the same old vase, I played around with some different ideas and came up with a few fresh new ways to enjoy these bouquets! (…rhyme not intended, but keeping it.)
Simple Yet Unexpected
I snatched a handful of the soft pink tulips and repurposed a large round jar where I usually keep my regular licorice stash. A deep bowl (generally called a rose bowl) would work beautifully as well. I carefully bent each stem and curved it around the contour of the bowl for a clean and multi-dimensional look.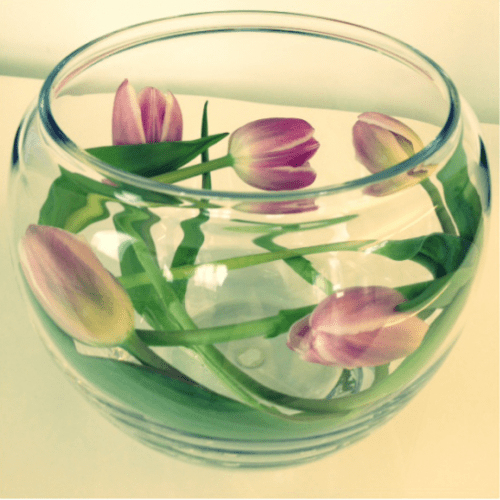 Separate Yet Together
I then grabbed a group of three bottle-like vases that used to sit empty as countertop decor and separated tulips from mums in this minimalist grouping. Plain glass wine or beer bottles would be perfect for this.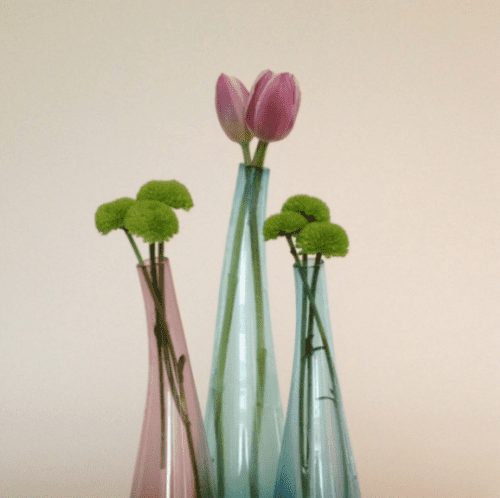 Monochromatic
This was one of my favourite looks – a delightful green on green combo that put a smile on my face. I filled a mid-sized vase with adorable key limes and simply placed the pom pom mums all around one by one. I would definitely use this idea for a colour-themed party, taking a cue from the flowers you select and finding either matching or complimentary coloured fruit.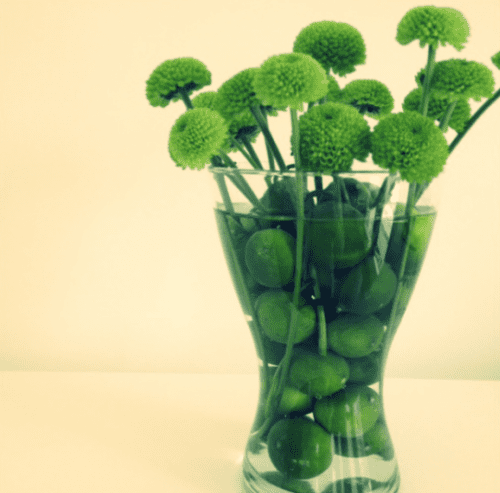 Groups of Three
There's something about a grouping of three that seems so balanced. I am also a big fan of displaying single blooms. Rather than using typical bud vases, I opted for three of my cutest vintage tea cups and three simple shot glasses.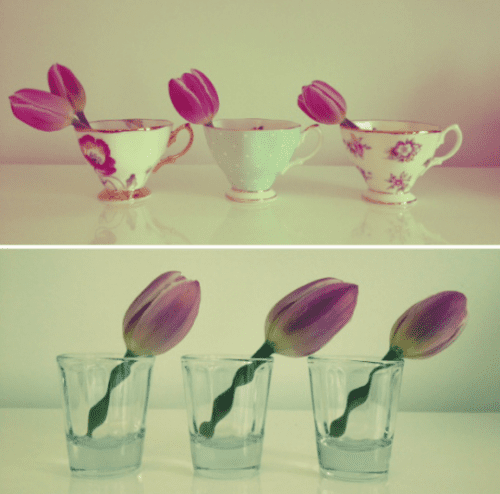 Quirky Vessels
Those pom pom mums were just asking to break out of the mould – such a fresh clean colour and structure. I peeked in to the back of cupboards I haven't ventured in for a while to seek out some quirky little vessels that would do them justice. On the left is a drinking glass we got as a gift. The charming cow is our coffee creamer (from here), and the airplane sized tequila bottle seemed like just the right fit for these baby blooms.