In the weeks leading up to Saturday, December 12th, we will be profiling some of the most fun, creative and sumptuous foodie talents whose wares and goods might just be the most original gifts under the tree.
For this installment, we spoke to the Canadian-Brazilian sisters behind The Sweet Brigade, a deliciously unique brand celebrating Brigadeiro, Brazil's most treasured and quintessential bonbon, with Canadians.
What made you decide to start The Sweet Brigade?
The answer is simple: the three of us have a sweet tooth. We love chocolate, we love candy, we love ice cream, but more than anything we love Brigadeiros. As the Brigadeiro's number one (and two and three) fans, we grew up making and serving Brigadeiros at our birthday parties, weddings, and of course, holiday celebrations. All these years of making Brigadeiros for friends and family have allowed us to perfect our recipe. Our Canadian friends used to gobble these up and we saw a clear gap in the Canadian sweets industry. Plus we've always wanted to work together so we jumped on this opportunity.
What are some Brazilian Christmas traditions?
The biggest difference is that we celebrate Christmas on the evening of December 24th and we eat Christmas dinner quite late (usually around 9 pm). But most other traditions are fairly similar to here — turkey, presents and a Christmas tree. There are some comical seasonal differences of course such as surfing Santa and white sand instead of white snow!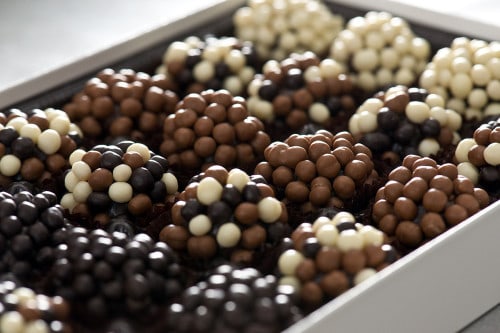 Which sister does what? Are you all in the kitchen at the same time?
Making Brigadeiros is a time-intensive process and so we usually cook together so that we can also spend time together. It's a great way for us to catch up with each other as we all have our own families now. But we also divide some tasks. Luciana, the eldest, does ingredient sourcing and customer relations, Carolina is our head chef and packaging expert and Joanna, the youngest, is our social media maven.
What are you looking forward to most this holiday season?
We have some pretty quirky Christmas traditions in the Rodrigues family. The main being that our mom leads our tone-deaf family in a round of carolling, making us "sing for our dinner." We always sing Silent Night with one verse in English and one in Portuguese and a family favourite, Boas Festas (look it up — the rhythm will have you dancing). This will be the first Christmas that all three sisters have little ones of their own so we can't wait to get some great family shots.
Can you describe the different Brigadeiro flavours?
The Brigadeiro flavour possibilities are endless. Currently we offer Chocolate Crunch, Pistachio, Almond, Ginger, Classic Chocolate, Orange, Coconut, and Nutella.
If you are a fan of nuts, our most popular flavour is definitely Pistachio. Customers love that you can both clearly taste the pistachio and feel its nutty crunch. Chocolate fans always go for "Crunch" as it has that chocolatey goodness, a gentle crunchy outer layer and looks amazing on a dessert tray. But truly if you really want to get a feel for all the flavours, you'll just have to order a box for yourself or come and see us at the Foodie Artisan Market!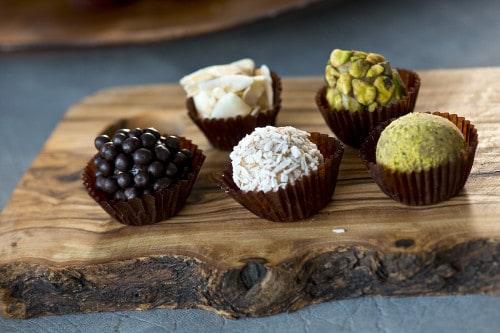 Do you have a favourite holiday memory you'd like to share?
Christmas is a pretty special time of year for us and it's hard to pick just one memory. We all fondly remember the feeling of being children and seeing the tree with all the presents underneath. It wasn't so much about the gifts but they way that our mom wrapped each one to look like a house, an animal or a snowman (perhaps this is where Carolina got her flair for packaging).
Follow The Sweet Brigade on Facebook, Twitter and Instagram!
Mark it in your calendar!
Join us at the Foodie Holiday Market on Saturday, December 12th, 10am-5pm at Artscape Sandbox (301 Adelaide St. W). Exhibitors include Nadege, Emerson Pringle Carpentry, The Rolling Pin Donuts, Provisions Food Company, Burner Hot Sauce, I Love Puffy Love, Roselle Bakery, Lee's Ghee, Hinkleville, Petits Mots and so many more.
FoodiePages is our go-to for finding the most unique foodie gifts by incredible local vendors and chefs. Connect with Canada's best artisan food and drink makers now.