December 10th is fast approaching, and you know what that means: It's time for the Foodie Pages Holiday Pop Up. Shedoesthecity is proud to return as a media sponsor, not only because we LOVE connecting with small batch food makers, but also because this holiday market is the perfect place to scoop up yummy stocking stuffers, or treats to dish out at family get-togethers and holiday parties. (We like to eat it all too.)
If you've been following along with us in the last week, you've read our exposés on some of the incredible vendors at Foodie Pages. For this installment, we spoke with Bryce Taylor-Vaisey, founder of Penny Jam Candy, a Toronto-based company that specializes in fruit forward, low sugar jam – "the way fruit wants to taste."
Tell us how your company was born.
Penny Candy Jam was born out of the desire to make something different. While most preserves have a characteristically sweet taste, I set out to create a jam that tastes like fresh fruit instead of sugar—the way fruit wants to taste. What started as a hobby for friends and family over brunch turned into a mission to do something bold with food. It's been an adventure ever since.
What do you love most about food?
We are so fortunate to live in a place of abundance where fresh food is readily available all year round. Food is our direct connection to the earth, and the fresher it is, the more we benefit from it. I place enormous importance on the freshness of our ingredients, which I hope comes through in the final product.
What holiday offering do you want to share with our readers?
Most people grab our six packs of 125 ml jars as gifts, which gives the jam fans in their lives a variety of flavours to choose from. The plum <3s cinnamon + clove is our most holiday-friendly jam, while the peach <3s guava + grapefruit is like a hot day in August. If you have a jam lover on your gift list, you need Penny Candy Jam in your life.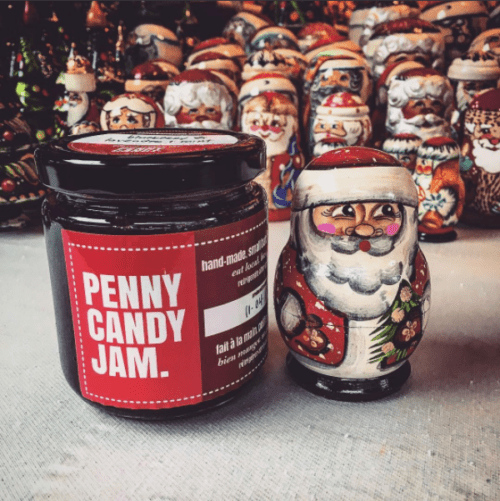 What is your secret ingredient?
There are two secret ingredients in all the jams: a passion for food and the integrity of the ingredients.
What do you love most about what you do?
I love every single part of the process, from selecting the best raw materials, to prepping, cooking, packing and shipping the product. The best part is getting to see people enjoy the fruit of my labour—when someone closes their eyes and discovers a new favourite flavour, it justifies everything I do.
What philosophy has been steering your life lately?
You can sleep when you're dead.
What holiday tradition are you looking forward to most this year?
I can't wait to listen to the Muppets Christmas album (feat. John Denver) with my wife while we decorate the tree. It's one of my favourite times of the year.
What makes a memorable meal?
A good meal is like a symphony: well arranged, orchestrated, and performed. A memorable meal is a symphony heard with a room full of loved ones.
Check out more from Penny Jam Candy on Instagram. The Foodie Pages Holiday Pop Up takes place December 10 at 301 Adelaide Street West. For more info, go here.