December 10th is fast approaching, and you know what that means: It's time for the Foodie Pages Holiday Pop Up. Shedoesthecity is proud to return as a media sponsor, not only because we LOVE connecting with small batch food makers, but also because this holiday market is the perfect place to scoop up yummy stocking stuffers, or treats to dish out at family get-togethers and holiday parties. (We like to eat it all too.)
If you've been following along with us in the last week, you've read our exposés on some of the incredible vendors at Foodie Pages. For this installment, we spoke with the creator of Steambox Dumplings, Toronto's very own handcrafted dumpling delivery company.
Tell us how your company was born.
It started around the dinner table, to be honest. I love making food and having a reason to bring people together. As I began to feel unfulfilled with my corporate job – and my best friends kept fighting over the last dumpling night after night – I decided to take a leap of faith and turn dumpling night into an actual thing!
What do you love most about food?
Food can take you on a journey. It can conjure so many emotions. Like the comfort of a great soup, or how a certain dish can transport you back in time to your childhood or a trip you took somewhere. Sometimes a specific dish is the only way to satisfy a craving.
What holiday offering do you want to share with our readers?
Our frozen dumplings are incredibly handy this time of year. Whether you're tackling exams, intense deadlines at work, or playing host for the holidays, they're super easy to make and come with instructions for steaming and pan-frying. They're ready in less than ten minutes, we have a ton of different flavours, and they taste great without all the MSG and additives you find in commercial frozen goods.
What is your secret ingredient?
Umami. Continually striving to achieve a perfect balance of flavour.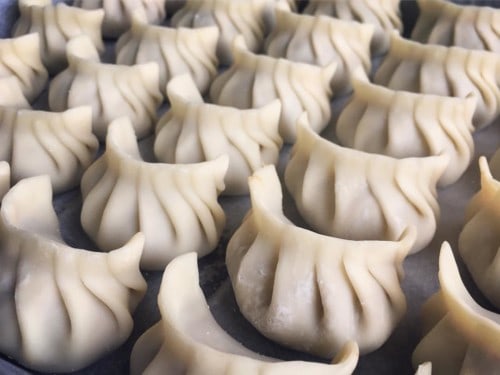 What do you love most about what you do?
Being able to share an old tradition with so many people. It took ten years, but actually seeing Steambox come to life as a mobile entity (and soon a shop!) is incredible. Offering meatless and gluten free options has also been immensely satisfying, as they're so scarce on the market. I want to be able to offer dumplings to everyone, regardless of allergies, intolerances and observances.
What philosophy has been steering your life lately?
Trust the process and take it one day at a time. You will get there!
What holiday tradition are you looking forward to most this year?
Spiked coffees on New Year's morning, followed by a walk with the dogs through the neighbourhood. It's always so peaceful and a great way to recharge.
What makes a memorable meal?
The company!
Check out more from Steambox Dumplings on Instagram. The Foodie Pages Holiday Pop Up takes place December 10 at 301 Adelaide Street West. For more info, go here.