The Leslieville Flea is a curated Toronto-based flea market that specializes in vintage, upcycled and handcrafted goods. Their vintage vendors search far and wide for the best finds. Meet some of the stellar vintage vendors you'll find there, and see what they have in store for you. The next flea is June 11th at the beautiful Ashbridge estate in Leslieville and June 17th at the Distillery District. For all the details and maps go here.
Tell us who you are and what you make:
My name is Michelle Rosetta and I am the owner and creator of BEE23 Natural Beauty, an all-natural quality small-batch beauty line locally made in Toronto.
What is your item of the week?
The item of the week is our famous Hotty Balm for Normal to Oily Skin. It is known for the natural glow that it adds to facial skin, while keeping skin blemish-free and moisturized. It is a waterless formula with no filler or toxins and perfect for metropolitan living.
While lotions and creams are 70%-80% water, ours goes on silky and sinks right in, creating an invisible, breathable barrier – like a second skin. The natural elements like Shea and beeswax lock moisture in while keeping inflammatory elements like pollution out.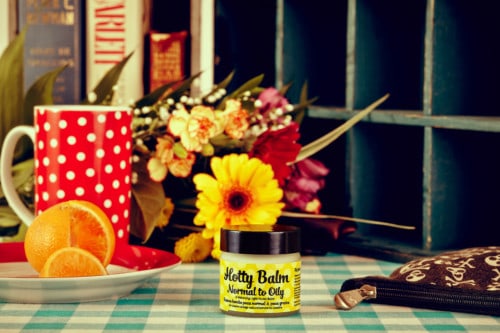 What's interesting about this particular item?
The Hotty Balm is an iconic Canadian brand expressing the creative prowess, pragmatic style and fortitude, which gets Canadians through our winter and ultimately shows up looking svelte on an LA beach even in plaid!
Is there a story behind it?
The Hotty Balm has gone from the Northern Ontario backwoods to Hollywood. We originally began BEE23 Natural Beauty and the Hotty Balm recipe on a 160-acre plot outside Thunder Bay in a cabin. Putting all the energy into the product line, we decided to load up a hockey bag of product and head to downtown Toronto.
Not only did we survive as a company but we also are now in over forty stores and across Canada and this year we were invited to Hollywood during the Oscars to put our red carpet glow on celebrities.
How do you see it living out the rest of its days?
On beautiful Canadian faces everywhere!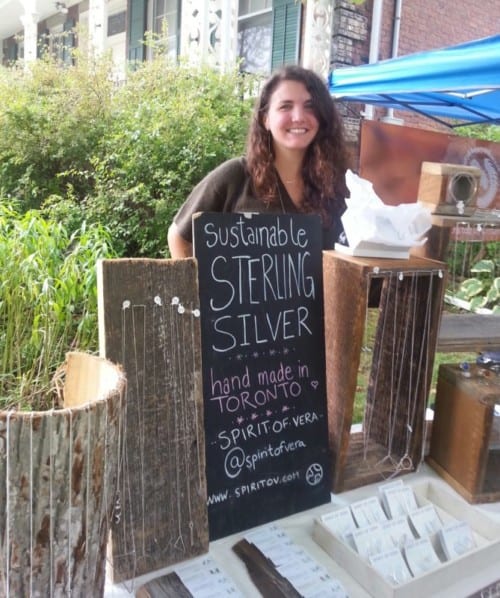 SPIRIT OF VERA
Who are you and what do you make?
I am a sustainable silversmith located in Toronto. I make simple sterling silver jewellery using silver recycled from post consumer goods (such as electronics, appliances, security tags, silverware, jewellery).
They are made with an obnoxious obsession towards durability. For example, all the jump rings are soldered shut, and the pieces are hardened for hours above industry standard. That means these simple everyday pieces can be worn every day.
What is your piece of the week?
I am really fascinated with stones I gather throughout my travels. I found these tiny earth-like Peruvian turquoise hand-cut cabochons that I just fell in love with. They perfectly represent my love for the planet and are simple and minimalist and have a certain rustic authenticity that I really enjoy. I only have twenty or so and they are impossible to find sustainably, so I am cherishing every piece I make with them and will have to keep a stone for myself.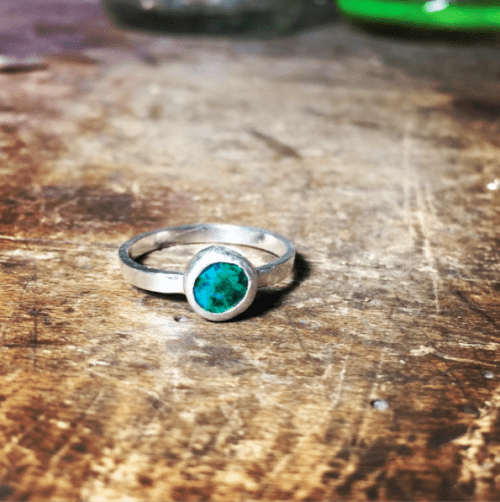 Why did it catch your eye?
It caught my eye because turquoise is a mystical powerhouse of a stone. It's also rarer than diamonds and I was just lucky enough to stumble upon this source. Did I mention they look like little earths? I mean, how great is that? I can feel like I have the whole wide world in my hands (or ON my hand, more specifically).
Is there a story behind the item? 
I was in the San Pedro market in Cusco, not expecting to find anything truly wonderful, when I stumbled upon a gentleman who has had a stall there for countless years. His wife is the lapidary artist and had these gorgeous brute turquoise.
I want to make a piece that honours the beauty and rarity of the stone and will accompany whomever purchases it for years and years.
How do you see it living out the rest of its days
I see this stone worn by a warrior woman as a gift to herself. As a way of reminding herself she is exactly where she needs to be and that she wholly and completely loves and accepts herself.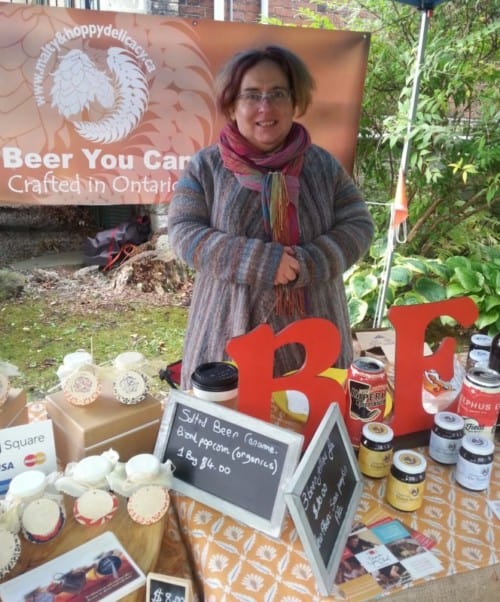 Who are you and what do you make?
My name is Francoise Briet. I grew up in Burgundy, France. I am a private chef but also the owner and head cook of a small company in Toronto: Malty & Hoppy Delicacy. I use Ontario craft beer as well as brewing ingredients and by-products to bring new flavours and exciting small-batch artisan jellies, jams and other delicacies to your table. I love the idea of capturing and cherishing the diversity and complexity of craft beer flavours in my creations and cooking.
What is your item of the week?
Dark Chocolate Sour Cherry Bark infused with a Sour Cherry Beer Jelly.
What's awesome about this? 
Dark beer and milk or dark chocolate is a match made in heaven. I wanted to reinforce the fruity and sour flavours of the cherries by soaking them in a fruit infused beer jelly to create a complex duo that match the rich sweet flavours of a 75% dark chocolate. Dark chocolate paired with sour cherry is an explosion of flavours in our mouth, a symphony of complex aromas, something we can enjoy all year round.
What's the story behind it?
Sour cherry is the summer gourmandise that brings me back to my childhood in France. Clafoutis, cherry pies and my grandmother Adele's jams and preserves, all made with these little beauties! I love the delicate flavour and the tartness of the sour cherry.
I was thrilled to discover that several microbreweries in Toronto are fermenting this delicacy in their brewing process. I have experimented with the sour cherry beers on offer and now use their creations in my creations. The meeting of my French heritage and the Ontario microbrewery savoir-faire is perfection.
How do you see it living out the rest of its days?
Savoured slowly by people who are curious and love to take on a new taste adventure!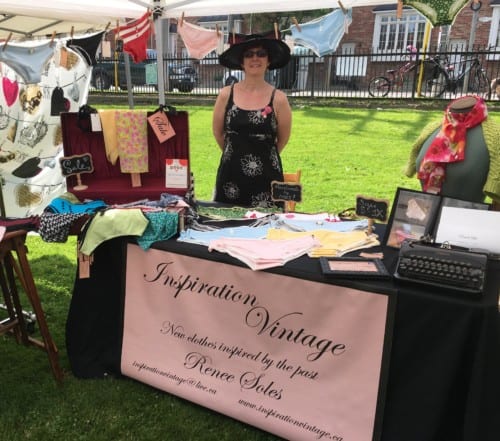 Who are you and what do you make?
Renee Soles, owner/creator at Inspiration Vintage. I make primarily fun, flirty panties and women's vintage-inspired accessories.
What is your item of the week?
A pair of aqua hipster-style panties with black ric-rac elastic and buttons.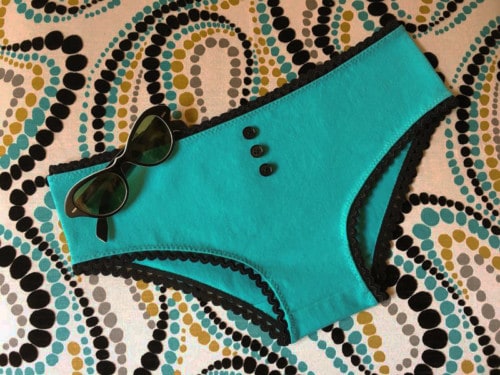 Why did they catch your eye?
They are handmade from pre-shrunk cotton/lycra and range in sizes from S-1X (with XS available made to order). The retro colour combination appeals to me very much and is not intended for the shrinking violets among us.
Is there a story behind them?
I name all my panty styles after vintage actresses and celebrities, and this pair is Bette (as in Davis), although she's feeling a little less dark and brooding than previous coloured predecessors.
How do you see them living out the rest of their days?
Covering cute bottoms everywhere…and bringing a smile and a little whimsy to those bold enough to wear them!