And now for something completely different: The Leslieville Flea will be holding a special pop-up event at the newly opened Broadview Hotel this Sunday! You'll have a chance to hit up the flea, explore the hotel, gain access to the 2nd floor patio to enjoy a cocktail, meet up with friends and maybe even make some new ones!
While you're here, pop in and say hi to these fab women who will be bringing their finds to the flea. For maps and all the deets, visit here.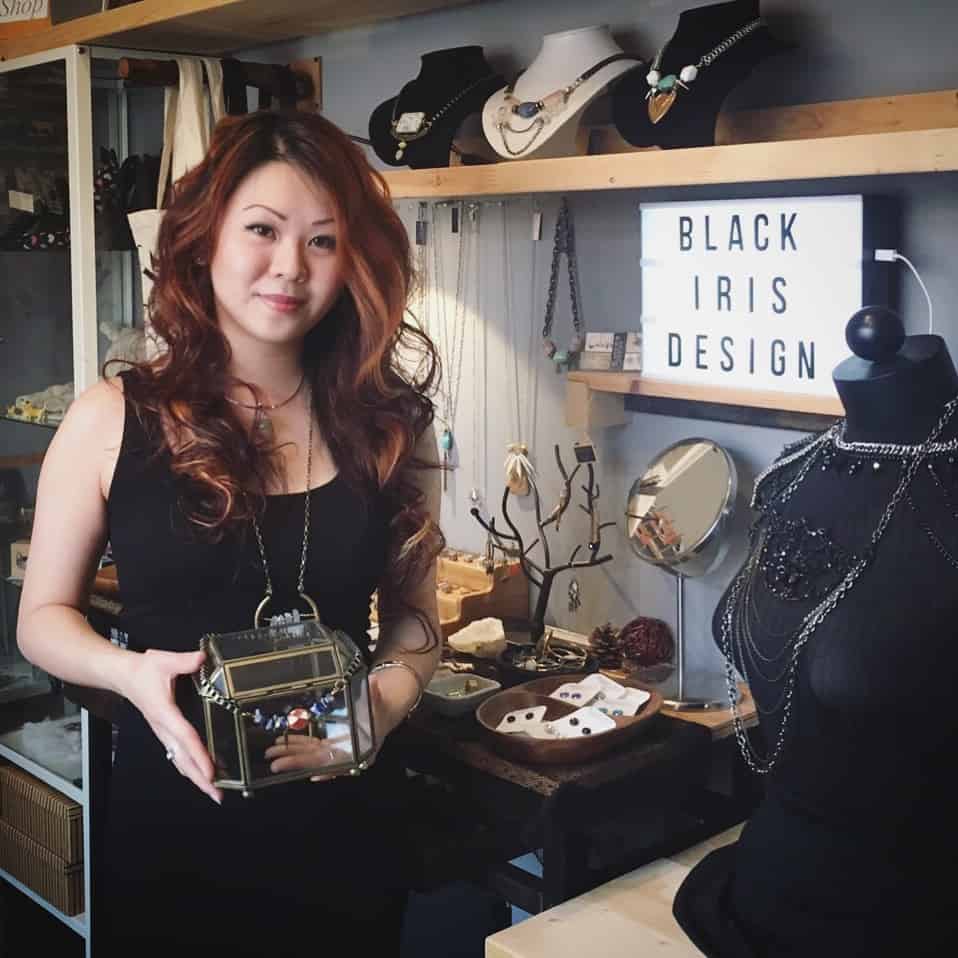 Who are you and what do you make?
My name is Iris. I am the owner and creator of Black Iris Design. I design and make jewellery for men and women with a minimalist aesthetic. I like to combine natural materials like crystals and leather with streamlined geometric shapes. Sometimes I work with found materials, re-purpose them and give them new lives.
What is your piece of the week?
The Amethyst Hoop necklace.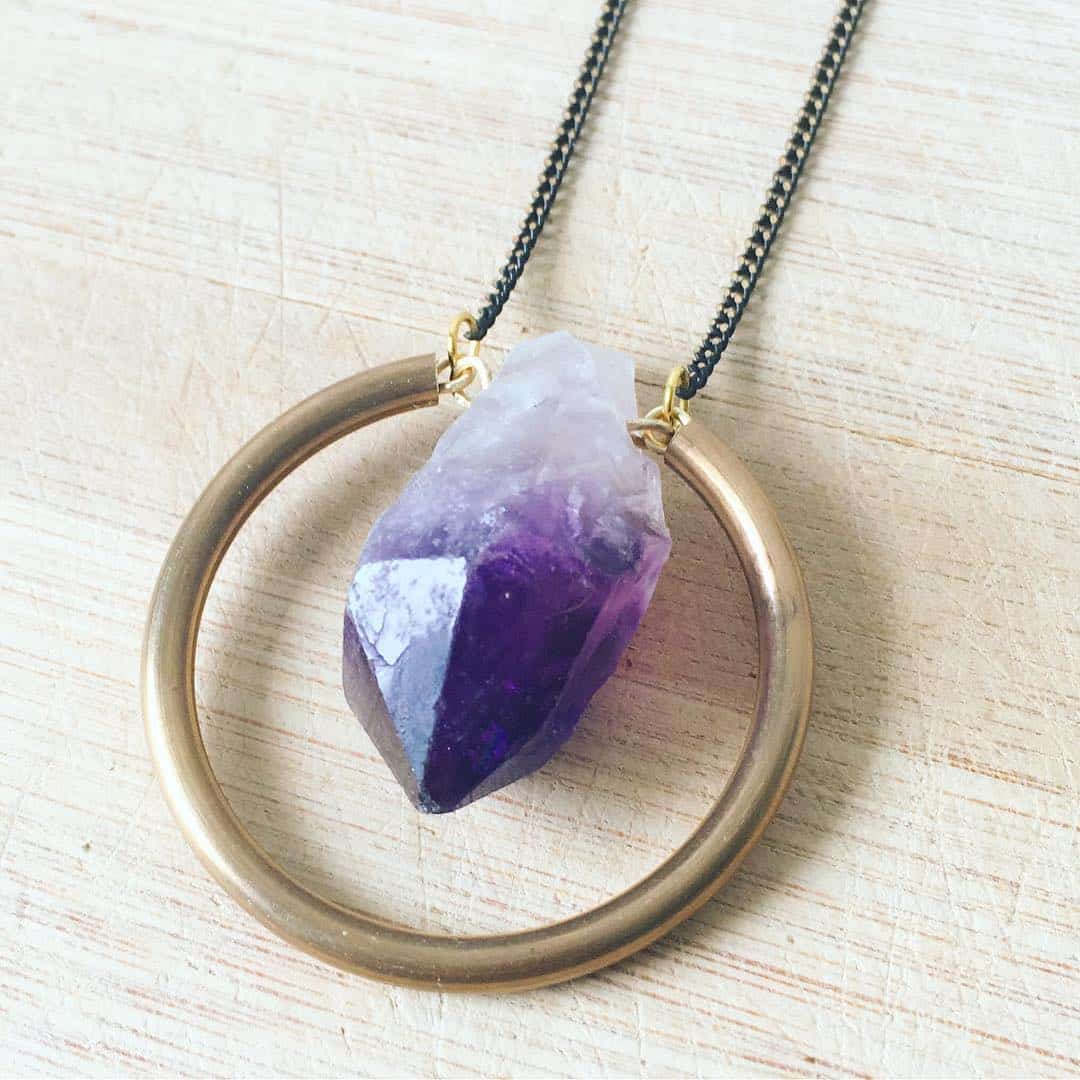 What's awesome about this?
Amethyst is one of my favourite crystals, I love the shape (natural formation) and the range of purple it comes in. In this design, I paired a raw Amethyst crystal with a smooth brass hoop – something that is classic with a touch of nature for texture. It is a versatile necklace that can go with anything from a simple t-shirt and jeans combo to a date night outfit like a little black dress.
Is there a story behind them?
I like to collect stones and crystals when I travel. Earlier this year I was in Arizona and saw some wonderful crystals that were as tall as me! Since I couldn't bring them home, I settled for getting some smaller treasures instead. The Amethyst crystals I use in this design are from that trip.
How do you see them living out the rest of their days?
I see it getting adopted by someone who loves the minimalist aesthetic as much as me. I think he/she will find that it goes with many outfits and it will become one of their go to accessories.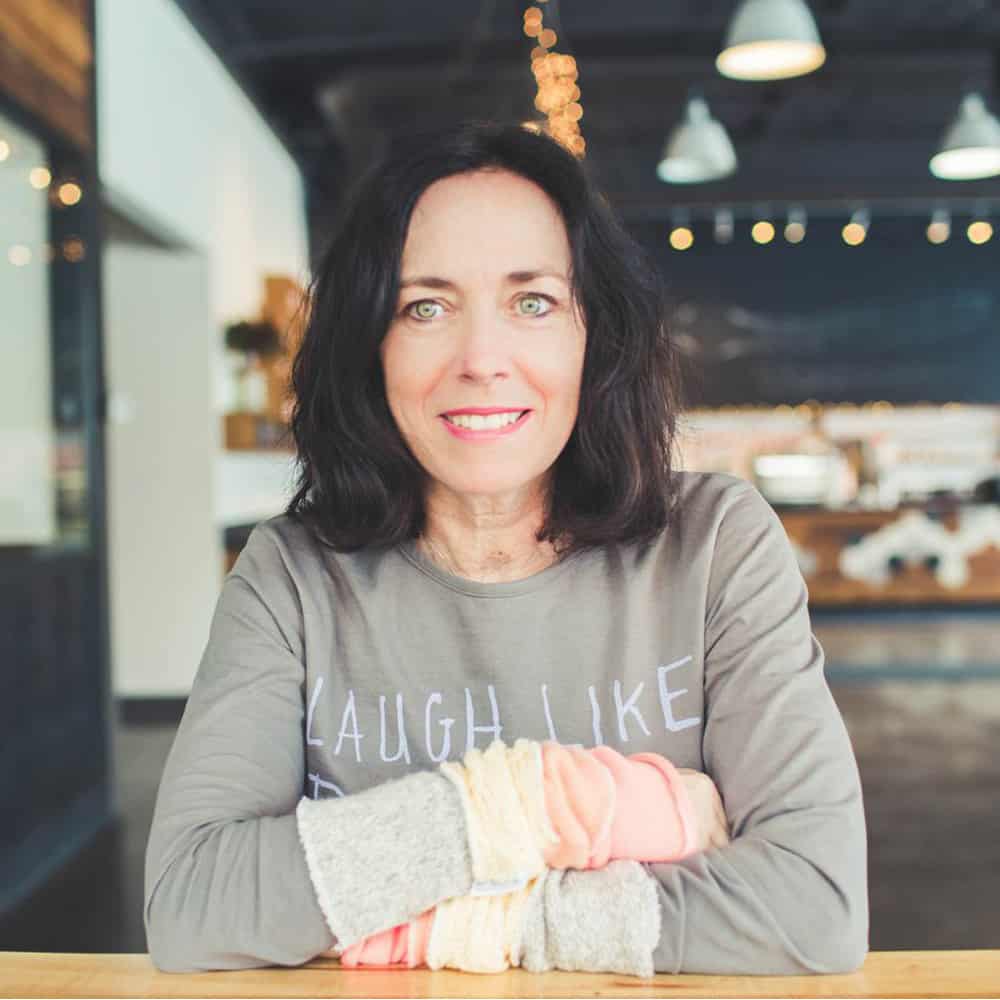 Tell us who you are and what you make?
I am Maureen Bradshaw, the owner and creator of Lovbird Organic Cotton T-Shirts. With a career as a graphic designer and a love of nature, painting and fashion, Lovbird has fulfilled my need to create ETHICAL, INSPIRING, wearable art. I have designed a series of inspirational t-shirts and garment styles ranging from a tunic and long sleeve t-shirt to an infinity scarf and sweatshirt, all made from 100% organic cotton. They are meant to be worn in your yoga class and on the street. My favourite item of the week is our loose fitting "free yourself" sweatshirt in moss green French terry.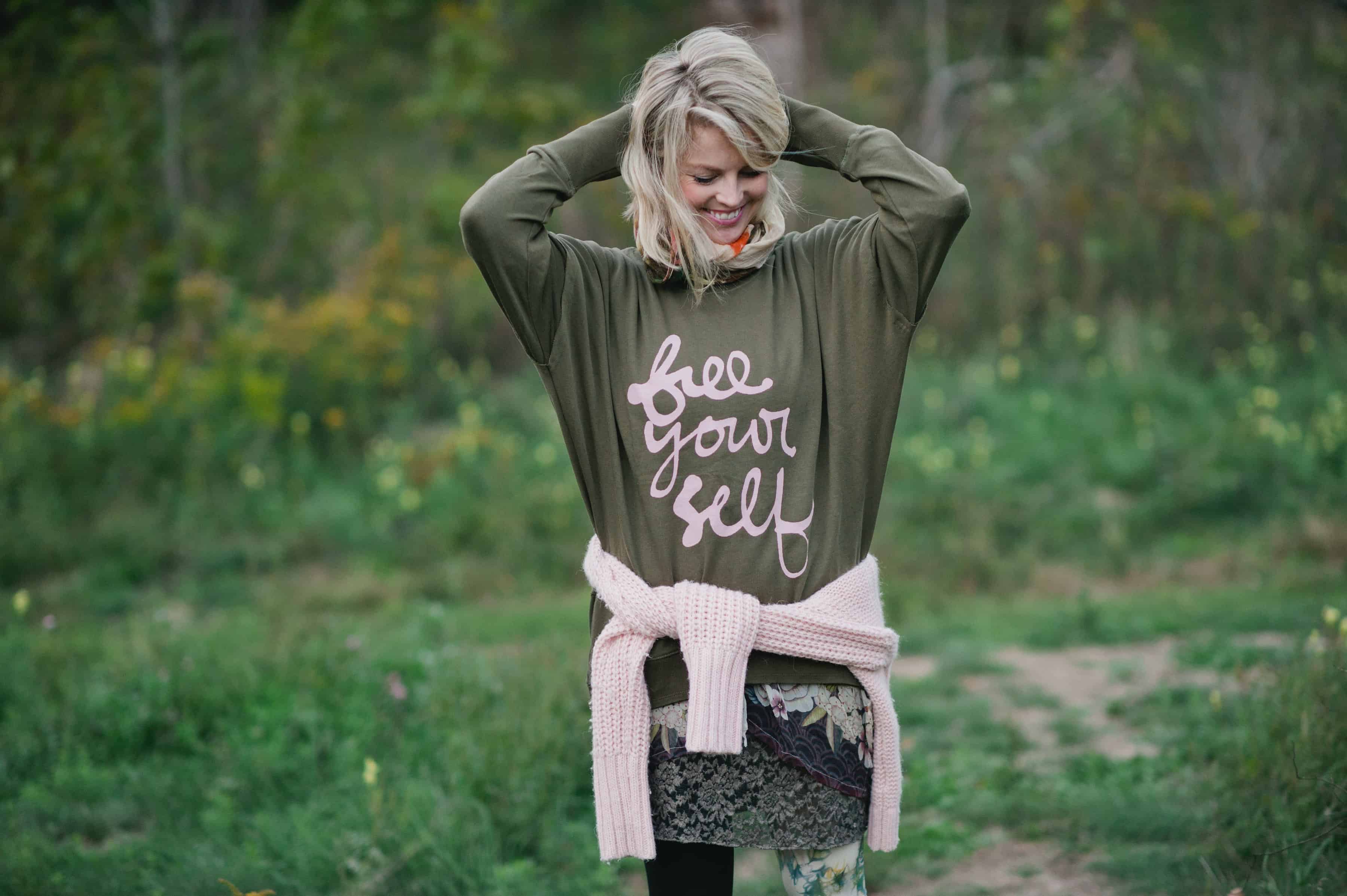 What's interesting about this particular item?
This sweatshirt has a drop shoulder and oversized body. It is really great to wear over flannel, leggings, or denim. The back of the sweatshirt has been designed two inches longer than the front to keep your behind nice and cozy. It is baggier than your regular crew neck sweatshirt. I love it because it is printed with a loose hand-drawn "free yourself" script made with India ink and my dried out brush and of course the oversized wings unfolding on the back…
Is there a story behind this item?
I have an oversized wool sweater (actually a size bigger than I normally wear) in my closet that was my favourite layering piece for over half a decade. I pulled it over everything on cool mornings and evenings, dressed it up with a colourful scarf and boots or pulled it over my yoga clothes for easy street style. It has raglan sleeves with elongated cuffs to pull over my hands and is long enough to call a dress. When making the Lovbird sweatshirt, I chose to recreate a piece that would replace my favourite sweater. I added a smaller neckline, longer cuffs, the high/low hemline and raw edges to the seams to make it even more unique.
How do you see it living out the rest of its days?
Those who wear this sweatshirt will be inspired by its words to keep striving for their own goals and find the strength to overcome any obstacles that may get in their way. It is a big wish for a simple sweatshirt, but I am hopeful.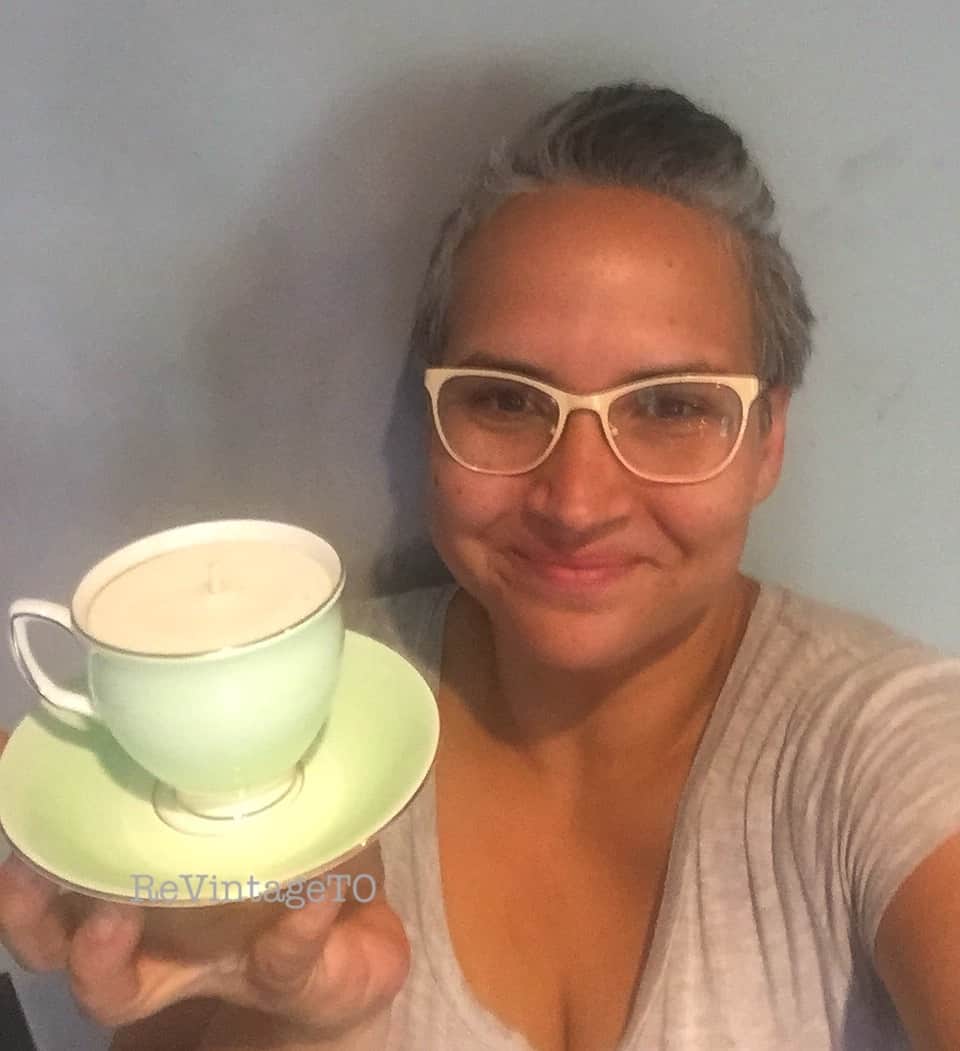 Tell us who you are and what you make/collect/curate?
I'm Jennifer and my business is ReVintageTO. I make organic soy candles and reclaimed tile coasters.
What is your find/piece of the week?
My greatest find is a set of tea cups made in Japan during the Korean War. They have embossed dragons on them and glass googly eyes! SO special.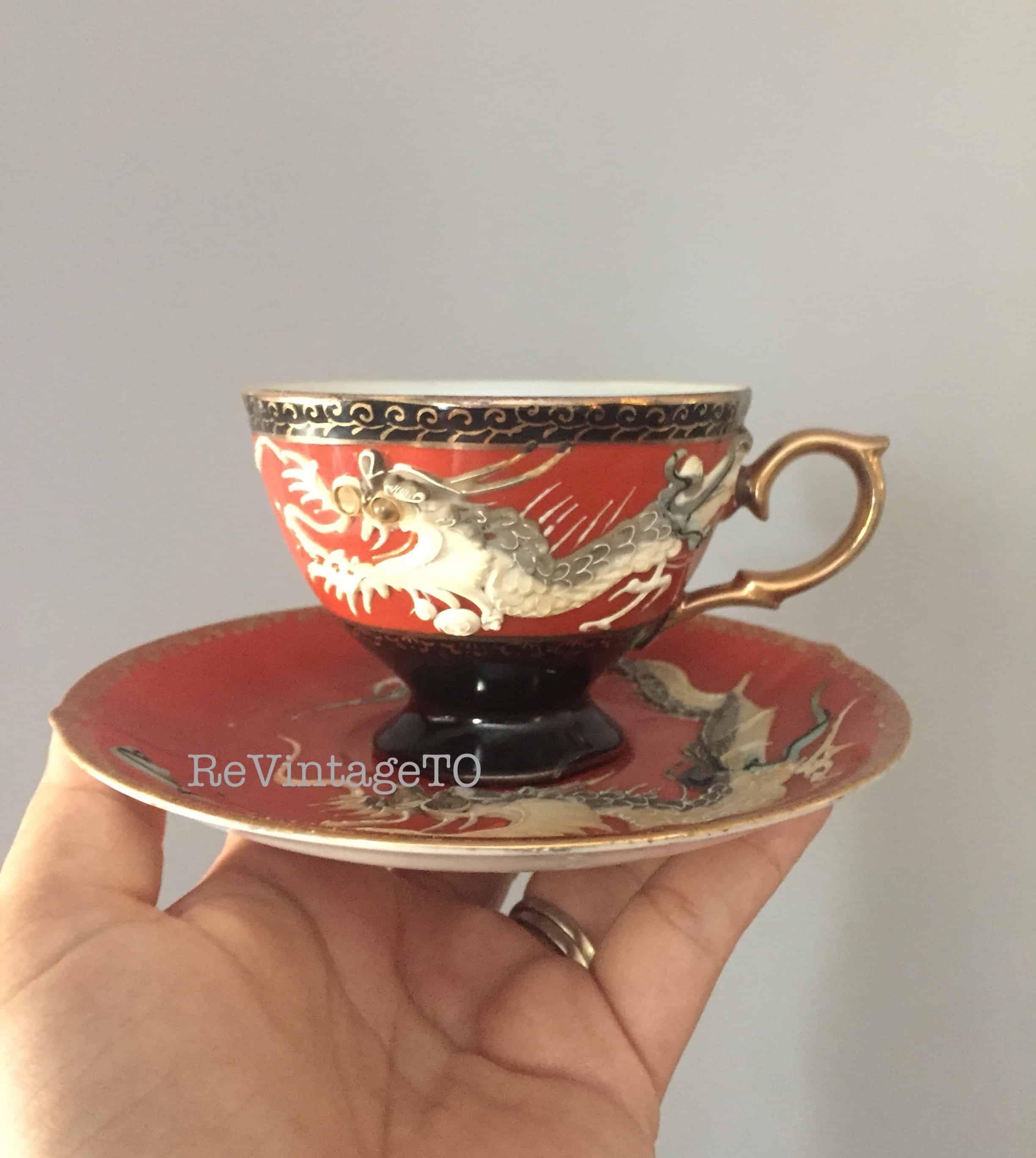 Why did it catch your eye?
It's like nothing I have ever seen before. Again, glass googly eyes!
Is there a story behind the item?
They were given to me by a customer. His dad brought them home to his mom after the war. They mean a lot to me.
The Leslieville Flea pop-up takes place at Broadview Hotel (106 Broadview) on September 24 from 11 a.m. to 6 p.m.