Founded by Rebecca Greenstein and Christyne Gauthier, Spiro Spero Designs creates Lucite jewellery for the modern muse.
Although these two women are managing full-time careers as an emergency veterinarian and a "momager" to triplets (respectively), they realized they wouldn't be living their best lives until they honoured their more creative talents. With a shared love of mega-statement necklaces and vintage imagery, as well as a desire to follow their instincts, Greenstein and Gauthier combined their efforts into Spiro Spero. Today, they not only have grown a local following and are being featured at this season's Leslieville Flea, but they're also making a splash globally, with fans placing orders all over the globe.
We caught up with Greenstein and Gauthier to find out more about their current hustle.
SDTC: Describe who you are and your biz.
RB: Based on our personal collections of vintage prints and ephemera, Spiro Spero breathes new life into iconic imagery by creating whimsical statement jewellery using laser cut Lucite charms. The line includes Lucite brooches, rings, charm necklaces and chokers.
Our current collection is inspired by the iconography of pin-up girls and is a tribute to powerful women. Our pieces are designed and produced in Toronto. With the support of shows like the Leslieville Flea, we've developed a cult-like following locally, and a quiet buzz slowly grew louder. We never knew we could come up with something that would have fans placing orders from as far away as Finland! We pinched ourselves!
When and why did you decide you wanted to work independently or begin a new venture?
RB: Spiro Spero is our love child, honestly. Designing gives us both life. My partner Christyne and I always shared a love of vintage prints, antique jewellery and whimsical design. In fact, we lived and breathed anything frothy, pretty and outrageous. Outside of our conventional careers, Christyne and I relished any chance to express ourselves. You could find us on any given day wearing mega-statement necklaces to the grocery store or re-imagining bows on presents as giant fascinators in our hair.
One day, we realized there had to be more to life than expressing our pent-up creativity by collecting other people's designs. And that's when everything changed. We came up with the idea of transforming our collections of vintage images into wearable art. Inspired and purely self-taught, we co-founded our passion project, Spiro Spero.
I don't think anyone really believed in us, and the learning curve was steep. But that only made us more personally connected to our brand. And it sure as hell made us more determined and fierce.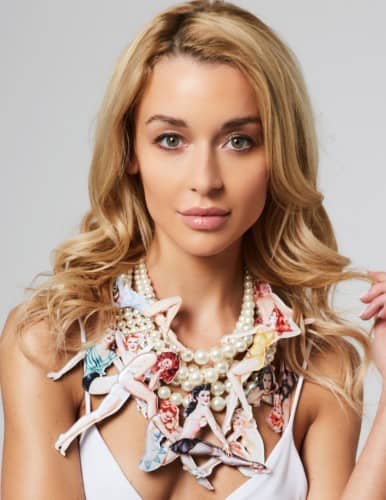 Where did you work previously or now?
Everyone laughs when we answer this part! I'm a full-time chief veterinarian and Christyne is a retired lawyer and a "momager" to triplets! Our careers have both been deeply satisfying, no doubt, but they aren't inherently creative or artistic. Plus, they leave very little time to really explore other talents. And although we both resigned ourselves to the fact that design was just going to have to be a rare guilty pleasure, we each reached a point in our lives where if we didn't honour our creative instincts, we truly weren't living our best lives. Once the idea of vintage images as Lucite jewellery hit us, we knew it was time to turn a hobby into something more.
Was it or is it a full-time or part-time job?
Christyne and I always say there never seem to be enough hours in the day! We both have full-time work obligations, which means running a fledgling small jewellery business on the side takes an unusual amount of commitment.
Up until recently, I worked only overnights as an emergency vet, and although I would show up to Christyne's place every Tuesday (Jewellery Tuesday! Lol) ragged and exhausted to design and plan, it was always the highlight of my week. That's what happens when you're doing what you love…it's no longer work.
What was or will be the tipping point for you to turn your side hustle into a full-time reality?
We started our line by essentially designing quirky and oversized jewellery for ourselves. We never expected anyone else would like it until strangers started approaching us to ask where we bought our unusual necklaces. We got such a kick out of saying, "We made it!"
Spiro Spero is derived from a Latin phrase for "Just as I breathe, I hope." Our venture is truly borne out of optimism and being true to the eccentric and delightful vision we once only dreamed about. We couldn't imagine our lives without each other. We're the little side hustle with big dreams!
The Leslieville Flea is a curated flea market in Toronto's east end. This popular market attracts entrepreneurs who are making their dream job a reality. Whether it's a side hustle or a full-time gig, the Leslieville Flea applauds the courage of the small biz entrepreneur! The next Leslieville Fleas is Sunday, September 16 at Ashbridge Estate. For all the details, go here.