This upcoming exhibit at the AGO examines the beauty of the everyday with a unique collection of artwork and artifacts — all documenting everyday life. Launching in April, I AM HERE: Home Movies and Everyday Masterpieces features a range of work from the Renaissance to the present day, all exploring the human desire to document life as it happens.
The exhibit includes paintings and photos, personal items like grocery lists and letters, and incorporates new media such as TikTok videos and Instagram posts. It's described as "a journey through our obsessions" — whether that's with celebrities, music, food, or our pets.
We're already intrigued by some of these one-of-a-kind works. Fans of Andy Warhol can look forward to the selection of 595 items from his personal time capsule, while Beatles enthusiasts will want to check out We Buy White Albums, an installation with 210 copies of White Album, complete with a listening station. If you're invested in the trend of miniature sculptures, artist Claes Oldenburg was ahead of his time back in 1969 — you can check out his miniature drum set sculpture made out of canvas at the exhibit.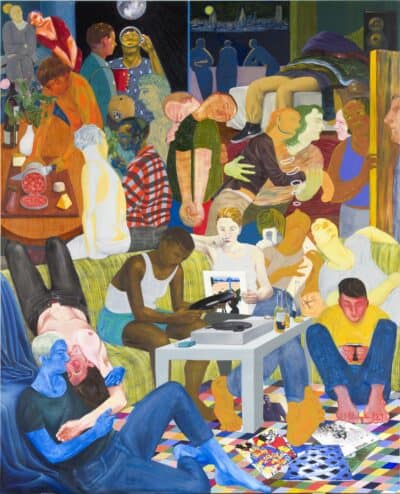 The exhibit will also highlight several Canadian talents, including Toronto-based artist Fiona Smyth. Her illustrative timeline From Cave Paintings to TikTok explores the creative methods humans have used to document their lives throughout the centuries. Multiple Canadian musicians will shine under the direction of Toronto-based composer David Wall in the soundtrack for PANORAMA, a compilation of home movies from the Prelinger Archives.
Fitting with the theme of creative expression, another highlight of the exhibit will be the digital collage of more than 3000 submissions of artwork from across the world. They were originally featured as part of the AGO's 2021 Portraits of Resilience exhibition.
I AM HERE is running from April 13 until August 14, with free admission for anyone under 25. Tickets are available to purchase starting March 15.
Painting above is Nicole Eisenman's, Another Green World, 2015. Oil on canvas, 325.12 × 269.24 cm. Los Angeles Museum of Contemporary Art. Purchase with funds provided by the Acquisition and Collection Committee. © Nicole Eisenman, Courtesy of Hauser & Wirth