Everyone's fave erotic arts and crafts fair is happening Saturday, February 10th at the Gladstone Hotel! Hosted by Come As You Are, The Erotic Arts & Crafts Fair is the perfect place to indulge your curiosity and maybe pick up some extra special erotic gifts for your Valentine. (Need more convincing? Here are six reasons you should go.)
Leading up to this one-of-a-kind show, we're profiling three participating vendors to learn more about their crafty companies. For this installment, we spoke to Masti Khor, founder of Femmeboyant Designs, which specializes in designing unique and queer-friendly accessories, including earrings, necklaces, bowties and collar chains.
SDTC: Tell us your birth story. How and why did you start your company?
MK: Femmeboyant Designs started out as a small project to help pay my tuition for a body-based trauma course I had been learning that is mighty pricey but would support my work as a newbie therapist. I started posting my designs on social media and it quickly blew up from there.
What do you enjoy most about what you do?
I get to create beautiful things that celebrate communities that aren't recognized in the mainstream. It's pretty much the best! I love getting stories from customers about how their "they/them" lariat necklace makes them feel more armoured in the gender binary world. Or how someone's giant "too much" hoops celebrate the aspects of racialized misogyny that they have spent their lives feelings ashamed of.
I love walking into a room of queers who are wearing my designs (leo life) and finding visible ways to reclaim the bullshit messages of oppression while bringing joy to others, because pretty things are joyful. It is wonderful to feel supported and watching folks post on social media about my designs because they like my stuff but also want to support me in getting the education I need to be a better therapist.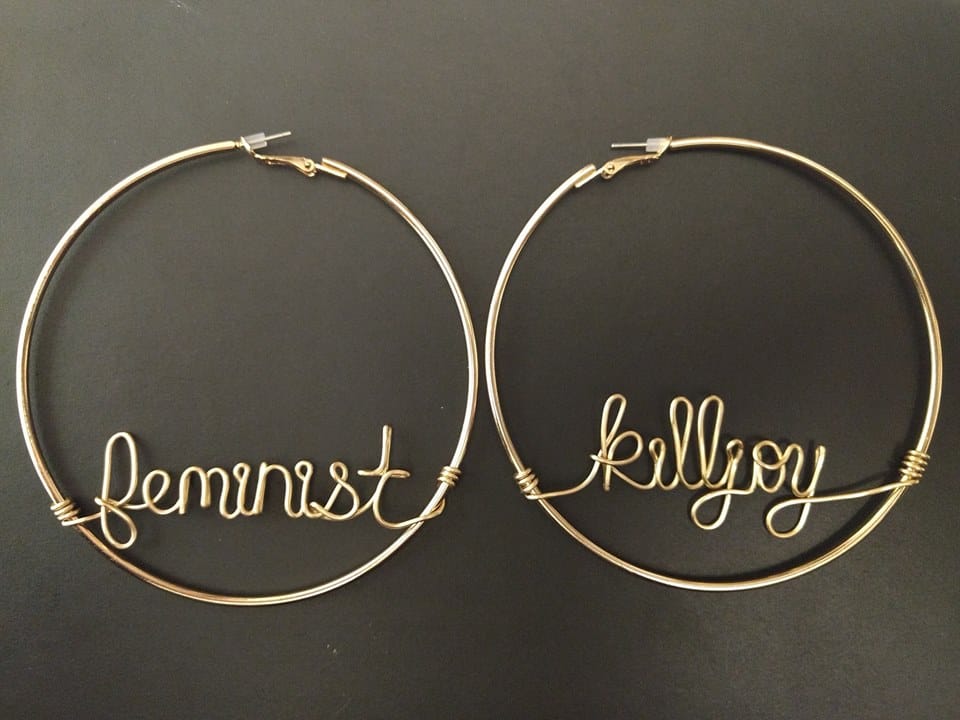 What turns you on?
Emotional sophistication and self-reflexivity. Queer aesthetics. Radical politics wrapped in squishy, open hearts. Integrity. Trauma theory. Leather. Matte red lipstick. Perverts.
What is your hottest seller, and why do you think people love it?
Probably the "fuck you, pay me" hoop earrings. Freelancers, artists, femmes and sex workers of all types love these hoops because their labour is so often devalued and expected to happen for free or by magic. Of course, my friend who is a sex worker came up with the idea for these hoops, because sex workers are geniuses who teach us every day that just because the mainstream doesn't value your work doesn't mean you shouldn't.
What's your pitch for getting people out to Erotic Arts and Crafts Fair?
The name sells itself! Desire is a life force, yet we don't centre it enough. So come and centre the pleasure of you and your loved ones while supporting local artists so you can feel good about where your cash is going!
Click here to find out more about The Erotic Arts & Crafts Fair, going down February 10th at 1214 Queen St. W from 10 a.m. to 4 p.m.