Geri Hall is best known for her role as roving reporter and anchor on CBC's This Hour Has 22 Minutes. Now a mom of nearly four-year-old-twins, Hall is reprising her celebrity guest starring role in YTV's The Stanley Dynamic Season 2 as next-door neighbour Barb Dewhurst.
The raspy-voiced redhead has been featured in dozens of Canadian shows, including Ken Finkelman's At The Hotel, the Miramax feature Shall We Dance starring Richard Gere, and CBC's Little Mosque on The Prairie, The Ron James Show, The Mercer Report and The Bobheads.
Hall is the proud holder of Writer's Guild and Canadian Comedy Awards and has received Gemini nominations for her work on Global's The Jane Show as well as for her comedic performances on 22 Minutes.
We caught up with Hall this week.
SDTC: What are your favourite spots in Toronto?
GH: My very favourite place to dine in Toronto used to be Zoulpy's Diner on King…not fancy, but insanely, unreasonably delicious. I miss that place so much! I still dream of their caesar salad…and in that dream, I'm always eating with Viggo Mortensen. In my awake life, I'm married, so it's totally platonic between Viggo and me, but wow – he's a great lunch companion. And he can't take his eyes off me. In fact, he looks at me like I look at that delicious salad…with ravenous hunger, you know?…Gosh I miss Zoulpy's.
More seriously…The Horseshoe Tavern holds special magic for me. My dad was a country singer and the leader of the house band there in the late sixties and early seventies. Back then, the Horseshoe was three times the size, and it was the beating heart of country music in Canada. Dad and his bandmates got to open for and jam with the likes of Waylon Jennings, Conway Twitty and Mel Tillis. So I always try to imagine that place as it was all those years ago whenever I pass by. I try to see the ghosts, and hear the strains of that old music…
I love High Park. And I smile every time I pass Sunnyside Pool, because my dad used to take me swimming there before he died.
The receipts in your wallet would indicate what?
That I can't get through the day without Tim Horton's and some kind of dark chocolate. And that I never throw any receipt away – EVER. I am ready to be audited, Prime Minister Trudeau! (And you can decide if that was a euphemism or not.)
What did you think you were going to be when you were eight years old?
Brain surgeon, midwife or actor. I was pretty obsessed with all three of these professions, but I grew to detest math…so here I am.
What first got you really interested in acting?
The Carol Burnett Show. She is such an inspiration to almost every woman in comedy. My sister and I would watch every episode of her show with delight, then dash off to our playroom to grab some costume pieces and immediately recreate our favourite sketches for my mom. I loved playing Eunice, Stella Johnson, and Mrs. Wiggins. And that's when I started to get hooked on making people laugh…it feels indescribably good. In fact, it must be what that blue meth feels like for the druggies in Breaking Bad. But without the 'killing you' part.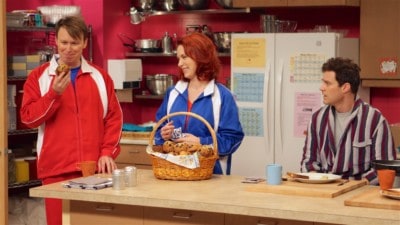 What makes you happy?
Springtime, camping, Patsy Cline, Kate Bush, The Smiths, gardening, cold beer…high voter turnout, autumn…the smell and feel of movie theatres just as the lights are dimming. A new box of Jelly Bellies, kind strangers, and my twins. Especially the twins.
What makes you cringe?
My kids waking up before 5 AM. Selfies. Selfie sticks. Our collective addiction to smartphones. And how quickly time seems to pass as you get a bit older. Slow down, Life!!!
What is one goal you have currently set for yourself?
To read more. But I have twin toddlers so that's never going to happen.
What, in your opinion, is overrated?
Skinny jeans. On men or women.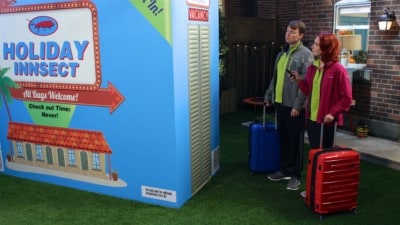 What is the one thing you wish you could change about yourself? Why?
Mom guilt. Worrying about everything. My lack of patience. (Okay – I guess that's three things.) So I guess I wish I could just be more succinct. (Okay, now that's four things. Sorry.) I'm also too apologetic.
What word or phrase should we use more often?
"Wow – that awesome show/movie is Canadian!!!"
When do you feel most creative?
Right after I put my foot in my mouth,- which happens constantly. It's a gift. But I can backpedal like nobody's business.
Art is? _______
Any creation that transports you to somewhere else for a little while. It's nice to get away sometimes, isn't it?
Season 2 of YTV's The Stanley Dynamic premiered Feb. 27, 2017. Hall's episode, titled "The Stanley Infestation," airs March 9 at 6pm ET/PT. Watch the trailer below.