Forget turkey, this holiday season is all about Dewar's Whisky. Sip it, cook or bake with it; the options are endless, and they're all very, very good. (There's a reason why it's the world's most awarded blended scotch whisky with 500+ medals.)
Whether you enjoy it on the rocks or in cocktails, Dewar's goes down smooth thanks to an intricate blending and aging process. Once whiskies are blended, they're married in vintage oak casks and left to harmonize until their hearts' content.
Before we get to the treats, how about a round of cocktails first?
Penicillin
1.5 parts Dewar's 12 Blended Scotch Whisky
.75 parts lemon juice
.75 parts honey syrup
3 slices fresh ginger
Candied ginger garnish
Method: Using a wooden muddler, muddle the fresh ginger in the bottom of a cocktail shaker until it is well mashed. Add the blended Scotch, lemon juice and honey syrup and fill shaker with ice. Shake until well chilled (about 20 seconds). Strain into an ice-filled rocks glass (you may wish to double strain through a fine tea strainer to remove the small flecks of ginger), and spray the Islay Scotch over the top.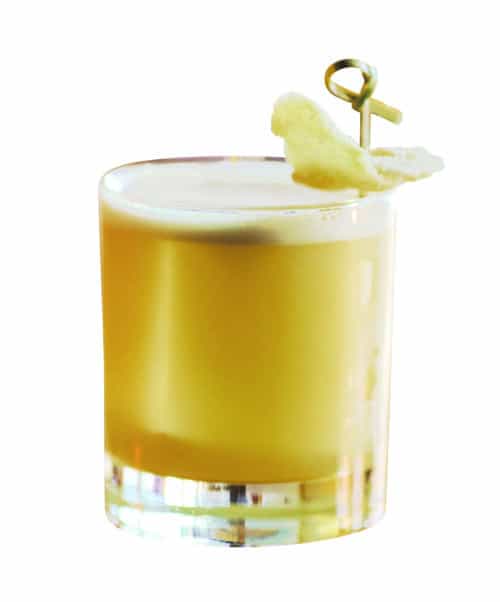 Dewar's Dramble
1.5 parts Dewar's 12 Blended Scotch Whisky
.75 parts lemon juice
.50 parts simple syrup
.25 parts Creme du Mure
Blackberry garnish
Method: Add all ingredients (minus creme de mure) to the glass. Fill with crushed ice and stir. Top with more crushed ice and then drizzle creme du more on top. Garnish with a fresh blackberry.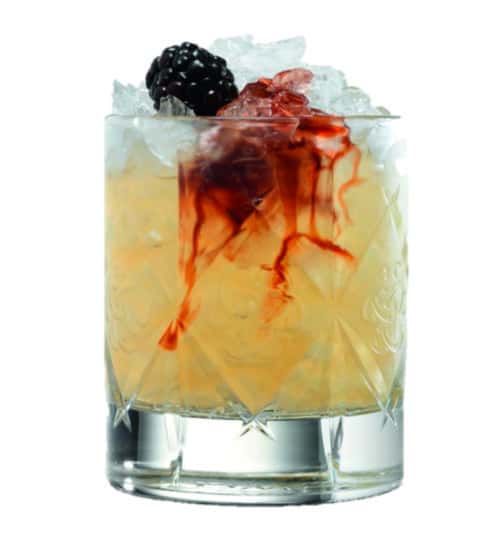 Now that you've got a drink in hand, listen to this: Dewar's has partnered with The Pie Commission to create two whisky-infused recipes for Thanksgiving – Spiked Pumpkin Pie and Spiked Scotch Egg Pie. If you're looking to get your hands a little dirty, recipes are below, or you can purchase the pies ready-made HERE.
Dewar's Spiked Pumpkin Pie
Ingredients (serves 8):
9" prepared pie shell
1 3/4 cup of pumpkin puree
1 cup packed dark brown sugar
2 eggs
1/4 cup cheddar (optional)
2 tbsp all purpose flour
1 tsp cinnamon
1/2 tsp ground ginger
1/2 tsp all spice
1/2 tsp kosher sale
1 can evaporated milk
1 cup Dewar's 12 Whisky
1 tsp vanilla
Directions:
Preheat oven 350 degrees.
In a small saucepan over medium heat, reduce whisky to about half of its volume.
Turn off heat, add vanilla and milk.
In a medium bowl, mix pumpkin, sugar, flour, spice and eggs. Mix well until smooth. Gradually stir in milk mixture until fully incorporated.
Pour mixture into 9" pie shell and bake in lower half of oven for 50 to 60 minutes, or until golden brown.
Let cool completely.
Add a sprinkle of shredded cheddar if you'd like. SERVE AND ENJOY!
Dewar's Spiked Scotch Egg Pie
Ingredients (serves 8)
9" prepared pie shell
8 eggs
2 lbs breakfast sausage
3/4 cup bread crumbs
1/2 cup of shredded cheddar (optional)
1.2 cup Dewar's 12 Whisky
1 tsp sage fresh or dry
1 tsp thyme fresh or dry
1 tsp chopped parsley
1/2 tsp black pepper
1/2 tsp salt
Directions:
Preheat oven 375 degrees.
Place 6 eggs in pot of cold water and bring to a boil. Boil for 3 minutes. Remove from heat and place in a cold water bath. Peel and set aside.
Set aside a small bowl of breadcrumbs and all spices.
In a medium bowl combine sausage meat, whisky, 1 raw egge and 3/4 of breadcrumb mixture. Mix well.
Place half of sausage mixture in bottom of pie shell. Gently nestle eggs around pie and cover with remaining sausage mixture. Blend final eggs in a small bowl and brush over pie.
Sprinkle remaining breadcrumb mixture on top and bake for 50 to 60 minutes until golden.
Option to add a sprinkle of cheddar on top of baked pie.