Have you ever wanted to give a room in your basement apartment home a little facelift? A pick-me-up? A little "Hey-how-are-ya?" Were you ever a little confused as how to get started? Well, don't let a little inexperience stop you from transforming your space! To help guide you through your foray into DIY land, Benjamin Moore has created the ben® & ME kit. This handy 'help-me-out' includes the following items (and is *free with the purchase of two 3.79 L cans of paint and one can of 946 ml of ben interior semi-gloss):
• Roller
• Brush
• Paint tray and tray liner
• Can opener
• Drop cloth
• Tape
• A music playlist that will get anyone into the painting groove
• A handy How-To Guide with helpful tips for your painting project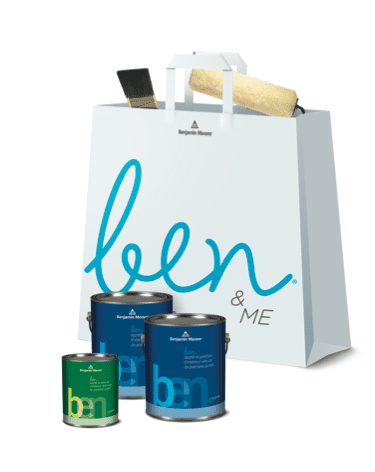 Obviously, I jumped at the chance to give my bedroom a much-needed makeover. I have been in my apartment for four years now and JUST got around to painting the living room (and by "painting the living room" I mean "watched my parents paint while I not so silently judged the entire process." Thank God they have to love me). This time around, I was determined to try my hand at the painting. The first step in my quest to crush this DIY project (and probably get far too Pinterest happy) was to head to my local Benjamin Moore and pick a paint colour. Since I currently reside in a basement apartment, I knew that I wanted a light colour that would open up the space and make it seem a little brighter (dark colours and tall boys have a hard time in my humble abode). After some lengthy consideration (Benjamin Moore has every colour imaginable…and then some), I chose the soft and beautiful Filtered Sunlight for the walls and Cloud White for the trim (which I later decided to use on my chest and shoe rack instead). Once I was home, I put on the Benjamin jams, poured myself an ice cold beverage that you must be 19+ to drink and opened my #BenHelp guide. In the guide, I found 15 tips for working through the painting process. While all of them were helpful, there were a few that I found to be particularly valuable in not screwing the whole thing up.
Tip#3: Preparation!
This tip instructs the painter to sand down the walls to rid them of rough patches and lumps, followed by wiping away the dust with a damp cloth and making sure that the walls are clean so the tape would stick. This is a VERY important step that allows the paint to be applied and dry seamlessly (which it did).
Tip#5: Bust the Fuzz!
After you have gone through all the work of sanding and wiping the walls for proper paint application, the last thing that you want is for your roller to leave behind fluff balls in your paint job – counterintuitive! In order to prevent this from happening, rub a lint brush over the roller to remove the excess fluff and voila – a fluff-free wall. If you are under the age of 25 and don't own a lint brush, simply wrap tape around the roller and then unwrap! The fuzz will come off with the tape.
Tip#10: The Power of the W
Since I had never used a roller before, I found this tip particularly helpful. By using the "W" technique while painting, you can avoid roller trailers from appearing when the wall dries.
Of course, Benjamin Moore provided many other tips, like what to do if the paint splatters (and if you are a mess like me, you will be appreciative for this tip). Beyond the tips and the convenience of the bag of tools, the paint itself went on like a dream and it inspired me to completely redecorate. My room went from a place that I only used to sleep in (and my puppy used to think was a bathroom), to a spot that encourages me to spend more time in it, whether it be to read a book, drink some tea, work from home or just zen out in my soft yellow bliss.
Felling inspired? Head on over to the Benjamin Moore website and get colour crazy for your place and let #BenHelp.
We have even more good news! If you love home makeovers and painting, this is for YOU. Sheblogs Canada is hosting a ben & ME #DIYWithBEN Twitter Party on Sept 18th from 7-8pm EST, RSVP HERE to participate, and to win prizes!
Although this post has been generously sponsored by Benjamin Moore, the opinions and language are all my own, and in no way do they reflect Benjamin Moore.
* With a qualifying purchase of two cans of 3.79 l ben® interior flat K625, eggshell K626 or semi-gloss K627 and one can of 946 ml ben® interior semi-gloss K627 for $109.00 suggested retail price, receive a FREE ben® & Me tote and painting kit at participating dealers. Limit one (1) per customer. While supplies last. No substitutions. Qualifying purchases must be made in single transaction. Actual price will be determined by dealer at checkout. Offer cannot be combined with other offers, discounts or promotions, or applied toward prior purchases. Offer valid August 25, 2014 – October 5, 2014. See your local participating dealer for details. Void where prohibited.