By now, we've all got one friend who makes clay earrings. Or knits scarves. Or paints pet portraits. Or embroiders flowers on tote bags. Perhaps your crafty friend also has an Etsy Shop, a Depop, a Society6, or sells their wares in one of Toronto's several craft markets. DIY and crafting is having a cultural moment. Some people are creating gifts for their friends and family, others are trying to secure another source of income. Others pour their hearts into craft to support their mental health, or for the sheer pleasure of it.
Handicrafts have, historically, been seen as less prestigious than fine arts, especially the creations of women, who often learn their skills from family instead of at school. Crafting is often seen as a hobby, not a legitimate form of expression. Still, more and more people, especially diverse creators, are seeing the value of craft, and the fulfilment that comes from making things with your own two hands.
To better understand DIY culture in Toronto, I spoke with four creators about the how and why of their crafts.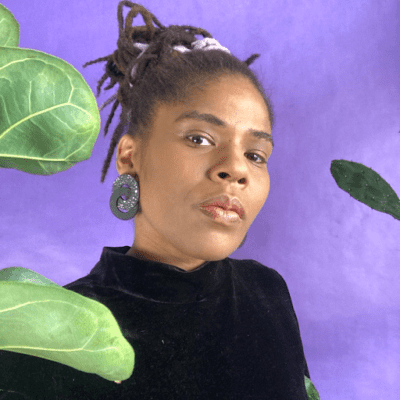 Ame Isa
Ame Isa creates leather jewelry from upcycled materials. Her earrings are often geometric, creating elegance out of simple shapes and curves. She picked up her craft as a counterpoint to her work as a web designer. "Jewelry making started with searching for less screen time in my life. Through this process, I discovered that making creative things with my hands fills me with moments of joy," Ame says. Her preferred material to work with is leather because it's long-lasting, recyclable, biodegradable, and lightweight. By reusing materials, she creates more sustainable crafts.
For Ame, there is a give and take between craft and art, between what is made with an intended purpose, and what is made for personal expression. Like many of us, Ame lost her job at the beginning of the COVID-19 pandemic and felt a need to focus on her craft as another source of income.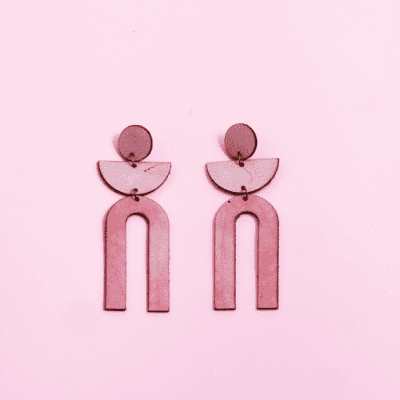 Ame is also the co-founder of CREATO: a community-driven initiative dedicated to connecting, supporting, and spotlighting artists and creatives who identify as Latinx in Canada. "As a woman of colour doing handicrafts for me means reclaiming an art form often depreciated, so this is very special to me," she shares.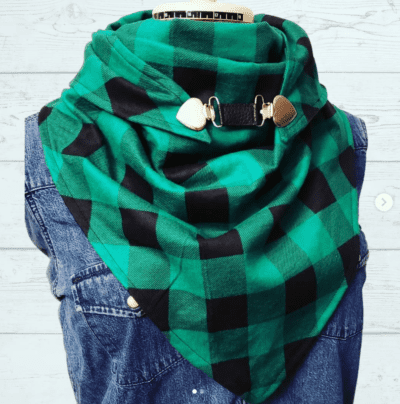 Samantha Garcia
Samantha Garcia was taught how to sew by her grandmother at the age of four. She works mostly with cotton blends, for their sustainable and reusable properties. Much of her work's inspiration is practical and usually stems from a friend or family member's request for something they need.
Samantha endeavours to build maker networks, which is an extension of her job as a Community Development Worker. She often works with other makers on gift sets, which she describes as "the best feeling."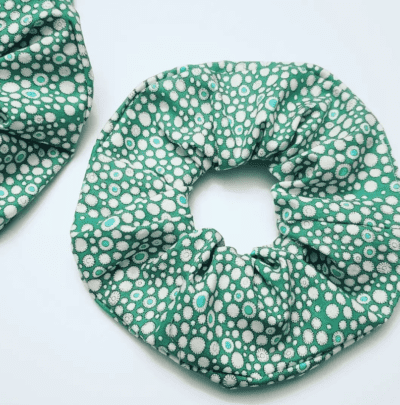 The spirit of collaboration colours Samantha's relationship with sewing. "Having a learned skill that not many people have is pretty awesome," she shares. "It provides me with an opportunity to teach my skills to those that are interested in learning." For her, sewing is still primarily a hobby and a way to relieve stress, but craft also opens up avenues to connect with other people.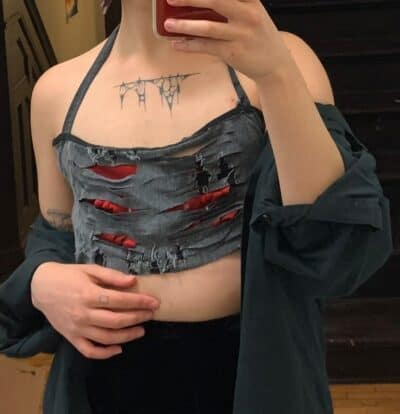 Mason Smart
Mason Smart follows his creative instinct in DIY. His projects are eclectic and experimental. He enjoys working in a variety of mediums, including fashion, painting, collage, and poetry. He chooses materials to use and projects based on what he finds most exciting or interesting at a given moment. His work is, generally, not for sale.
By day, Mason studies Art History, which has led him to consider new perspectives on art and craft. "We deal with a lot of 'fine art' and the more I learn the more it seems like fine arts breaks down into the art and style of the majority," he says. Instead of making art for sale, or to suit popular taste, Mason aims to create "something my little weirdo queer friends see something fun and frivilous in."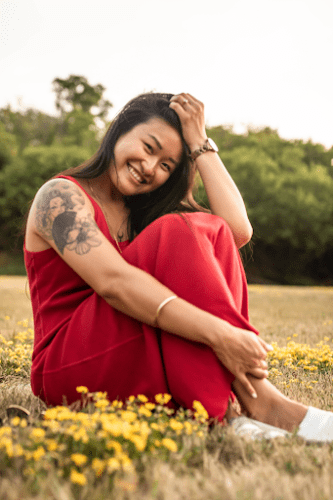 Sarah Yeung
Sarah Yeung describes her relationship with painting as a "wildly unorthodox and accidental journey." Sarah moved to Toronto from Vancouver in 2017 to start a Kickboxing studio, which closed due to the pandemic. Under lockdown, she received a set of oil paints as a gift and got her first lessons in painting from Bob Ross. Since then, she's moved into selling her original works, painting on commission, and getting her paintings in makers' markets in Toronto.
"The community largely sustained me to where I am today," she says. Sharing her art online exposed Sarah to new materials and techniques, like painting on denim. DIY spaces, online and off, exposed Sarah to the wide variety of art that exists outside the context of a gallery.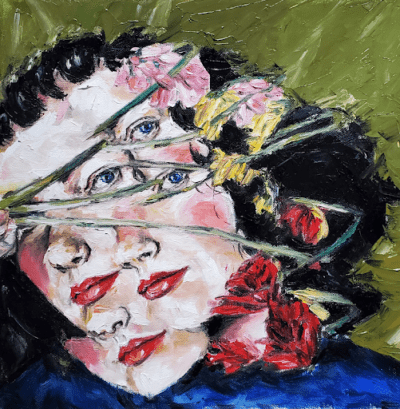 In some of her art, Sarah explores themes of gender and racialization. Her painting "Flower Girl", inspired her to explore her ancestry. "It led me to a conscientious search specifically to depict an Asian model and revisit my personal disconnect from my culture and beauty standard."
There are a wide variety of independent makers in Toronto who work with diverse materials and diverse backgrounds. Crafting provides exciting opportunities to create community and grow. In the isolating and economically challenging circumstances of the COVID-19 pandemic, DIY has let people connect and find new ways to sustain themselves.
T Williams is a writer from Toronto. They write about art, culture, and whatever grabs their attention. You can follow them on Twitter @Feversanddreams.
This piece was selected as part of Shedoesthecity's New Voices Fund, established to help continue offering opportunities to talented emerging writers with less than 20 bylines. More info here.