We could all benefit from a day brimming with inspiration, and The Atelier Collective's Digital 2020 has programmed an exceptional lineup with a big focus on topics of resilience, rebuilding, transformation and the power of pivoting.
With their goal always remaining true to supporting and empowering the female entrepreneurship community (which has been especially hard hit by the COVID-19 fallout), we know how valuable this day will be. Whether you're looking for tangible ways to sustain your business during a global recession, or need a day to focus on creative thinking to help reset your vision, this digital summit will give you the motivational push to help you on your way.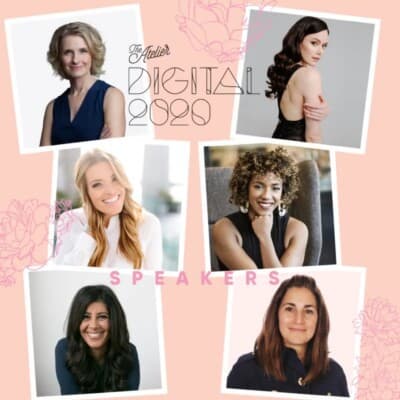 This year's keynote speakers are #1 NYT best-selling author, Elizabeth Gilbert (Eat, Pray, Love, Big Magic, City of Girls) + Canadian Olympic ice dance champion, Tessa Virtue. Other guests we can't wait to hear from include Etsy trend expert, Dayna Isom Johnson, business success coach Hina Khan, and entrepreneur Jasmine Star, founder of Social Curator.
The event will not be held on Zoom, but a tailored virtual venue. Knowing how gorgeous last year's event was, we can't wait to see how The Atelier Collective reinvents the digital experience.
VIP tickets, with Experience Box, are already sold out, but there are still tickets available (move quickly).
There's a lot to love about this event, but we are especially grateful that organizers Angela Osborne and Taryn Herritt have made it a priority to allow for digital replays. We hope you can carve out a day for yourself, but as parents ourselves, we know how challenging that can be with kids at home.