The pandemic has been crushing for the event business, but Angela Osborne and Taryn Herritt, co-founders of The Atelier Collective, saw an opportunity to go bigger and locked down bestselling author Glennon Doyle (Untamed) and Hollywood multi-hyphenate Mindy Kaling as keynote speakers for their upcoming conference The Atelier Digital: Beyond 2020.
"It's a big risk for us. Going to that next level of Hollywood stars is a huge undertaking," says Angela. "We decided to harness our growth mindset and make a big move in having these incredible world-renowned speakers on our stage. It's a pinch-me moment, a dream come true." It's a milestone achievement for the duo, who launched The Atelier Collective in 2017; it's also an exciting opportunity for all of us who get to attend.
In just three years, The Atelier has established itself as a leader in the event space, hosting professional development events that feel intimate and polished. The experiential component is also incredibly important to Angela and Taryn, who have always wanted to provide ambitious women with a space that feels opposite to the corporate events we're used to: soulless stadium-sized conference centres with evenly spaced tables draped in white linen and podium on stage.
With speakers like Roxy Earle, Jillian Harris, and Sarah Nicole Landry, The Atelier events sell out fast, but this year's lineup of talent is definitely taking things to the next level by bringing in international star wattage."With everyone being on lockdown, and not being able to travel, these speakers—who are very difficult to nail down—are available, because they aren't traveling. We saw an opportunity."
Angela and Taryn have a running wish list of who they want to see on their stage, and Mindy and Glennon were definitely on the top of that list, but so were MacArthur Genius Grant winner Angela Duckworth and author (The Rise) and Associate Professor, Harvard University, Sarah Lewis. "Thriving beyond 2020 takes resilience, innovation, and creativity. We plan the content and messaging first, and then figure out who is the most powerful voice that we can put on stage to tackle those themes."
Knowing that people are experiencing Zoom fatigue, Taryn and Angela have made a point to build an experience for Beyond 2020 that feels nothing like the squares on screen that we've become used to. "We're transporting people to a bucket-list location with our virtual event venue and making it really immersive and beautiful," says Angela. "Whether you are at home, in the kitchen, or wherever you are watching 2020 from, you're going to be transported somewhere else."
The Atelier Beyond 2020 event is happening Thursday, November 12, from 9:30 a.m. – 5 p.m., and then again from 7:30 p.m. to 9 p.m. The day promises networking opportunities, and guests are encouraged to get glammed up during the dinner break, so that they can log back on for a holiday party hosted by Mindy Kaling. (Yep, definitely not like the Zoom meetings we're used to!)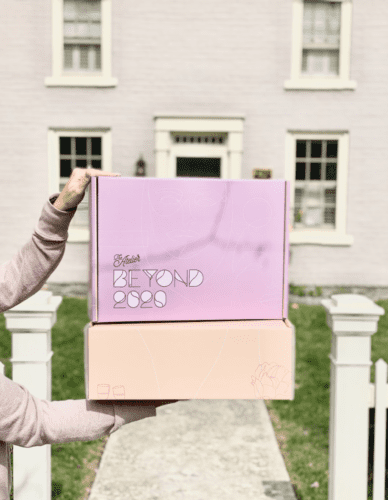 The VIP tickets, which included 2 gift boxes loaded with swag from both sponsors and Canadian female-founded small businesses are gone, but you can still join the day-long conference. Knowing that everyone's routine looks a little different right now, Angela and Taryn ensured that digital replay will be available for sixty days following, "You don't need to be at your computer for 8-hours straight! We wanted everyone to be able to design their own Beyond 2020 experience." Watch in real time, or hold for a day when you really could use a burst of inspiration.
Tickets are $99 +taxes and fee. Get yours now, or enter to win our #ThriveBeyond2020 contest.
CONTEST!
Tweet, "YES PLEASE @Shedoesthecity! I could use some inspiration. Please send me to The Atelier's Digital #ThriveBeyond2020 with @MindyKaling and @GlennonDoyle!"
OR
LIKE + COMMENT on The Atelier Digital: Beyond 2020 posts on Shedoesthecity's Instagram and Facebook page.