Sarah Nicole Landry is one of Canada's most beloved and leading influencers. Her Instagram account, The Birds Papaya, has well over 2M followers, and her posts regularly receive 1000+ comments, mostly from women who are thankful for her vulnerable shares, about all facets of her life. But it's Landry's posts about body image and self-love that consistently hit home. On a platform synonymous with falsified perfection, Landry stands out as a truth teller.
While she's been a recognizable name for over a decade, both on Instagram and through her blog (which she started 15 years ago), it was her initial collaboration with global intimate apparel brand Knix in 2018, where Landry showed off her postpartum stretch marks in a Knix underwear campaign, that catapulted her into a new stratosphere of online fame. "I had never shown them before in that way… that raw and real. I thought I was the only one who had them like I did," she says earnestly. "Reading the comments I prepared myself for disgust but what I was met with was thousands of women saying this looks just like me. I realized how many of us were hiding away in shame, believing we were the only ones."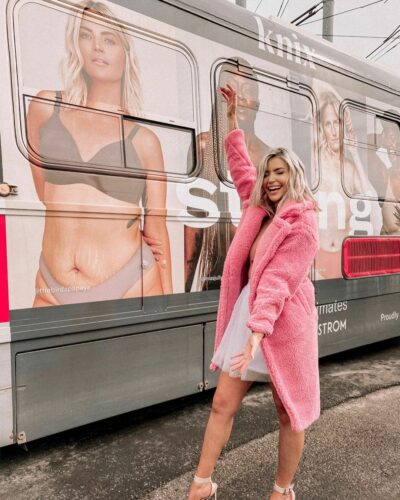 The Knix campaign was everywhere. But even though Landry had the courage to have her body plastered on the side of streetcars, it wasn't until 2 years ago, while pregnant with her fourth child, that she really began to understand her own journey of self-love.
"A complicated pregnancy took away some vices," says Landry, who has been open about her history with disordered eating. "I still had a very managed diet, I still worked out consistently, and suddenly I'm sick all day long, and I can barely eat the foods that I would normally eat, and on top of that I've been put on pelvic rest, so there's no movement and forget having this "healthy diet"—it was out the window." Doctors' orders forced Landry to examine her behaviour, and also demanded that she take care of herself in new ways. "I was uncomfortable and I really had to love myself to survive."
Healing often begins when we have no choice but to break patterns, which can happen for a variety of reasons: illness, burnout, tragedy, a major life interruption, or some kind of rock bottom caused by harmful behaviour. For Landry, the difficult and uncomfortable time with her fourth pregnancy pushed her to recognize that a lot of her old ways weren't actually serving her and that her thinking was unhealthy. Her extreme diet restrictions and intense fitness regimes were not rooted in self care, but self-loathing, or as she says, "Hate is easier than love. But you can have new experiences in the same places where you had disordered ones."
A major "a-ha" moment happened when Landry realized that self-love wasn't something you suddenly arrived at—there is no finish line. "I think a lot of people assume that when you're on the journey of self-love that it's point A to point B and sometimes it's point A to point Z." Similar to other relationships in life, self-love is never going to provide a constant high—confidence levels will always fluctuate.
View this post on Instagram
For Landry, self-love is a verb, a muscle that constantly needs to be strengthened. As a mother of four, time is something Landry is constantly running low on, but bookending her day with a few moments for herself is how she ensures that she's also being looked after. "I know for me that the word balance is this thing that I always feel like I'm failing at. I recognize over time and over adulthood that being a mom of four, that might not be my season right now but I can figure out how to spend moments of my day with myself. I always start and end my day with some form of self care, and I'm talking about a 5-minute self care, sometimes longer, but the beginning and the end of the day has to start with me."
These non-negotiable moments to herself are relatively new for Landry, who spent years prioritizing her kids to such a degree, that she neglected her own needs in the process. "As someone who's been on both ends of the spectrum, I am a better mother when I'm taking care of myself. I was a stay-at-home mom for 10 years. I fell on the sword of motherhood. I let myself be everything for it and I really forgot myself along the way."
Nowadays, she does things differently, partly out of a desire to care for herself but also because of the rapid growth of her successful career. Partnerships with Knix, Nintendo, Well.ca, JVN hair, and Dyson mean that Landry's schedule is filled with meetings and photoshoots and business trips. She loves the work, but it also means less time with her children, which in turn has pushed her to reframe things. "I think the one thing that somebody said to me that really changed my life was that motherhood is not defined by time spent but by relationship building. I realized that I'm not less of a mother because I'm not with them 24/7."
View this post on Instagram

With more on her plate, and less energy to spare, self-care is more important than ever. Beyond the time she allots for herself at the start and end of each day, another action that Landry is constantly flexing is protecting her time. "I've learned so much that time does not equal capacity. I might have room in my calendar but I don't have room in my body for these things."
Running on empty and burnout are concepts and feelings that mothers everywhere understand well. When self-care is missing in our lives, it's harder to achieve self-love. Chaotic life with small children can easily wear us down, until we barely recognize who we are when we look in the mirror. It's in these moments, that the inner critic can be especially harsh. "When you're facing your own internal bully I would say the same thing that I would say to my children: in the face of a bully, walk away. Give yourself rest, and be gentle with yourself. Step away from the mirror.. figure out a way to nourish yourself, move your body and listen to your thoughts."
These words of wisdom are what Landry reiterates clearly and creatively over and over again. It's a message that women especially need to hear, and one that The Birds Papaya delivers so sincerely and well.