It's baaaaaaaaaack!
The Royal Ontario Museum's popular Friday Night Live series is back for a third year, and we are stoked about it. Every Friday until June 21, you can head to the ROM for live entertainment, art, music, food, and drinks. FNL is a great way to enjoy the Museum in an unconventional way; who doesn't want to party with the dinos?!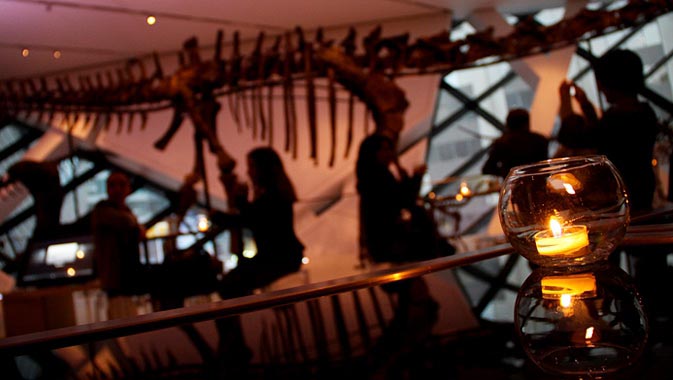 Tonight's event is all about celebrating the CONTACT Festival and some of its exhibitions, so if photography's your thing, so is this party. We're also super excited about ROMic-con on May 24—there will be a superhero retrospective, a performance by The Second City, and you'll get to learn how to make your own comic—and Indigenous Arts on June 7, where you'll learn how to make a canoe and check out cool installations and fashions, all to beats from DJs like A Tribe Called Red's DJ Bear Witness.
Each evening runs from 7pm to 11pm, making it the perfect post-work wind-down or pre-weekend wind-up (…or both). Tickets are $12 for adults, $10 for students, and free for members. This is a 19+ event! Full info here.