To get to Listuguj from Montreal is an 8-hour drive north that follows the Saint Lawrence river up to where it meets the Gaspé Peninsula. It's the furthest northern community on this jut of land, and home to the Mi'gmaq fishers.
APTN's new 13-part documentary series GESPE'GEWA'GI: The Last Land, produced by Rezolution Pictures (RUMBLE: Indians Who Rocked The World, Mohawk Girls), gives a revealing and heartwarming picture of what day-to-day life looks like in this remote community, while also exploring how ongoing systemic racism has pushed them to become increasingly self sufficient, or as one fisher in Episode 1 calls it, "masters of their own domain".
Heather Condo is a Mi'gmaq filmmaker who lives in neighbouring Gesgapegiag, about an hour away from Listuguj. Her celebrated short film My Father's Tools screened at Sundance in 2017, and it was there where she met the team from Rezolution Pictures.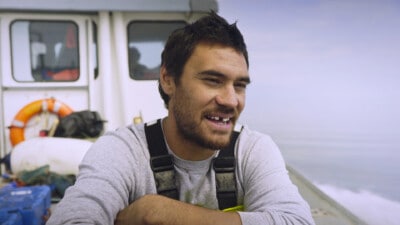 Producer Lisa Roth was already working on putting together a crew for the doc series and once she realized that Heather lived nearby, and was also Mi'gmaq, a plan was quickly hatched to have her come on board as Director Trainee for the series, "I've known people from Listuguj since I was a little girl. I have relatives there, and to hear their stories and see what they're doing compared to my community….I knew it was going to be interesting, and wanted to gain knowledge from them," says Heather, who was thrilled to join the production alongside co-directors Ernest Webb and Greg Lawrence.
The team spent three months, over a period of two years, to capture every facet of life, on and off the boats. "I was very curious about what makes this community thrive, and what made them so feisty," says Lisa. 'It's the most northern part of the Mi'gmaq territory, and they are located on the edge of the Gaspé Peninsula, so they've had to be the tough guys protecting the top for a long time."
Lisa and Heather joined the camera crew on board the boats for many wavy shoots. "The dangers of fishing are real. One rope that gets caught on your foot, or one hydraulic that hits your head and can pull you over. It can take a fraction of a second to be thrown into the water and it's cold and it's dangerous. Men and women who work on these boats risk their lives every time they go out. Especially snow crab, which is the most dangerous."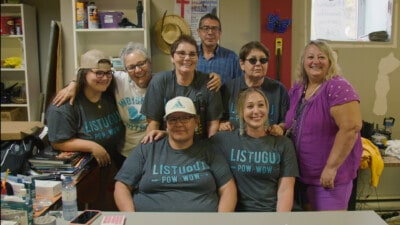 The Last Land was in post production when the news of the attacks on Mi'kmaq fishers in Nova Scotia erupted this past fall, or the intimidation and terrorism inflicted upon them by commercial fisheries. Although Heather wishes she could have been there to document it, this is not a doc about that particular series of events, nor is it even in the same province. But similar to the stories that made headlines this past fall, The Last Land will help Canadians better understand both the history, as well as the reality of what tight-knit Indigenous fishing communities deal with, and what they are up against.
"Like what happened in Nova Scotia, I think this series will give a better understanding of their side, and what they went through," says Heather, whose primary focus is to document the sentiments and life of the people of Listuguj. "We want to share their experience and their stories and show Canada what they do and how they do it. Everything they do goes back into the community, not only their families, but other families too."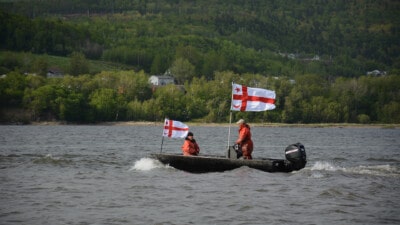 While there is historical footage that shows the violent raids on the Listuguj Mi'gmaq fishers by the Sûreté du Québec in 1981 (which was exposed in detail in Alanis Obomsawin's hard-hitting documentary Incident at Restigouche) and anecdotes shared by people who lived through that horror, The Last Land is more about capturing the spirit of a harmonious, hardworking, and caring community. "The series is set out to be lighthearted and character-driven, that showcases the people, the place, and an industry that few other Canadians get to see. That's what we set out to do," says Lisa, who admits that after watching firsthand how much time and effort and risk goes into fishing for lobster or rock crab, will never look at a fish counter at the grocery store in the same way.
For Heather, the opportunity to get to know the people of Listuguj was a real honour. "It opened my eyes, as another Mg'Maw person, almost looking from the outside," she says, sharing how the sustainable practices and science being applied to fishing were both impressive and fascinating. "It made me so proud to be a Mi'gmaq woman, knowing that we are doing things to help the environment, and the fish."
GESPE'GEWA'GI: The Last Land premieres on Sat. Feb 13 at 7pm (in English. The Mi'gmaq version begins on Feb. 11) on APTN.