Natalie LeBlanc, whose fans include George Stroumboulopoulos, repurposes vinyl LPs and atlas maps into journals and other upcycled goods for her line Papermuse.
SDTC: How did you get started creating?
Natalie LeBlanc: I've always loved books, paper and journaling, so I was naturally curious when I came across a bookbinding and papermaking class at the Ottawa School of Art about 10 years ago. I registered for the class and instantly fell in love with bookbinding – I consider it to be the perfect creative outlet for my personality type!
SDTC: What's your favourite thing you've ever made?
NL: I don't often make books for my own personal use, but several months ago I made a really chunky book with a collage of the guys from Flight of the Conchords on the covers. I absolutely love this book and use it as my art journal.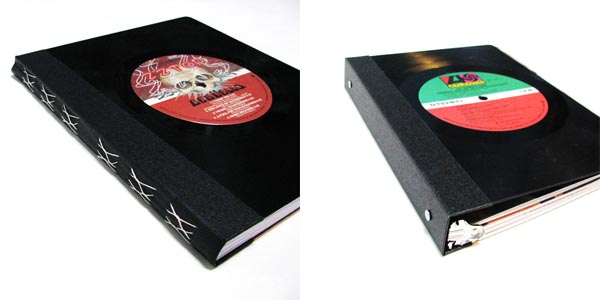 SDTC: What advice would you give to young artists?
NL: Never stop creating. I was very artistic as a child, but during my teens and early twenties I stopped creating for various reasons (none of them good). Looking back, I was very unhappy during those years. It's only when I rediscovered my artistic/creative skills that I became much happier with my life. Creating keeps me sane.
SDTC: What's the best reaction/story/experience you've ever heard in relation to your pieces?
NL: A few years ago I sent a journal made from a Clash album to George Stroumboulopoulos – I was pretty sure he would enjoy my designs. I was shocked (but very thrilled) when he tweeted a photo of himself with the journal! I met him a few weeks later and he told me how much he loved and appreciated the journal.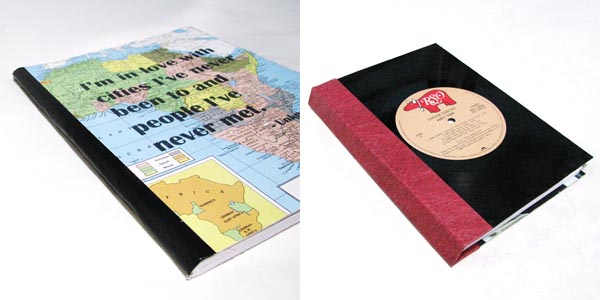 SDTC: Why should people come to the Flea?
NL: It's a great opportunity to discover some of the really cool things that local artists and designers are making. This will be my first Flea, so I'm looking forward to meeting and interacting with other vendors and the public.
Find Papermuse at the Gladstone Flea on Saturday, August 3rd from 10 am 'til 4 pm at 1214 Queen St. W. Shop Papermuse on Etsy.