Gloria Kim's exquisite first feature film, Queen of the Morning Calm, follows Debra (Tina Jung) and Moana (Ebonine Lee), a mother and daughter who are struggling to pay the bills, and to understand one another. The film also sheds light on the grim reality of sex work in Toronto.
Kim didn't set out to explore this world. Initially, her intention was to write a film about a mother and daughter to help unpack her own tumultuous relationship with her mother. However, writing Debra as a stripper gave her space to explore it all in a very different setting. "It allowed me to explore this mother / daughter relationship, but be in denial," she chuckles. "The other part of it was that I really wanted to examine women and how their sexuality is commodified. I am myself a survivor of violence. When your boundaries are crossed, and you're living in a world where our bodies are constantly commodified, you really don't feel like you have agency over your own body. I really wanted to take a look at that and see how it affects women, and look at that domino effect: how you are raised, how you are devalued, how society puts that kind of framework around women and their bodies. This happens to all women, we are all the same."
Debra's story is one that we begin to understand gradually. We learn that Moana's father is unreliable. He jumps in and out of her life, creating trauma for both Debra and their daughter with his inconsistency. We are offered glances into Debra's childhood and the abuse she suffered, learning that Debra began stripping as a teenager after being kicked out of her home. We see that in order to pay the bills, she does "extras" for strip club customers who want more.
To understand the sex worker workspace, Kim interviewed friends who've "dipped their toes" into the environment, and spent evenings chatting with people who've worked at Filmores, "Canada's ULTIMATE Gentlemen's Club". "Hearing how they talked about the business was so enlightening. So much of it was around it being work, and how it's a job, and how it's separate from your own life. The notion was that if you were going to make real money it was going to be through doing extras."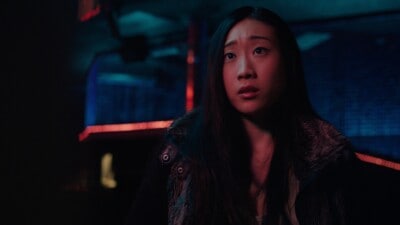 Kim carefully shows audiences all sides to Debra's life. She's a mother who has to figure out what to serve for dinner each night, she's called into school by the principal to discuss Moana's behaviour, and she's got hidden skills. In particular, Debra is terrific with numbers, and helps her friends and colleagues with their taxes (something strippers have to declare too).
"I thought it was important to show that sex workers do have children," says Kim. The characters she's created to explore this relationship are rich, complicated, and are beautifully played by Jung and Lee. The tension between Debra and Moana is as palpable as the love and devotion they have to one another. "Right from the start, Moana was the loudest character. Really pushy. I had no problem figuring out who Moana was! Moana was who I wished I was as a kid. Tough and a little bit bad, but also a little bit nerdy," Kim laughs.
Too young to process her anger and pain, Moana acts out, adding even more stress to Debra's daily grind (which has far surpassed the stage of burnout). The uncontrollable outbursts, on top of everything else, make it nearly impossible for Debra to rise above her circumstances. "Misfortune begets misfortune. When something bad happens there is a domino effect. There's usually obstacle after obstacle after obstacle," says Kim. "It takes a tremendous amount of resilience and courage and a constant trying to get out of those cycles."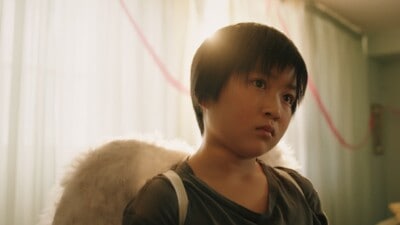 Watching Deb and Moana try to catch a breath, or get a break, is heart-rending. While it isn't easy, they must work together—it's their only hope.
"Sisterhood is not a given. That is something that is so important, and that I standby and believe in. I think it starts in childhood, in the home, in the mother-daughter relationship. I really wanted to show a relationship between a mother and daughter that started in a place of rivalry and grows to become a place of safety and love. I think that's what Debra's journey is, to re-ally herself with her daughter. That was a journey that I absolutely needed to write and share."