Gluten Free Garage, Toronto's original pop-up gluten-free marketplace, is happening Sunday, May 27 from 10 a.m. to 4 p.m. at Artscape Wychwood Barns.
Beyond boasting 70+ food and drink vendors that are sure to change the way you think about a gluten-free lifestyle, GFG also brings in some of Canada's brightest stars in holistic health and wellness to give talks during the day. One of those talks will be led by Joy McCarthy of Joyous Health.
Joy is a certified holistic nutritionist and the best-selling author of Joyous Health: Eat and Live Well Without Dieting and Joyous Detox. Find amazing holistic recipes, tips and articles on her blog, or check out her Instagram, which is so on point that it's currently making our mouth water.
We caught up with her this week.
SDTC: Can you briefly share with us how your journey with holistic health began?
I have been a student of nutrition and a lover of healthy food since I was a child; however, it wasn't until my twenties that I was forced to choose a more natural path to resolve my hormonal imbalance because the conventional medical system wasn't able to help me. When I healed my body, [I was inspired] to take my passion more seriously and invest in my education to become a holistic nutritionist.
You are leading a talk on gut health at the upcoming Gluten Free Garage. To the average person who isn't too mindful about how food affects the gut, what do you want to tell them?
The research emerging on the microbiome and gut health is fascinating, and the science is growing daily. Simply stated, our bacteria have an important and significant role in the health of our entire body. Most of them live in our gut, providing us an opportunity to nourish them with the best foods possible. Why does this matter? Because our gut health impacts our mood, immune system, skin, body composition and more.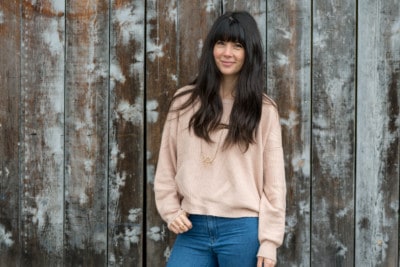 Would you say there is a connection between actively caring for our gut and understanding our gut instinct?
Our gut is our second brain. Every class of neurotransmitter found in the brain is also found in the gut. So yes, gut instinct is a real thing. What we manifest in our gut, we manifest in our mind, and vice versa.
What are your favourite gluten-free foods?
I eat a lot of plant-based foods, which are mostly gluten-free by default. When I'm baking, my go-to flours are not only gluten-free but grain-free (e.g., almond flour and coconut flour). They are so versatile and nutrient-dense.
I'm also getting into tiger nut and cassava root flour! You have to be a little more adventurous when using the latter, but they are definitely a good trend for 2018!
What are the biggest self-discoveries you've made in your career?
What works for me nutritionally right now may not work six months from now. I stay open to change and listen to what my body needs. This is why I don't label myself as paleo or vegan. If I feel like eating a hamburger one day and eating plant-based the next day, then that's what I do. 🙂
What are you currently working on?
Personally, I'm working on becoming a regular journal writer. I already do a lot of writing–being a blogger and a nutritionist–but I need an outlet that isn't public where I can share all my innermost thoughts.
Professionally, I'm working on my third cookbook, which has been a massive project because my husband–who is also my biz partner–and I are doing all the photography. We are about halfway there and even though it's more work than I ever expected, I love it! It's going to be very rewarding when it comes out late 2019! The large majority of the recipes will be gluten-free too.
If you were to advise one simple change that people can make when it comes to caring for the gut, what would it be?
Eat fermented foods and take a daily probiotic. This is the easiest and most affordable way to make a change to your gut health today. Fermented foods introduce new bacteria to your gut and help feed the bacteria that already live there. There are many ways to do this. Sauerkraut is super easy to make, adding fermented protein powder to your smoothie is a no-brainer, and taking a daily probiotic is easy-peasy.
Lastly, we'd love to hear how motherhood has influenced the direction of your career as a holistic nutritionist.
It has influenced me quite a bit, from what I write on the blog to what I speak about at public seminars and what I share on social media. I'm working on my third cookbook right now and with every recipe, I take into consideration whether or not a toddler would eat it.
One of my favourite topics to speak about is being an entrepreneur while being a mama. I absolutely love writing and sharing my experience with other mamas. That being said, I'm mindful that many of my blog readers and joyous community do not have children and found me before I became a mom. That's why my content isn't 100% mama focused.