SDTC: Tell us your story! When did you decide to start your businesses and how did the idea come about?
Rula Sharkawi: My Little Chickpea was created out of an immense desire to help people live better and healthier lives because what you feed your body can transform you. I know this from personal experience. A few years ago, I began to have a lot of health issues pop up. I was told by doctors that there wasn't much I could do for these issues but to take medications to manage pain or wait until I get quite ill for treatment options. Being passive about my health wasn't an option.
So I began to really educate myself, to learn a lot about food, how it nourishes you, how it gives you energy, how it can make you feel good or bad, about food sensitivities/allergies etc. And I decided I had enough. I looked fit but I felt unhealthy. So I changed my diet and changed my life. High nutrient super foods made me feel amazing, full of energy and pain free. I wanted to help other people eat tasty gourmet food that was also good for you. So I left my job as an executive in the corporate world to embark on this mission of helping people feel great, and live better lives through food.
Here we are just over a year later, with more than 14 products in over 150 retail stores across Canada. Our product lines include fresh salads (the orange ginger kale and the goddess are most popular), first cold pressed olive oil based salad dressings, dips (thai coconut hummus is our fave!), naked chickpea gluten free falafels and baked pita chips.
Everyday I wake up full of energy and excitement to have the opportunity to nourish people. I am blessed.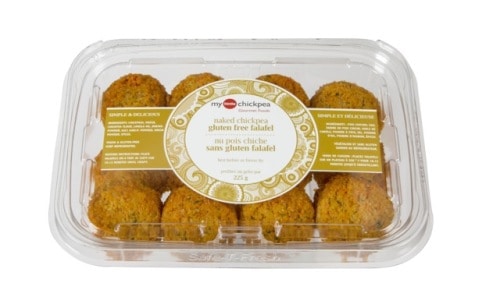 SDTC: What can we expect from My Little Chickpea this year at Gluten Free Garage?
RS: We are super excited to be returning with our mouthwatering Naked Chickpea Gluten Free Falafels. You can grab them a la carte or served warm on a plate our our amazing salads and dips. Choices include Orange Ginger Raw Kale Salad, our infamous Goddess salad with a maple herb vinaigrette, Roasted Beet Quinoa and of course our Lemon Burst Hummus (with lemon zest) and our Thai Coconut Hummus. (Editors note: YUM)
SDTC: Can you share a recipe you love with us, and tell us why you love it?
I LOVE LOVE LOVE having the Goddess salad with crumbled gluten free falafels. It's fast, it's easy, it's yummy and a nutritional powerhouse loaded with kale, cabbage, sunflower seeds, cranberries and a maple herb vinaigrette. I warm up the falafels, and crumble them onto the salad for the perfect crunchy texture with warm and cold bites, a bit sweet from the cranberries and tart from the dressing…SUPER YUM!!!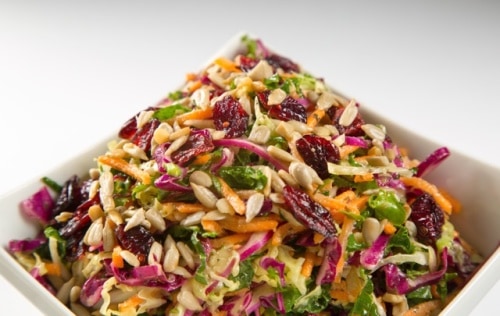 You can follow My Little Chickpea on Facebook and on Twitter @mylilchickpea
Gluten Free Garage is Toronto's original pop-up marketplace of all things deliciously gluten-free, and is going down on Nov 9th, 2014! You can buy tix and check out there vendors HERE!