Featuring over 65 local and artisanal vendors, Gluten Free Garage is set to go down on Sunday May 1st at Artscape Wychwood Barns. As a returning media sponsor, we've loved seeing GFG grow over the last 5 years, and become not only the massively successful event that it is, but also a pillar in the GF community. A feast for all the senses, expect to hear inspiring speakers and sample a vast assortment of tasty offerings from sauces and pasta to baked goods, cheeses (HA!), dumplings and pickles – our mouths are already watering!
In anticipation of Toronto's original gluten free pop-up marketplace, we're profiling a handful of this year's vendors we love. Whisked Gluten Free is the brainchild of co-owners Melanie Larocque and Christine Costa.
Melanie has a background in business, marketing and sports management. Being gluten-intolerant and a former elite basketball player, Melanie created The Taste of Quality Standards that Whisked Gluten-Free lives by. She is the brains behind all aspects of the Whisked Gluten-Free Business and the creativity behind new product development and cake decorating.
Christine worked for a Fortune 500 company for over 25 years before co-founding Whisked Gluten-Free. As a breast cancer survivor, she understands the meaning of living life to the fullest and she is the inspiration behind the name Whisked and the company motto: "I love Life and Life Loves Me." Christine manages the day-to-day production side of the business and can often be heard singing and dancing while baking with the rest of the all-female team of Whisked bakers.
Tell us your story! When did you decide to start your business and how did the idea come about?
This is a Cinderella story about two women who met in 2008 while working for a Fortune 500 company. One had worked for this company for over 20 years (Chris) the other was barely 25 years in age (Mel). The office environment was that of camaraderie so naturally, the 25 year old quickly fit in with this group of ladies who still meet for the occasional good laugh and glass of wine.
Although Mel eventually moved on to a new company, the two who had bonded over a passion for baking continued to exchange recipes and eventually talked about taking a few amateur baking classes together. Both Mel and Chris had dreams of one day owning a bakery or café but back then, this was just a fantasy they loved to talk about.
Mel found out she was gluten-intolerant some years back and couldn't find products that she could enjoy in either taste or texture and when she could find something, the nutritional content just wasn't there. Having been an athlete all her life she was very aware of the food she put in her body and therefore started developing her own gluten free products from scratch.
As time went on, Chris and Mel put their heads together and discussed the possibility of collaborating to create something original and authentic that would fulfill a need in the market.
After spending about a year developing a business plan, going back to school to learn some fundamental commercial baking techniques and developing recipes, they decided to put their products out for a test run. The company was founded on June 7th 2014 when they invited over 60 people to the basement of Mel's condo building to try various gluten free products and give feedback. The feedback was so overwhelmingly positive that the two decided to put their full strength behind this business and moved forward with the business plan. After a very grueling construction period, Whisked Gluten-Free opened its doors on May 16th 2015 and hasn't looked back since.
You often will hear Chris say, "I love life and life loves me!" This has quickly become our internal company mantra because that is what baking is all about for us. It's about new beginnings, it's about taking some risks to follow your dreams no matter what stage of life you're in or what struggles you have gone through.
People always ask us how we make our food taste so good despite the fact that it's all gluten free, our answer is always: "We love what we do." It's our not-so-secret ingredient and THAT is the true TASTE OF QUALITY.
What's been the most exciting part about owning your own business? What's been the most challenging?
The most exciting part of owning our own business has truly been watching it grow into something that we are both so unbelievably proud of. The best feeling in the world is when our customers come in and tell us how much our products have changed their relationship with food to a positive one again. Seeing someone's face light up when they ask us what is gluten free in the display case and we say they can have everything!
The most challenging part in any business is getting it up and running and then running it efficiently. Owning a bakery requires long hours and waking up in the wee hours of the morning, but when you are so passionate about what you are doing it doesn't feel like a chore! We are so grateful to our entire network of customers, suppliers, neighbours, etc. who have truly made this journey magical.
What can we expect from you at GFG?
This will be our market debut at the GFG so we plan on featuring what we do best and that is bread. We will have half loaves of different styles of gluten free breads, all of them are also dairy-free and some are vegan. We will also be bringing along our signature lemon-blueberry scones as well as our delicious apple coffee cake…and of course samples to try!
What's your favourite product that you make and why? (We're sure it changes all the time.)
I would say it is a toss up between our Cinnamon Raisin Bread and our quinoa muffins (flavour doesn't matter, they are all good!)
Can you share one of your signature recipes with us?
We feature a gluten free recipe every month on our blog! The best one on there in my opinion, which was a staple in our household growing up, is Gluten Free Banana Bread.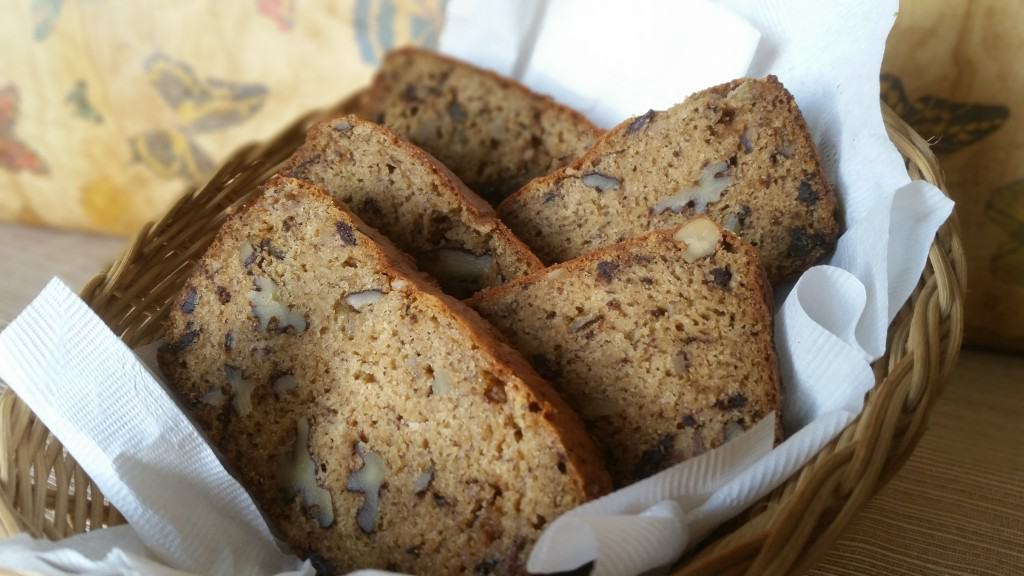 CONTEST!
Enter to win a pair of tickets to Gluten Free Garage by tweeting:
"Hi @Shedoesthecity! Please send me to @glu10freegarage so I can indulge in all the yummy gf goodies!"
Winner will be announced on April 25th. Good luck!
Gluten Free Garage is Toronto's original pop-up marketplace of all things deliciously gluten free, and it's going down on Sunday May 1st! You can buy tix and check out the vendors HERE!