The great debate started a month ago, (actually three months ago – but that's just embarrassing) – what to be for Halloween?
Why does it always happen that we have over ambitious ideas and then three days before Halloween the panic sets in and (once again) we end up tearing through Value Village trying on ragged housecoats, children's apparel, neon wedges and ski jackets assuming we will find 'the' costume, all the while waving at ex-friends and neighbours that we sort of know. Sigh.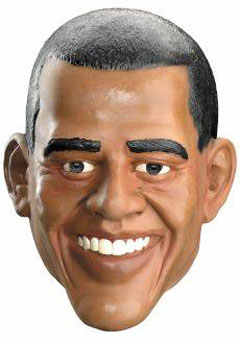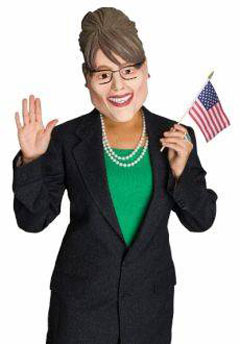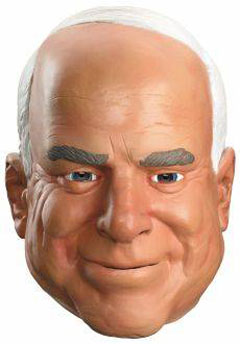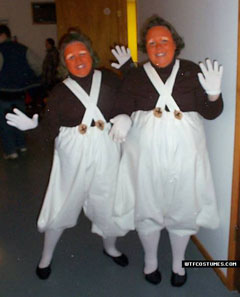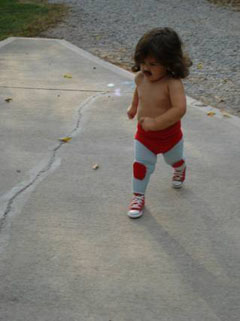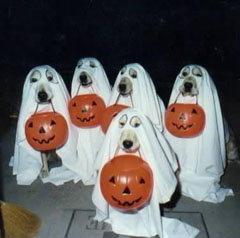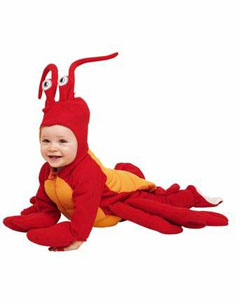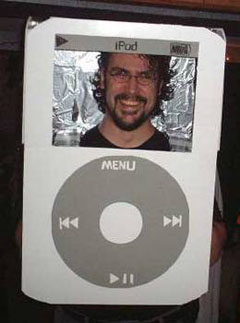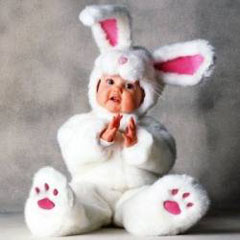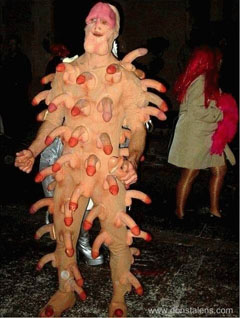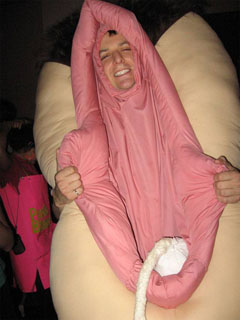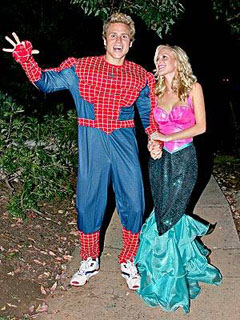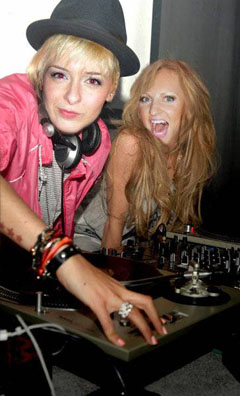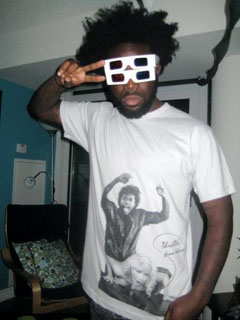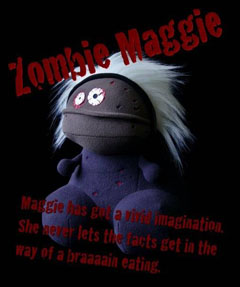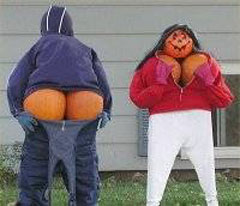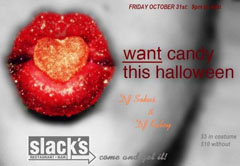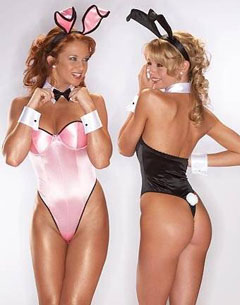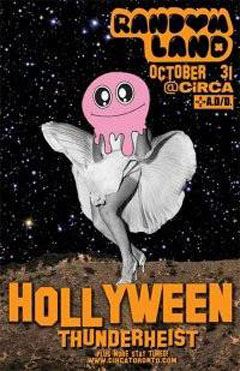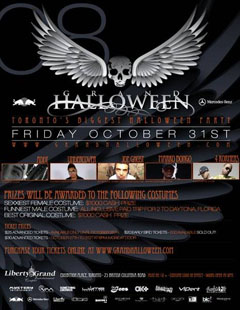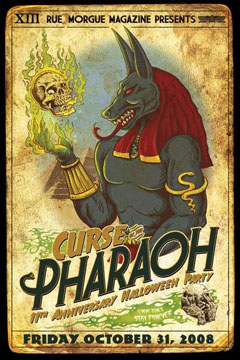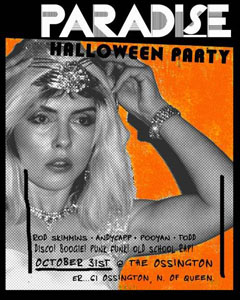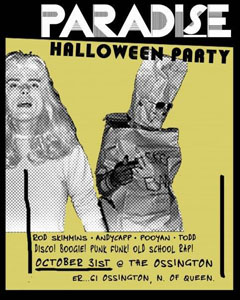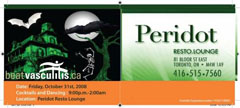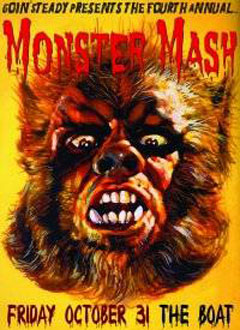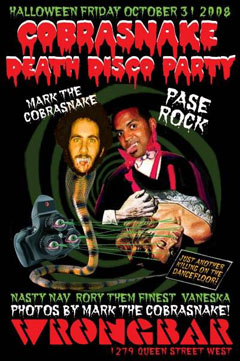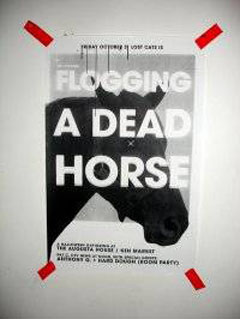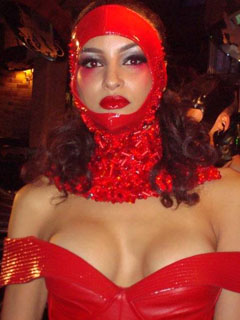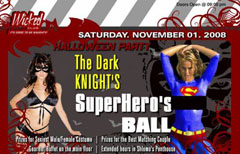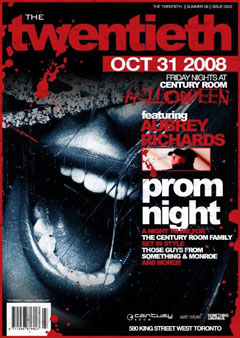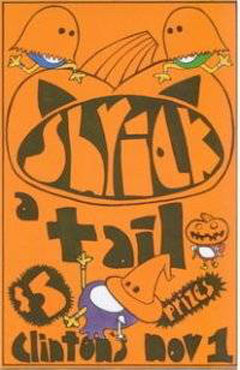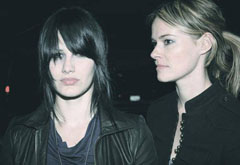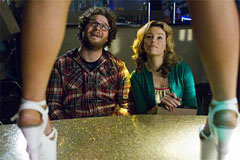 What started as a polished Betty Draper from Mad Men takes a turn to a frazzled and fried Garth from Wayne's World and finally lands as a cougar looking haggered crisis costume: Dynasty. The process in between is perhaps the most ridiculous when we pull crap of the rack and think "OMG, I'm going to go as a Bahamas sunset!", or "Should I just wear all Guatemalan accessories", "I know – I'm going to be a giant turd! HA!" Only to receive looks of disdain from friends that are confident with their choice to go as "Super Bush" or "Post it Note". SORRY THAT MY SCENIC BEACH SCENE WAS SO OUT OF LEFT FIELD.
Amongst the difficult task of deciding your Oct 31 fate – comes the decision of whether to dress like a hot tramp or take a stand against the season to be slutty by wearing a potato sack with the disillusioned hopes of being picked up via subtle feminist (?) protest. Unfortunately, sometimes deciding to disguise oneself as a lost goat, Jughead Jones or Crack addict may not beget you a hot date, no matter how witty your drunken banter is. Then again – who said you needed one in the first place?
Just a warning though – before you decide to dress up as a giant tampon – take into consideration how you may be viewed.
Further, Halloween costumes can get confusing in the bedroom. That Moulin Rouge costume may have been fun to can-can around the bar in, but after a wet and wild shag, you may feel somewhat tarred and feathered. A few years back, when asked to help a boyfriend dress up as a woman, an uncomfortable fight ensued when he began to scream: "FUCK, YOU DON'T EVEN KNOW HOW TO PUT ON LIPSTICK, YOU AREN'T DOING IT RIGHT!!" Needless to say, man dressed as turtle became increasingly attractive as current fling was caught up readjusting his tits and bending over for Batman.
Sometimes there are unsuspected surprises when you become alarmingly turned on by Abe Lincoln or realize that dressed as a woman, you've never been so hot and horny. Gulp.
Yes, it can be scary to receive oral sex from a member of the Blue Man Group…or Cher ….Ooompa Loompa….Mr. Rogers….Elmo…Laura Ingles…Papa Ingles….a fridge. Hum. Ooh – but Davy Crockett – BRING IT. Beavers and raccoons have never got along so well.
In the US media can't wait to see how many Baracks, Palins and McCains start dry humping on the dance floor – as this is allegedly the true telling of who will win the election. People are even creating Halloween Political statements with the décor of their spooky front yards – like these insanely scary people who have a McCain figure guarding a giant spider web with Obama locked inside – www.ireport.com/docs/DOC-105773
Aside from trick n' treating with your friends Moose and neighbours Russia, what else is uber pop culture? Playboy bunnies will take a back seat to Miley Cyrus while Sam and Lo-ho will be neck and neck at every party, hipsters will dress as hipsters – likely unaware of the irony or positively aware but in denial, and we can all get confused when we have six conversations over "are you Tina Fey's Sarah Palin or Sarah Palin's Sarah Palin?" Oooh –such a deep interpretation on Halloween. Whatever.
Is your costume pop culture savvy? Or are you a lame-o with a sheet over your head and a weak 'boo!'
However you decide to make an entrance, blood, boobs or Barack – here are some spooooooky parties for you to Monster Mash at:
FRIDAY
Pre-drink with Monsters
Toronto's Monster Factory is having a studio sale with every kind of rebellious and awkward little critter you could ever want to fall in love with.
3PM – 7:30PM
The Monster Factory, 1071 King Street West, Suite 203
Meet friends of the monsters: www.monsterfactory.net
The Broken Aging Hipster Social Scene – Santa Cruz on Captain John's Enormous docked ship
Tyler Clark Burke and her boat full of one –eyed pirates will be rockin' the deep fry overboard on Captain John's notoriously disgusting ship. With DJs Ray Gillespie, Jeremy Stewart, TCB, Rob Benvie.
With Guests:
Staring Therapy, Secret Dance, Aurora de Pena, Rose Bianchini,
Make-Out Booths, The Future and Emily Dickinson Fortunes with Damian Rogers,
Ouija Boards, Advice Booth with Amanda Burt, Adam Harris, Tattoo Parlour with Sarah Bolen, and much more.
Once revered for the sneaky way you could write the dirtiest of notes and throw it in a mailbox to pick up stranger, things have been shaken up and Santa Cruz is now touting a BRAND new non-messaging, messaging system. Everyone who comes in gets five taking-care-of-business cards.
BOYS WILL DRESS: Sherlock Holmes, Peewee Herman, Sleazy Tennis Coach
GIRLS WILL DRESS: Designing Women, Dolly Parton, Ron Jeremy ?
Captain John's Seafood Ship
1 Queen's Quay West
Slack's Lesbian Halloween Dance Party
Church Street will be closed, which means YMCA meets Rough Riders, meets Blossom and Six anarchy! Head into Slack's for the most packed lesbo party in town.
DJ Katey & DJ Sokes ( SIAMESE2HEARTS) will be haunting the house. Hot women, hot party, one hell of a night!
GIRLS: Bad cop, bad pussy, bad to the bone
BOY: Marilyn
$5 cover in costume, $10 without
526 Church Street
Fun begins at 9PM
Mega Dance Party. Hollyween Thunderheist@ CiRCA
Get ready for Thunderheist to unleash serious electrocrunk boom bap. Ribcage rattling bass breaks laced with clever rhyming flip with everything from 80s classics to digital booty bass and slowed down Southern bounce.
www.myspace.com/thunderheist
also in the main room that night:
VND/LSM www.myspace.com/vndlsm
MANSION www.myspace.com/mansiondj
BARBI www.myspace.com/djbarbi
BOYS: Miley Cyrus, Mexican Donkey Piñatas, Hal Johnson
GIRLS: Jonas Brothers, Kurt Cobain, Sailor Moon
Wanna a booth full of vodka for a good deal? Call The Jons:
Jonathan C # 416.520.4753
John Labella # 905.330.5047
126 John St.
The biggest bash in town: Grand Halloween @ Liberty Grand
This will be the only party where a Mercedes Benz will also be dressed up. BIG DECORATIONS, MASSIVE MARKETING, HUGE PRIZES and A GAZILLION COSTUMES to stare at
$30 October 27th to 31st at 5pm – online @ www.grandhalloween.com
BOYS: Iron Man, Scary Pumpkin Head, Popeye
GIRLS: James Bond Spy, Sex and the City gaggles, Saloon Women?
25 British Columbia Rd
RUE MORGUE does horror better than anyone! Curse of the Pharaoh @ The Church at Berkeley
Rue Morgue's 11th Anniversary Halloween Party!
CURSE OF THE PHARAOH will feature a serpentine quanta of ancient Egyptian-themed performances, rituals and curses featuring the Death Dance of the Cobra Queen, the Horror Rites of Horus, the anomaly known as Corpusse, The So Sick Social Club, the ever popular Rue Morgue Go-Go Ghouls, and the sinister sounds of DJ Tomb Dragomir, DJ LaMort, and DJ Manny G! Plus: Magik! Mystery! Mayhem! Mummies! And more…
WARNING: Been to this before and the washroom situation is out of control BUT the best place to go to see killer costumes
BOYS: Zombies, enormous anythings, Pamela Anderson on drugs
GIRLS: Cleopatra, Bette Paige, Bloody Fraggle Rock
Tickets for CURSE OF THE PHARAOH are $25 at the door or $20 in advance available online at www.rue-morgue.com
or in person at:
Rue Morgue House of Horror
2926 Dundas St W (weekdays 10-6 PM)
Rotate This
801 Queen St W
Church @ Berkley
315 Queen St. East
More info ? www.rue-morgue.com
A little more low key but festive nonetheless PARADISE @ THE OSSINGTON
61 Ossington – NO COVER!!!
ROD SKIMMINS, ANDYCAPP, POOYAN and TODD
disco, boogie, punk funk, old school rap
DJ's getting demanding: "Far be it from us to try and dictate your costume choice, so instead we'd like to *encourage* costumes that reflect the time period of the music we play. i.e. Disco, New York Downtown circa 1977 – 84, or if you feel inclined, some Old School Hip Hop attire."
BOYS: Run DMC, Mr. T, Subway Rat, Wheels from Degrassi, Charles in Charge, Jean Michel Basquiat
GIRLS: Blondie, Bowie and Disco Banana Cream Pie
UPSCALE AND FOR A GOOD CAUSE Beat Vasculitis @ Peridot
Treat yourself to a nice night on the town and contribute to a worthy cause.
BOYS: Olympic Athletes, Whoopi Cushions, Whoopi Goldberg
GIRLS: Gwen Stefani, Maple Syrup, Styrofoam Cup, Paris Hilton
www.peridotrestolounge.com
81 Bloor Street East
Tickets: Tickets are $25.00 and can be bought online HERE
Tickets are limited so grab one as soon as you can. **YOU WON'T BE ABLE TO BUY YOUR TICKETS AT THE DOOR**
Heading back to the 1950's GOIN' STEADY'S 4TH ANNUAL MONSTER MASH
HORROR HOP, COUNTRY BOOGIE MEN, GHOUL GROUPS, MONSTER BOP, BLOODY HOLLY
BOYS: Elvis, James Dean, Talking Horse, Wally (Leave it to Beaver)
GIRLS: Marilyn Monroe, Brigitte Bardot, Bette Davis Eyes
The Boat, Kensington Market
158 Augusta Ave
5 bones before 11pm
10 of them after
COBRASNAKE DEATH DISCO DANCE PARTY
Wear the snake goes, the young blood follows. Hosted by The Phantom of the Opera, mixed with Sexy Baby Maid!
BOYS: Hall & Oates, Where's Waldo?, Wooly Mammoth
GIRLS: Strawberry Short Cake, Hello Kitty, Gorbachev, Mary Kate Olsen
10PM $15 Advance tickets at Rotate This, Play De Record and wantickets.com
Dress to Kill.
Wrongbar | 1279 Queen Street West
SATURDAY
Lost Cats Presents: Flogging a Dead Horse@ The Augusta House

Pat C + CTV NEWS AT NOON
with special guests Anthony G. + Hard Dough from Room Party
Special installation by The Black Light Association of Canada.
BOYS: Ned Flanders, Hot Chicks, A&W root beer bear on acid, Gerard Depardieu
GIRLS: Twisted Sister, Dutch Oven, Glowworm, Mona Lisa (this game is getting fun)
NO COVER BEFORE 11:30
Drink specials before 11:30!!!!- $3.50 bar
rails/cocktails and $3.50 Jäger
THE BIG TICKET – FASHION (s)CARES
The most famous charity event that means insanely cool makeup, big bucks and over the top decadent attire.
Part Halloween, part Haute Couture, part Hitchcock, and all Fashion Cares. An evening of high fashion, great performances, and continuing a stellar tradition of more than 20 years of entertainment and fundraising for The AIDS Committee of Toronto (ACT).
Tickets can be purchased at www.ticketmaster.ca or by visiting our website www.fashioncares.com
Superhero's Ball @ Wicked
Feel like getting scared? Walk up the stairs at WICKED and watch how quickly Mississauga soccer moms turn into naughty cat women that want spankings from strangers
Extended hours in Shlomo's Penthouse… eee, I've got shivers already
BOYS: Dirk Diggler, Wolverine, Count Chocula (the cereal)
GIRLS: Eh, just go to Seduction or Miss Behavin' and rip the smallest outfit off the wall
Prom Night @ Century Room where the hot guys from IT hang out with the hot girls from HR
BOYS: Scary Spice, Larry Flynt, Napoleon Dynamite, Gargomel, Vanilla Ice
GIRLS: Blythe Doll, Gossip Girls, Madonna
Shriek a Tail (normally Shake A Tail)
A little less doo-wop and a bit more MOD – another retro shakedown @ Clinton's
Always a packed and amazing dance party.
BOYS: Happy Seven Dim Sum, Andy Warhol, Uncle Buck, Kool-Aid
GIRLS: Betty Boop, Prom Queen, The Great Depression
693 Bloor West.
CONTESTS
UH HUH HER
Everyone's favourite hot lesbian indie-electro duo is back in town this SATURDAY and you can count on a sold out show with lots of good eye candy. We have three pairs of tix to giveaway!! For a chance to win e-mail: contests@shedoesthecity.com subject line Uh huh. Hook Me Up.
Take a listen: www.myspace.com/uhhuhhermusic
ZACK AND MIRI MAKE A PORNO
Hilarious new Kevin Smith film, with Seth Rogen and Elizabeth Banks – oh it's dirtier than the dirtiest of dirty sanchez's. Two hard up roommates Zack (Seth Rogen) and Miri (Elizabeth Banks) set out to make a porno for a quick cash grab. Along the way, they realize that perhaps pounding each other on a pile of coffee beans = true love?
For a chance to get on the guest list for special advance screening of Zack and Miri Make A Porno 7pm Wednesday October 29 (tomorrow) at AMC Yonge and Dundas, e-mail: contests@shedoesthecity.com subject line Zack and Miri
Watch for our interview with Kevin Smith posted this Friday!! He did not hold back on detailing his first sexual experience, or how he likes to screw.
693 Bloor St
Halloween fun on Shedoesthcity:
Turn your Chihuaha into eggs and bacon!
Frightful flicks by the decade
Zombie Walk photos for bloody inspiration
Wicked rule-free slut fest and Katie Holmes shedoesthecity.com/counterculture