This month, Syrian-born artisan jewellery maker Hania Kuzbari made her Canadian debut at Toronto Fashion Week. Her designs are an homage to her homeland and are all expertly handcrafted using precious metals, conflict-free diamonds, ethically sourced gemstones and fair-trade gold. Her work is distinctive, classic and stunning; you could envision them in a display case at the ROM or on the runway.
We chatted with her this week.
SDTC: What is the first piece of jewelry you remember being enthralled by?
HK: I've always had appreciation for pieces that belong to my mother. A gold bracelet with diamonds. Rose-cut diamonds and brilliant diamonds. The vintage feel of the piece is mesmerizing along with the creativity of the stone setting. I loved wearing jewellery when I was younger, but I wasn't aware of the value of the craft and the details or meaning. The only thing I knew about jewellery at the time was that the pieces were so valuable and I should be saving and taking care of them.
Whose style did you admire most growing up?
When I was younger, I loved Princess Diana's style, but I also really liked Madonna's!
How would you describe your personal style now?
I love fashion and usually wear pieces that catch my eye. I'm typically drawn to unique cuts or bold colours. I would define my style as chic and trendy.
You went from business school to jewellery design; what was behind the pivot?
There are a few reasons why I decided to pursue jewellery design. First, my general love for design extends into all aspects of my life and things that I do: the way I arrange my things, the way I dress up, the way I cook. Second, I love working with my hands. Ever since I was young, I enjoyed things like knitting and sewing, working with very fine details. Miniature details were my passion. My family's involvement in the metal industry also taught me a lot about the process involved in making jewellery. On top of all that was my curiosity to learn how to solder, set stones, and work with different materials to build and create beautiful final pieces.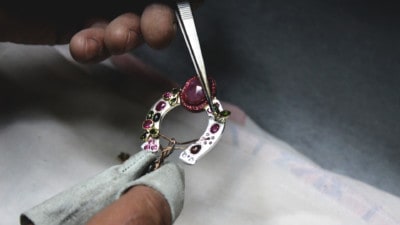 How do you go about designing a piece? Walk us through your process.
In the design process, there are many things to consider. The stones you will be using (if any), the story you would like to share, and the inspiration and the person who will be wearing the piece. For me it all starts with the inspiration, which could be a place or an object that really fascinates me, or even things that happen in my life I want to translate into jewellery objects. I sketch the piece, study how it will come together, and then dive into the details and study the whole process before we start the actual work. Our pieces are handcrafted, so we first create each element that goes into the piece separately, and then we put them all together. We do a sample first, then the moulding, followed by the casting process. Afterwards, we have the pieces filled and ready for stone setting. Lastly, we finish by polishing the piece.
What is your fave piece at the moment?
I don't have a favourite piece specifically, but I would choose The Smile Collection because it's my latest creation and I love the message behind the products. I'm also proud of the new design direction I took when creating the jewellery.
What was the best (and worst) advice you received in regards to your career?
The best advice was to go with your intuition and be your authentic self. The worst advice was to listen to people who tell you what to design. In design, I believe you should always use your own voice and your experiences. It's important to use the drive you have within yourself to create and visualize what you want to make.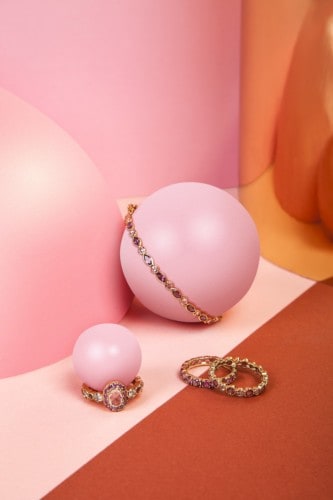 What is your motto these days?
Believe in yourself and what you are doing—just work hard for it.
What does it feel like to see someone wearing your jewellery?
I met a client at a wedding, and I saw my piece around her neck. I was so humbled and happy. It made me run to work early the next morning to work on new designs.