In this final week of the Canadian Film Fest, Marie-Geneviève Chabot's documentary Beneath the Surface will have its Toronto premiere on March 31.
Beneath the Surface tells the story of three brothers and their father on a pivotal fishing trip. Stéphane, Jean-Pierre, Jérôme and Laurent are looking to reconcile and hopefully make peace with the past, but breaking the silence on the boat is no easy task. Their father's absence during the brothers' childhoods left scars that haven't healed. As the brothers broach the topic of their abandonment, "Dreams and regrets slip in and tangle up with their fishing lines."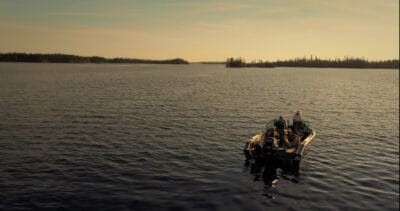 Directed, written, and produced by Chabot, Beneath the Surface is sure to be an intimate and heartfelt story. As we learn about the complex dynamics of one family, Chabot tells us she hopes the personal story in the film will also resonate universally. With themes of vulnerability, forgiveness, and healing, there's certainly lots to reflect on.
As a mother herself, Chabot shares how she realized in retrospect that Beneath the Surface was a film she made for her son. We're intrigued by the documentary's exploration of masculinity — it's rare to see a film with four men speaking openly with each other about their emotions.
Ahead of the premiere, we caught up with Chabot to learn more about Beneath the Surface, her career as a filmmaker, and her thoughts on creativity, joy and philosophy.
In less than three sentences, how would you describe the origin story of your film? Where did the initial idea come from?
Ever since my previous film, Waiting for Spring, I wanted to dig deeper into the male psyche, to get closer to their vulnerability. Depicting this fishing trip between a father and his three sons was a great opportunity to tackle the theme of abandonment in a cinematic context. I realized that I made a film for my son only later on.
What do you want audiences to think about? What conversations do you hope to inspire?
I hope that this very personal family story will feel universal, that everyone will somehow relate to it, seeing a reflection of their own abandonment issues. It's about realizing what is passed down, quite unintentionally, through emotional memory, until we break the cycle.
What film made you fall in love with filmmaking?
None, I guess. As far as I can remember, I've always been passionate about cinema. I've known since a very young age that I wanted to become a filmmaker. I got my first camera at 12 and started filming right away. Before becoming interested in cinematography, it was initially a fascination with storytelling.
What woman filmmaker has played an important role in inspiring your journey, and why?
When I dreamt of becoming a director as a teen, I was looking for women filmmaker models. There weren't many of them in Quebec at the time. And it seemed like they made films about essentially feminine issues, which didn't really speak to me. Today, as I start a new project, and now that I am a mother, I find it inspiring to revisit the work of woman filmmakers like Anne-Claire Poirier and the ones from the Women's Film Studio of the NFB. It's as if I truly became a woman when I gave birth.
What feeds your creativity?
Silence. It allows me to connect to images, words, moods. Silence lets ideas come to the surface. As does being on the road. That puts me in a meditative state.
What philosophy is currently guiding you?
Life led me to Tao, without really looking for it. I've always let my intuition guide me. The reconciliation of the duality within everything has been unconsciously part of all my films, including my latest, which continues this cycle about the reconciliation of masculinity. The characters of my last two films are mostly male, yet the female spirit feels ubiquitous in its very absence. But to me, philosophy is a path you walk on, something you live, not an intellectual endeavour.
What is something in your career that you're trying to get better at? Maybe a goal you're currently working on, or a skill you're trying to develop?
I have a hard time focusing on a specific project, I always have a lot of ideas. As soon as I get interested in a subject, it splits up into several threads. I'm never in front of a blank page, quite the opposite. I think I'm at a place where I need to delegate all the other tasks besides writing. I self-produced my latest film, while raising my boy on my own, during the lockdown. I think I reached the limit of multitasking.
What does joy look like for you?
Connecting with the living, with what is sacred, a state of mind I usually attain in nature, far from every distraction. To me, joy is much more about simplicity than any external thing. Travelling also instantly fills me with joy. So does spending time with my boy, who is always magical and poetic.
How would you describe your film in one sentence to a curious stranger?
It's easier to devote 20 pages to my film than one sentence, but I like to say that it's an aquatic western. I wanted to make a documentary western, with a sensitive, poetic touch.
Beneath the Surface is available to view at the Canadian Film Fest on March 31.