There's no hiding from our surname that visual artist Andrea Currie and I are related. In fact, we are cousins. Our shared, childhood summers surrounded by the forests and waters of Georgian Bay have inspired both of us as we've grown older. For Andrea, it's her love of trees that has become the subject of her meticulous and passionate drawings.
Since those salad days, Andrea Currie has become a budding name in the visual arts community with her large collection of Tree Art. Her oeuvre is primarily pointillist inspired, using an assortment of styles and black ink pens. With the exception of her large-scale gallery pieces, Andrea's canvases are predominately various kinds of recycled paper from larger art pieces and other collections of fine art drawing paper, each embossed with her signature ink stamp of authenticity.
Pursuing creation out of grief, Andrea describes the passing of her mother to cancer in 2011 as the catalyst for her artistic career. Andrea emerged on the scene a year after her mother's passing, with a calendar dedicated to her. This calendar was able to raise $5800 for the Canadian Breast Cancer Foundation, launching Andrea's work and her art community, PomonaLIFE, into the public domain.
Sitting with Andrea in her home studio, I look closely at her personal copy of the calendar and am drawn in by her unique blend of haunting grief and celebration of life.
SC: Why trees?
AC: I get asked that question a lot. I don't know. It keeps me grounded, and trees make me happy. I feel a connection to what the tree is soulfully. Literally, trees are connected to the earth. Symbolically, I'm connected to them. It's a peaceful thought as much as its manifestation.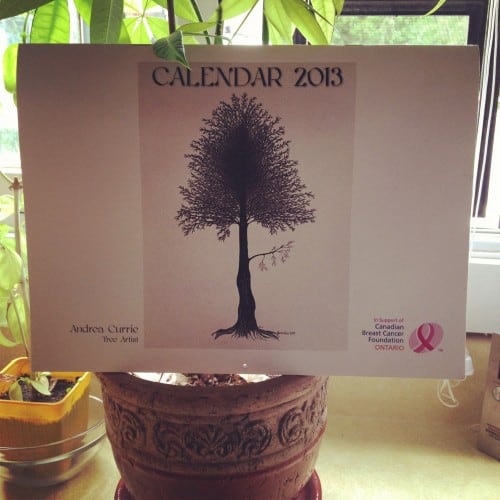 How did your drawings begin?
They've always been doodles – little impressions, imprints. It's always been trees. It was only relatively recently that I gave myself that freedom to shift my work beyond the size of a coaster to, say, the size of a page. That shift only happened after my mom died. It was in that space of letting go that I felt the need for this process of dotting and stroking. Minutes turned into hours and hours turned in days and… you get the picture.
Can you talk about the connection your art has to your mother?
When my mother was diagnosed with terminal cancer in 2010, I had already been searching for a deeper connection within my own life. When Mum passed away that October, I had discovered a deeper purpose within myself. It was in the absence of her life that I found a love for my own. When I surrendered to the pain by creating, I turned grieving into art.
Losing a parent seems to be like a rite of passage. We all endure this experience. Traveling in this lifetime for ourselves but being connected to so many, it's only when we lose someone so important that we put the duration of life into perspective. My mother was the vessel for my growth and she gave me stability, strength and encouragement. I feel exceptionally lucky to have had such an incredible woman as a mentor and nurturer. I guess my creating is a kind of unconditional love. The way my mother loved me, I recreate in what I do. And in this space, I get to hang out with her.
Can you tell me about PomonaLIFE?
The premise behind PomonaLIFE is authenticity, community, connection and confidence. I want to create more opportunities to show people the benefits of creating as much as I want to learn them myself. I envision creating workshops and retreats for people to be given space to cultivate what their art is and how they can foster it for both personal and professional purposes.
Can you describe how it feels to begin creating?
I never know what I'm going to draw. It just starts as a blank canvas. Sometimes I have a feeling or a memory, but then it grows into something all on its own. It's about drawing a line or placing a dot, and figuring out where the next one goes without thinking about it.
How do you describe the feeling of creation?
It's a surrender. Not judging. It's enjoying the time and enjoying the mind that I detach from. And a feeling of accomplishment, too.
Do you have a favourite tree?
The tree that my PomonaLIFE community tree is based on – an apple and oak tree merged as one. This is a version of the oak tree that grew outside my window growing up. It reminds me of safety. It reminds me of being loved. It's also a version of the first tree I drew when Mum passed. This tree is called October 2011. To me, the trunk looks like the finger of cancer but it's growing into the canopy of life.
Outside of your art, what else interests you?
I am a total closet writer. I have over 500 poems and short stories. I have a huge Rubbermaid container full of journals, probably going back as far as grade 7.
What is it like learning the business of art?
I am an art-preneur. I am living school-of-life daily. I had to learn bookkeeping, web design and marketing. It's about knowing how to use social media and the platforms that are out there, as well as finding time to not get lost in the all the noise. First and foremost, it's about creating an expression that is authentic and original. Not sacrificing my quality nor the integral importance behind the act of creating. Instagram has been an important platform for me. I also have been posting/blogging daily for the last three and a half years.
What is your advice to other emerging artists?
We all have good days and bad days. We can blame our situation or our community, whatever we want. But really it's about showing up. As long as I keep showing up and keep going, it'll be okay.
What new projects are on your horizon?

I'm gearing up to my book called Creating Life Art. It's a compilation of mini-vignettes creating the story of how I got here to the trees. The book is based on an exhibit I did at the Dufferin County Museum & Archives in 2013 called The Log Book: Carving an Artist, for which I received an Ontario Arts Council exhibition assistance grant. Ultimately the book seeks to demonstrate how I found my artistic expression and how others can find or cultivate their own.
Where can people see your art in Toronto?
My art is on display and for sale at the Energy Tree Acupuncture Clinic in Liberty Village. Labour of Love in Cabbage Town also sells my Feel Good Collection, small original pieces of art. This summer I'll also be doing three different shows with the Toronto Art Crawl: June 13th (Liberty Village), July 10th and August 14th (Entertainment District).
And outside of Toronto?
My work will be at Wet Rock Studios in Tobermory from June until September. Also the Matilda Swanson Gallery in Clarksburg.