After a successful launch last year, with more than 5,000 visitors, Gallery Weekend Toronto is back! Explore 26 art galleries over the four-day (Sept 22-25) event that celebrates the city's vibrant art scene.
The galleries are organized into easy-to-follow routes in 3 neighbourhoods: Dupont/Junction, Wallace/Dundas, and Lower Toronto. Ranging from 22 minutes on a bike to just under 2 hours on foot, this is a lovely opportunity to explore a new part of the city in between leisurely gallery strolls.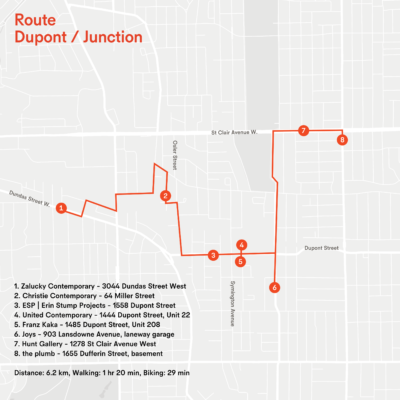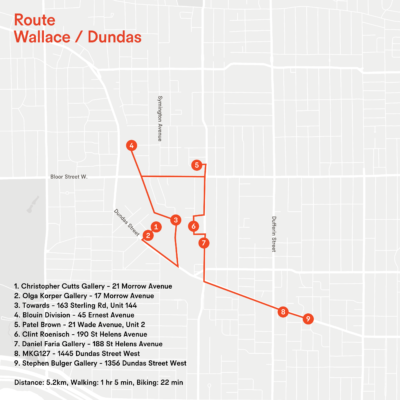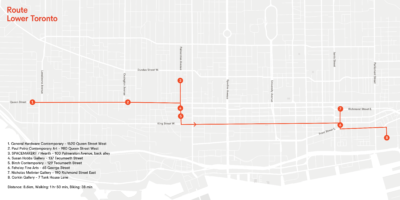 "Last year's Gallery Weekend Toronto was a smashing success. This year we are expanding, adding more galleries and more programming to the massive city-wide art crawl," says Julie Lacroix, Contemporary Art Galleries Association Director.
The participating galleries will be staging major exhibits from international and emerging artists. You can wander around at your own pace, and enjoy cocktail receptions, performances, educational tours and artist meet and greets.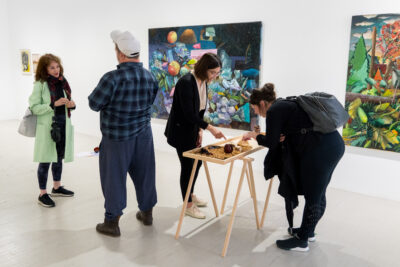 Toronto Anishinaabe artist Maria Hupfield will be leading a tour of her exhibit Protocol Break on Saturday at Patel Brown Gallery. Walk or bike along the same route to attend the opening reception for Shannon Bool's Gaslight exhibit at Daniel Faria Gallery, or head over to Blouin Division to explore Caroline Monnet's new work, featuring themes of Indigenous identity, bicultural living and the impact of colonialism.
With the Queen West and Geary Art Crawls also happening this weekend, you have lots of options for discovering the artistry and creativity of the city's west end.
See the Gallery Weekend website for more info and the full schedule of events.